Missionary messages still resonate in the islands, writes Robyn Yousef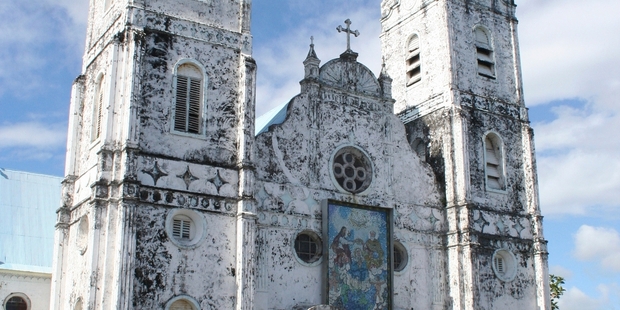 Those early Christian missionaries certainly did an impressive job in Samoa. Christianity remains the backbone and strength of the Samoan culture - every village has at least one church and sometimes up to four, with about 10 denominations represented across the islands.
Samoa's motto says: "Samoa is founded on God" and the locals' strong religious beliefs are etched everywhere in day-to-day life.
Christianity was informally introduced to the islands by travellers in the late 1700s. When Methodist missionary Peter Turner arrived there in 1828 he discovered there were already Methodists on the islands.
Methodists had established a mission in Tonga and the religion had spread to Samoa.
John Williams of the London Missionary Society arrived at Sapapalii on his ship Messenger of Peace in 1830 with eight teachers. Hymn and prayer books were then printed in Samoan and in 1848 the first Samoan version of the New Testament was published.
This was followed by the Old Testament in Samoan seven years later.
In 1848 two French Catholic priests established followers in the village of Sale'aula and this has been followed by many other denominations. And the missionary work continues - young Mormons regularly cross the islands on their bikes - fully rigged out in their usual sartorial splendour.
Church attendance is very high - some estimate up to 95 per cent of the Samoan people are regular churchgoers. Sundays on the islands are special, with the locals seen walking to and from their churches - often wearing white to represent purity and clutching their Bible.
I slipped into one of these services at a church in Fagali'i-Tai, about 5km east of Apia. There didn't seem to be any strict timetable of worship and people seemed to be arriving at all different times, but I got lots of big Samoan smiles of welcome.
Another Kiwi tourist who was drawn into a church service by the beautiful singing was treated to a sermon translated into English - the pastor did it especially for her.
It's important for tourists to respect Sundays in Samoa and also the evening prayer curfew, which usually lasts about 10 to 20 minutes between 6pm and 7pm. The blowing of a conch shell or the ringing of a bell mark its beginning and end. If you are fortunate enough to be invited for a traditional umu or any meal in a Samoan home, do remember that grace is said before you tear into the delicious palusami (taro and coconut cream) or povi masima (salted beef).
Generally the churches and, to a lesser extent, the houses of the pastors are the most palatial buildings you see in the villages.
It seems there are always churches under construction throughout the islands. And these churches vary so much in style - from ornately decorated in super technicolour through to the classic and modern design of the Mormon Temple at Pesega, Apia.
Even the wonderfully colourful and artfully painted buses are often embellished with religious messages and decorated with holy icons. Chugging up the Cross Island Rd behind a trusty old Toyota (circa 1960s) we were reminded of the "Glory of God", and another slogan told us "Everything is from God".
It was watching one of these buses packed with workers going home from Apia to the villages that provided me with a personal religious moment (well, almost: it was spine-tingling). The sun was setting across the harbour and instead of the usual reggae/hip-hop style music blasting out, I heard Samoan voices raised in a song of praise. After a long hot day of work, and probably with three people jammed on hard wooden benches designed for two, they were giving thanks. Yes, those missionaries did well.


Checklist Samoa
GETTING THERE: Air New Zealand usually flies between Auckland and Apia six times a week, depending on the season.
ACCOMMODATION: aggiegreys.com