Chathams' history is as stirring as its winds, writes Jim Eagles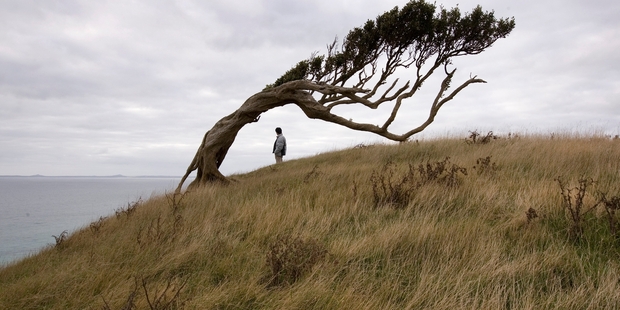 The rugged shoreline of the bay is littered with giant bones, a weather-beaten cross stuck in a pile of rocks, smashed timber planking, fishing net floats, rusting crayfish pots and, incongruously, a pair of sunglasses. It looks like a place where dreams come to die.
A fanciful idea, I guess, but that's the effect of a few days on the harshly beautiful Chatham Islands, 860km east of Christchurch, right in the path of the relentless winds of the Roaring Forties, making it New Zealand's most isolated outpost.
And it's not entirely fanciful. Spend a few days exploring and you'll discover the wreckage of many a dream.
The first inhabitants, the Moriori, who settled here in the 16th century, tried to create a peaceful society, banning warfare and settling disputes through mediation. But that dream was crushed in 1835 by an invasion of Taranaki Maori who despised such pacifist ideas, enslaved the locals and destroyed their culture.
You can still see traces of the original Moriori way of life but they are going fast. The mysterious carvings they left on the groves of kopi trees - karaka to us - that served as their meeting places are fast disappearing as the wind erodes the figures and the trees that bear them die of old age. The equally mysterious carvings in the sandstone of a few caves are poorly protected from the elements, and some have been vandalised, so they too are fading.
Early European settlers also found the going tough. At Mission Bay only a few stone ruins, an old whaling pot and some giant skulls mark the site where American whalers set up a base around 1800 and German missionaries founded a station a few decades later. The desolate countryside is dotted with dilapidated buildings, the remnants of many a hopeful settlement, farm, church or factory that lost the battle to survive.
Countless vessels have perished on these storm-tossed shores.
The charming beachside Ocean Mail Reserve marks where the immigrant ship Ocean Mail - which, coincidentally, brought my great-grandparents to New Zealand - was wrecked in 1877. Records tell of more than 50 other ships lost here.
Air services to the island have also proved challenging. The dismembered body of an RNZAF Short Sunderland flying boat, which provided an aviation lifeline to the island until a rock holed it in 1959, still lies on a local farm.
But good things are emerging from this adversity.
There has been a revival of Moriori culture. A new marae, modelled on a kopi tree grove, now serves as a focal point for activity, and a statue of the late Tommy Solomon, believed to have been the last full-blooded Moriori, stands on his ancestral land gazing out to sea.
The hostile waters round the islands are rich with marine life. At a factory near the Hotel Chathams, where we stayed, you can check out tanks full of huge crayfish. If you're mad enough you can even go cage-diving and see the fearsome great white sharks that patrol these waters.
The very wildness of the place attracts increasing numbers of tourists, fascinated by its remarkable history, unique wildlife and rugged landscape. Even the crashed flying boat is being restored as a tourist attraction.
The primary reason for my own visit was to see the glorious Chatham Islands forget-me-not, which beautifies many a New Zealand garden, blooming in its native surroundings. For this quest, Val Kroon, host of the Hotel Chathams, took us to a lonely bay where, he said, the very finest flowers were to be found.
It was this place which sparked my doleful musings about dead dreams, partly because the huge bones among the flotsam indicated that countless whales had come to grief here, their fate given added poignancy by a Moriori belief that whale strandings mark the death of a chief.
But, as Val had promised, there were indeed some superb forget-me-not blooms in this magnificently gloomy spot ... the finest of them growing around the decomposing bodies of several recently stranded pilot whales.


Chatham Islands Checklist
GETTING THERE: Pukekohe Travel run all-inclusive tours to the Chatham Islands.