Europe's most affordable ski slopes are in Poland, as Jared Savage discovers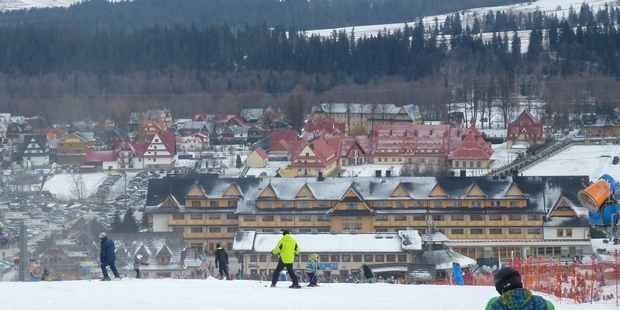 Watching toddlers learn to ski is disheartening. The little tykes pick it up much faster than any adult ever could. Kids who cannot tie their own shoelaces whizz down the learner slopes, while you're still practising the snow plough and sweeping S bends.
My confidence plummets as we ride the chairlift to the intermediate runs at Zakopane, in Poland. Not one, but two, skiers are being loaded on to ski mobiles to be taken away for medical treatment. From 10m above I can see the agony etched on their faces.
Then there's the good news. Fresh powder on the mountain, sun in the sky - we're skiing in Europe. But we've bypassed the usual suspects. Forget the expensive options like France, Switzerland, Austria or even Italy. Zakopane is the place to be.
Zakopane is a two-hour drive south of Krakow at the foot of the Tatra mountains. A favourite holiday destination for Poles and visitors from eastern Europe for a long time, Zakopane's secret is being discovered by tourists from further afield.
It's a quaint alpine town filled with wooden chalets. A population of 30,000 triples during the peak season.
Zakopane truly comes alive over Christmas and New Year, a winter wonderland when the main street is festooned with lights and snow is falling.
There are plenty of ski runs for beginners, the experienced, or off-piste adrenalin junkies, so it's probably easiest to book a package deal. Experienced operators will pick you up from Krakow, book accommodation, drive to the mountain each morning, organise ski gear and lift passes, then take you home.
All this is much cheaper than at any slope in the Alps. Even food and drink at restaurants on the mountain - notoriously expensive worldwide - is a bargain. Lunch for two, generous portions of roast potatoes, spicy sausage and sour cabbage, costs around $12. And, at the end of a long day skiing in the cold, there is nothing better than Polish food.
There are dozens of bars and restaurants packed to the rafters each night, so you may have to share a long table with strangers - perfectly normal in Eastern Europe. English is not spoken as widely as in other European countries, but menus often carry translations.
It's hearty fare. Big bowls of soup (zupa), rich meat stews (bigos), dumplings (pierogi), sausage (kielbasa), potato pancakes (placki), skewered roast meat and shredded sour cabbage are among the traditional dishes offered. It's real comfort food, tasty, inexpensive, and often accompanied by a warm fire and live music.
Alcohol is cheap, too, with a pint of beer around 5 zloty (roughly $2). The perfect way to nurse the bumps and bruises before starting all over again.