Changi is an oasis of greenery, writes Dionne Christian.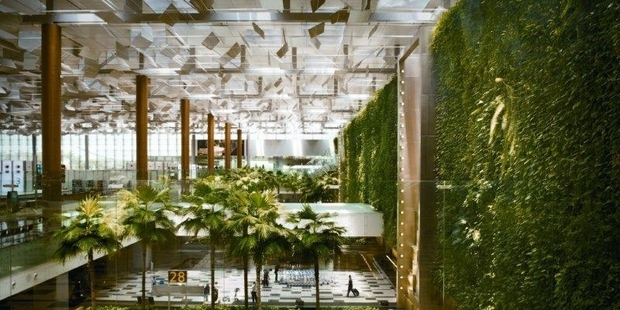 Waterfalls and butterflies, towering tree ferns and colourful orchids are not usually associated with transiting through an airport, but at Singapore's Changi Airport they've brought nature inside.
The airport's three terminals are home to so many thousands of plants that you could take an album's worth of photos and convince friends and family you'd done a jungle trek rather than stayed put in the airport.
Since 1997, the award-winning Changi has developed a series of lush gardens to complement Singapore's reputation as a "Garden City". Such is the praise received from passengers - last year 50 million people passed through - it continues to cultivate new gardens, revamp existing ones and create fresh displays to reflect changing seasons and Singaporean holidays and festivals.
It means Changi is now a nature-lovers paradise where you can take time to smell the flowers. A Garden Trail @ Changi brochure lets you embark on a self-guided tour from orchid garden to butterfly house to roof-top sunflower display, and bamboo garden. Even the car park is festooned with flowers.
The orchid garden in terminal two is the oldest garden. Revamped in 2002, 2005 and this year, it features 6000 Asian, African and American tropical plants, of which 30 per cent are native to Singapore. It's a stunning display where flowers jostle for attention with koi-filled ponds, miniature waterfalls and fountains, cascading foliage and driftwood sculptures.
Terminal two is also home to the architecturally inspired bamboo garden, which was unveiled last year. There are five species of bamboo and - lest you think it's all straight lines and seriousness - giant soft toy pandas. You can also visit the terminal roof, where there's a dazzling sunflower garden. It was recently revamped to include lighting fixtures so at night it becomes a light-themed mini park.
Both terminals two and three have cool green fern gardens that include giant Tasmanian tree ferns, which can grow up to 15m. In the terminal three baggage claim area there's a five-storey "green wall" of more than 10,000 plants arrayed across a 300m wide space. It's one of the largest indoor vertical gardens in Singapore.
Terminal three's butterfly garden is the first butterfly garden in an airport. Think high humidity, abundant greenery - there's 8000 plants here - and splashes of colour, and a 6m grotto waterfall with hundreds of butterflies darting around. It's the perfect place to keep children entertained.
A heliconia display in terminal one has more than 20 species of the flowering plant and the cactus display features more than 3000 plants from Asia, Africa and America. It takes on a decidedly prehistoric appearance, no doubt encouraged by spectral steel sculptures.
A unit of 11 specialists and a team of contract workers painstakingly develop and maintain the gardens. Plants are grown in an off-site nursery and bred specially for indoor conditions.
* New Zealanders travelling to Singapore can take advantage of a stopover holiday. This bundles accommodation, transport, and free admission to a range of attractions from NZ$37 a person. Gardens by the Bay is an included attraction and those who purchase this holiday get complimentary admission for two to Gardens by the Bay.
CHECKLIST
Getting there: Singapore Airlines flies 12 times weekly from Auckland to Changi, current airfares start at $1484 return.