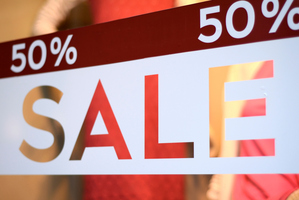 Last week's editorial on inflight advertisements on the screens that show Air New Zealand's clever quiz for domestic flights brought some interesting responses.
"We paid a lot of money for premium economy seats," said one reader who flew Air New Zealand from Auckland to Heathrow. "So [we] were pretty disgusted to see advertising at the beginning of all the movies. If the seats were discounted maybe, but these were not."
Hmm discounted seats. Perhaps that's the way to go.
Imagine if you could specify when purchasing your ticket whether or not you are happy to be 'advertised at'. Passengers who tick 'yes' might pay less for their ticket and get ad breaks in their movies, in the radio shows and all over their little screen. There might even be ads on their tray table, the seatback in front of them or on the food tray that is brought to them.
If an airline made it clear that as advertiser bait you'll pay less, consumers might be happy to go along.
The alternative, as imagined by another reader, puts the quiz space to another use.
"How much is a Kingston Deluxe 2-seater sofa from BIG SAVE? A) $699 B) $599 C) $499."