A distinct heritage cattle herd provides the prime beef for Norfolk Island's finest restaurant, writes Paul Rush.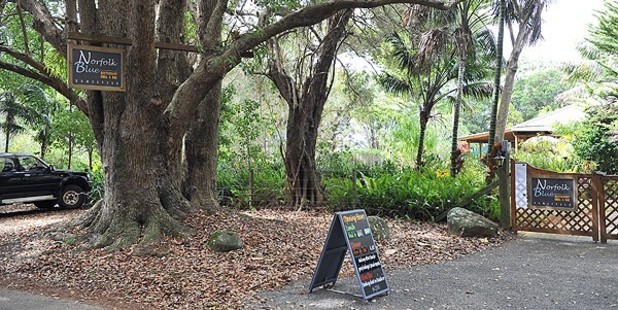 There's a fresh new taste treat for visitors to Norfolk Island as the lovely, underrated Pacific paradise known for its tall, stately pine trees, emerges as a food lover's heaven.
After a 90-minute flight I have landed on this sub-tropical island of 3455 ha (one-third the size of Waiheke Island) anchored in the Pacific Ocean between Auckland and Noumea.
The island's simple but colourful culture settles on a visitor like a distinctive cloak with the very first greeting. "Welkum to Norfolk Ailen, da bass side on Earth."
This quaint dialect is a hybrid of the Old English as spoken by the nine Bounty mutineers and the language of the Tahitian wives. Their descendants resettled on Norfolk in 1856, having outgrown their Pitcairn sanctuary and many still speak the strange tongue today. Today's 1800 residents all agree on one thing, this self-governing external territory of Australia is the best place on earth.
After just a few days touring the island, delighting in its diverse interactive heritage tours and enjoying some of its 35 excellent cafes and restaurants and tax-free shopping, I find it hard to understand why it remains one of the Pacific's best-kept secrets.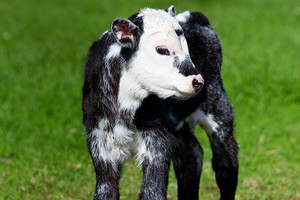 One morning I wash up on Headstone Creek in the island's southwest, visiting the homestead built on 100 Acre Farm. It's the only property on Norfolk whose name and extent are the same today as they were in the 1830's. My plan is to join the regular farm tour and then sample the highly-acclaimed Norfolk Blue gourmet beef in the Norfolk Blue Restaurant Grill & Bar, owned by Paul and Robyn Menghetti.
Farm guide, Ashley, explains that Robyn first noticed the distinct blue/grey heritage herd in 2001. It had evolved naturally from a combination of mainstream breeds like Shorthorn, Angus, Hereford, and Murray Grey. An acquisition and breeding programme has led to the island's exclusive breed of cattle called Norfolk Blue.
We meet Mr Bull, the 1000 kg chief bull on the farm, but Ashley says his waning performance has forced the owners to breed a replacement, "Baby Bull", and institute an artificial insemination regime. Their aim is to achieve an overall blue colouring in their stock.
The cattle are slaughtered when they are between 10-18 months, at the optimum weight of 200 kg. The beef is then aged for 6-10 weeks in a cool room and is used exclusively for the restaurant. Some Australian filet mignon is imported to provide variety to the menu.
We are treated to a delicious beef casserole in the atmospheric restaurant, which displays life-size photos of handsome blue/grey cattle on the walls. I particularly enjoy the house specialty of beef pâté, served with caperberries, crostini and homemade chutney, and the rich coffee taken on the verandah in a secluded setting. The restaurant won the Best Formal Dining category in the Norfolk Island Tourism Gold Awards in 2011.
The excellent meal has whetted my appetite for more of the island's diverse cuisine. Dino's Restaurant on Bumboras Road features a delectable Italian-style menu served in a dining room full of character. Helen Bartholomew and Dean Bosley are dedicated to serving top quality food with fresh vegetables, fruit, meats, seafood, salad greens and herbs sourced daily from local growers, farmers and fishermen.
For those who prefer locally produced food, it's hard to beat the Norfolk supply lines. Here, food doesn't travel food miles from production to the plate, it's measured more accurately in food metres.
I also enjoy a fine meal at Hilli's Restaurant & Wine Bar on Queen Elizabeth Avenue, which values an organically intimate relationship with fresh food. The ambience is perfect here with the right blend of service, warmth and delicious food. The innovative owners offer a Mastering Taste Chef School and Garden Tour, so visitors can experience a hands-on approach to the food served at Hilli's.
Norfolk Island is also famous for its seafood, which is caught fresh for many of the restaurants. The trumpeter fish is a popular delicacy, which I enjoy in The Rock Restaurant, which also serves beautiful salmon steaks and lobster on a regular basis.
Generally the island diet relies heavily on fish with fruit, vegetables, corn, arrowroot, kumara, yams and taro. During the whaling era, the wives of American ship's captains introduced custard pies. Today lemon, coconut and passion fruit pies are de rigueur for important occasions including Thanksgiving (another American import).
The Norfolk government backs 100 per cent sustainability in biodynamic farming on the island with the philosophy of healthy soil, food and body. This paddock to plate approach means food tastes just as it should; full of flavour and rich in nutrients. And for the perfect accompaniment there's a fine chardonnay, semillon or merlot wine from Two Chimneys Winery, tucked away in its own little microclimate on the eastern slopes.
The local distillery, Norfolk Island Liquors on Cascade Road is operated by Brad Forrester, who discovered quite by chance that he's a seventh generation descendant of Robert Forrester. Robert served time on Norfolk Island for inciting a riot, before taking up a land grant and becoming a successful farmer. Brad first visited in 1985, fell in love with the island and now produces 15 unique liqueurs, including an aromatised whiskey called Convict's Curse, and also Pitcairn Passion, a blend of strawberry and banana.
Local food specialties are based on traditional Polynesian dishes. The best way to experience such delights as pilhis, annas and mudda, made from bananas and root vegetables, is to join the Progressive Dinner to island homes. The hosts make it a fun night telling local stories and, believe me; Norfolk Island has a crockpot full of heritage stories just waiting to be told.
The local cuisine is so unique; Norfolk Island could soon become a popular foodie destination. Even now I'm pining for Norfolk Blue.
CHECKLIST
Getting there: Air New Zealand operates a weekly service from Auckland to Norfolk Island with additional services via Sydney and Brisbane.
Getting around: Rental cars cost around $25 a day and bicycles can be hired. Be sure to give the mandatory wave to all oncoming drivers.
Currency: The island is a self-governing external territory of Australia and Australian dollars are used.
Island tours A range of round-island orientation tours are available along with fascinating historical re-enactment shows in the evenings.
Accommodation: A wide selection of 60 properties gives the visitor a variety of styles to choose from. They are all AAA graded, maintaining the Australian standard. The Cumberland Resort & Spa is very comfortable and conveniently near the Burnt Pine shopping area.
Further information: See norfolkisland.com.au, norfolkislands.com, pinetreetours.com and kavha.gov.nf.
- nzherald.co.nz