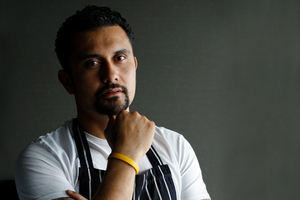 What was your greatest holiday: My recent trip to San Sebastian, Spain. It was part holiday, part research, so meant plenty of eating. The streets are filled with these beautiful pintxo bars, and it's home to an incredible restaurant called Mugaritz - they create a culinary experience at the hands of a very thoughtful chef.
And the worst: Probably when I broke my arm in Fiji. They had to fly me back to New Zealand to be operated on, and I ended up having a plate and 30 screws put in. It was one of the worst nights of my life.
If we bump into you on holiday, what are you most likely to be doing: Eating! And most likely drinking. For me, the food makes the destination. Most of my trips focus on trawling markets and eateries, seeking out new culinary cultures. Eating with my eyes and learning with my mind - it's the best way to understand new ingredients, flavours and combinations.
If we could teleport you to one place in New Zealand for a week-long holiday, where would it be: Waiheke Island.
It's beautiful, with boutique hotels and great wineries. And it has such a different way of life to Auckland, so it feels as though you're overseas. A couple of weekends ago I took the truck over and took my time trawling its vineyards.
How about for a dream holiday internationally: At the moment, it would have to be somewhere warm. So possibly the Mediterranean, for its weather and great food - the lifestyle speaks volumes about relaxing. Plus, the seafood there is superb.
What's the dumbest thing you've ever done when travelling: On a one-day stopover to the UK, for some reason my friend and I split up to go through customs. Apparently that, coupled with my tattoos, made security really suspicious. It was only after a very long hour of questioning that they let us leave.
Complete this sentence: "I can't travel without ..." My camera. Photographing food is a must to help me remember each dish and its flavours. And sunglasses are pretty handy after long flights, too.
What's the best travel tip you've ever been given: A good friend told me to always expect the unexpected, because plans always go askew. So it's best to always be on the ready for delayed planes, lost luggage, and even being stopped at customs.
What was the most memorable meal you've had while travelling: One dish that stands out was a serving of live ants, on a sticky herb emulsion sauce. They tasted like lemongrass. It was the Danish restaurant Noma, in Copenhagen, which has changed the way food is cooked, delivered and served in the culinary world. A meal there consists of 32 degustation dishes, and there's a sense that what you're eating won't be repeated. They were trialling the ant dish, looking at creating experiences to change our perceptions of food, finding different ways of sustaining ourselves and seeing how far we can push the boundaries. It's the incredible thing about that level of dining: they're free to experiment and people trust what they give them. When I came back home, for the hell of it I tried out a few local ants but they tasted pretty funny.
What's the best thing you've brought back from a trip: Memories, and mostly memories of food. I've never been one to buy antiques and knick-knacks - I like to travel light.
Favourite airport to land at: Hong Kong. The aroma of Asian cuisine hits you as soon as you leave the plane, filled with flavours of lemongrass, star anise and ginger. The food court is huge and multicultural - and a far cry from airports like Heathrow.
What's the next trip you've got planned: San Francisco, at the end of this year. There's a food conference in Napa Valley, which is home to such a fresh, seasonal and produce-driven style of cooking. It has some incredible wineries and restaurants, such as Chez Panisse. I think I'll visit Mexico and Japan either side of the trip, to pick up some more food ideas and inspiration. As a chef, you can never stop learning.


• Chef and owner of eponymous restaurant Meredith's, Michael Meredith, is a judge of the 2013 Bakels Supreme Pie Awards, to be announced next Tuesday at the Langham Hotel.