Two wheels is the ideal way to travel the back roads, writes Trish Murphy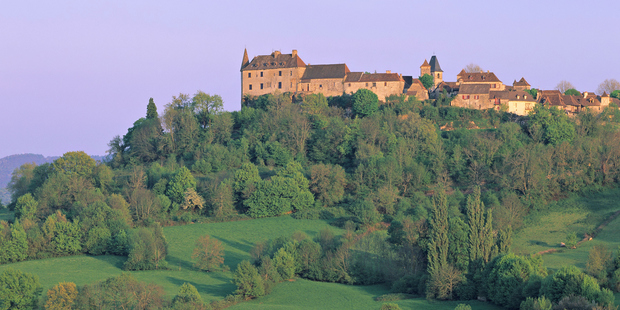 It's just after three as we ride into another medieval French village that seems to have been evacuated. We hear a shutter slam shut. A dog sticks its head around a corner. But not a soul is to be seen.
My husband and I pass a restaurant. Closed. A shop. Not open. Numerous quaint stone houses. Seemingly deserted.
But it's part of the charm. Autoire, like so many villages in the Dordogne, thrills the senses.
To get here, we freewheeled down a spectacular gorge, pushed along by a cooling breeze filled with the fragrance of scented flowers and soothing birdsong.
Trouble is, we've already covered over 30km and are yet to find lunch. Dinner is at least three hours and one steep ancient hill town climb away.
Lesson one of our first holiday in the saddle is a sore one.
"You need to stop for lunch between 12 and two," says a waiter at our hotel that evening.
Heavy legs are soon replaced by heavier bellies as he delivers an extraordinary duck cassoulet, part of a five-course feast rounded off with an all-you-can-eat cheese trolley bigger than the deli section at the local supermarket back home
"In this part of France that's when we eat lunch," he explains. "Not before. Not after. Make sure you time your ride to arrive in a town between 12 and two."
Nuggets of advice like this can transform a cycling holiday from frustration-filled to life-affirming.
As well as driving on the wrong side of the road, the French put the brakes on the wrong side of the bike.
That's useful to know if you have to stop suddenly and don't want to go head-first over the handlebars.
A week later, long-time English expat Robert Owensmith nods knowingly on hearing our tales of charming but empty village streets.
"The afternoons can be very quiet round here," he says. "Still, it's not as if you can't get water. But you have to know where to go."
"Knock on someone's door," I say.
"No, the local cemetery. They've all got one. And they're required by law to provide a source of drinking water."
For the first of our two weeks on two wheels we opted to ease ourselves in with a six-night, seven-day self-guided tour from Inntravel.
The British-based cycling specialists provided the hotels, bikes, routes, maps, and crucially, a daily luggage transfer service to take our bags from one hotel to the next. Our job was simply to get ourselves from a jaw-droppingly picturesque A to B.
The Dordogne, in southwest France, is the definition of picture-postcard; a predominantly rural region blanketed by rolling green hills and farms that seem to have been by-passed by modernity.
For many this is cycling heaven, where hours meandering along quiet country roads are broken up by visits to historic market towns like Sarlat or prehistoric caves featuring the earliest human art.
The allure of medieval hill towns that dot the landscape soon fades upon the realisation that a steep ascent of several kilometres is required to get to them.
Mind you, the reward of a cool beer or glass of rose at the top (the bar that sits at the end of the climb into Loubressac is the perfect example) always keeps the legs going.
We cycled almost exclusively on back roads and tracks, snaking alongside rivers, and through forests and countryside that haven't changed much in hundreds of years.
It was immensely challenging and enjoyable. Other cyclists, particularly old ladies with baskets full of shopping, always offered a smile and wave.
In the home of Le Tour, you feel safe on two wheels. When cars appeared they treated us with the kind of reverence afforded to cows in India.
There are also plenty of cows in France, and on several occasions the sound of cow bells ahead signalled a five minute wait by the side of the road to allow the herd to roll slowly past.
A highlight of the first week was walking around, up and down the vertigo-inducing village of Rocamadour, which clings to the limestone cliffs that rise above the Alzou gorge.
Following the Inntravel itinerary meant we could focus on the important things - specifically the cycling and, once we sussed out the lunch regime, the eating and drinking.
Touring by bike is as much about the food as the scenery in this part of France, and the focus is on local produce. Our Rocamadour hotel, Maisons du Trubadour, offered a choice of four main courses - all of them duck.
"Pardon, you don't like duck?" asked the incredulous waitress when my husband asked if something else might be available.
Still, the duck was delicious, as was what followed, a Rocamadour goat's cheese served with walnuts and honey. Heaven on a plate.
We have Robert to thank for ensuring the second half of the trip was just as rewarding. Officially, he runs a home-based bike hire business, aquitainebike.com, and when he pulled up in his van we were expecting to receive a couple of hybrid Treks and a quick "good luck".
Instead, Robert sat down at a restaurant table, opened a folder full of maps and spent the next hour working out our route for the following week.
"A bit of local knowledge goes a long way," he said, suggesting everything from little-known roads to preferred hotels.
His recommendations worked a treat. We headed as far south as Monpazier, a magnificently preserved 13th Century bastide founded by the English king, Edward Longshanks.
On the way there we stopped - just after midday - for lunch in another beguiling hamlet, Cadouin.
At the next table were six roadworkers, resplendent in fluorescent vests and mud-caked steel toe-capped boots.
When we arrived they were tucking into starters of foie gras, and they were washing down profiteroles with espresso as we got back on our bikes, just before two.
"Life is good, yes?" said one, raising a glass of red and bidding us bon voyage.
As we headed off for another afternoon in the saddle, it was impossible to argue.
CHECKLIST
Getting there: Emirates flies from Auckland connecting with Paris from their main hub in Dubai. Flights and rail links connect to Dordogne.