Flee the fog in San Francisco, writes Christine Sheehy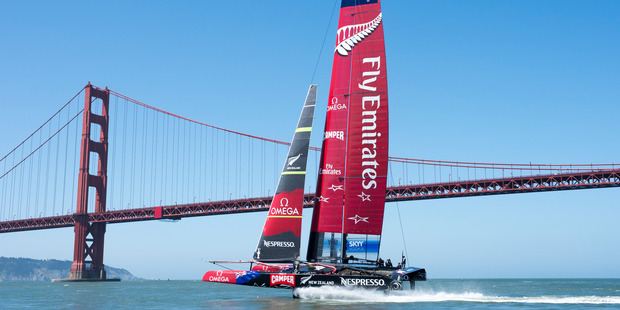 If you're visiting the City by the Bay for the America's Cup this northern summer, be sure to pack a warm jacket alongside your jandals. In San Francisco, summer is synonymous with sea fog - a bone-chilling damp sucked in from the Pacific to replace the rising hot air over the inland Central Valley.
The good news is that just crossing the Golden Gate Bridge can see the temperature rise by as much as 10C. So between race days, leave the fog-shrouded city behind and head for the hills.
1. Muir Woods National Monument
Sea fog brings blessings, too, not least the moisture needed to support redwood forests through the dry Californian summer. Supreme among these is Muir Woods, a narrow valley lying 304m above San Francisco in Marin County. It's a pleasant riverside stroll along the boardwalk to Cathedral Grove, the "temple of peace" where delegates to the inaugural United Nations meeting gathered in May 1945 to honour the recently deceased Franklin D. Roosevelt. Choose from a variety of hiking trails leading up to the tree tops, or all the way to the sea.
Admission US$7 ($9). A number of tour operators offer Muir Woods itineraries, or on weekends take a bus from San Francisco to the Manzanita Park and Ride, where shuttles depart every 20 minutes.
2. Roadtrippin'
Pick up a convertible Mustang (US$125/day from Cityrentacar.com) for a quintessential California road trip. Cross the Golden Gate Bridge and take the cliff-hugging Highway 1, watching out for cyclists as you follow the dramatic coastal road down to the 4.8km white curve of popular Stinson Beach. Fill up your picnic basket at Lunchbox - try the baby beef sliders with balsamic syrup and shaved pecorino), then carry on around the Bolinas Lagoon, keeping an eye out for seals and herons. You won't find a sign for the one-time hippie hideout of Bolinas - the locals keep tearing them down in protest against gentrification - but it's a short detour southwest for small galleries and a charming fine arts museum. On a clear day, follow the San Andreas fault up Highway 1 to reach the hidden coves of Point Reyes, stopping in at the Drakes Bay oyster shack. But if the fog is rolling in, call it a day at Olema and head home via the forested hills and rolling countryside of the picturesque Ross Valley.
3. Bike the Bay
The birthplace of mountain biking lies just across the water from San Francisco in Marin County. In the 1970s, pioneering riders Gary Fisher and Joe Breeze stripped old "fat tyre" bikes back to basic parts and rode the county's vast network of dusty fire roads and single track.
Hop on a ferry to Sausalito and hook up with the team at Stoked SF, who run bespoke tours for riders of all levels. If you prefer to self-guide, Stoked offer full gear hire, trail advice and round-trip transport to trail heads and tails. (Bike rental starts at US$55 a day.)
After a day of thrilling descents on the slopes of Mt Tamalpais, pull up for a beer and a meal in Sausalito - try Fish, or Bar Bocce for pizza and a game of bocce. If Bocce is busy, recline on the beach in front and stick your number in the sand for service in situ.
4. A river runs through it
For adventures of a mellower kind, pack a picnic and spend a day drifting downstream in an inflatable kayak with Russian River Adventures. The Russian River is gentle and usually shallow in summer, with plenty of gravel banks to rest and admire eagles and egrets, or cool off in a swimming hole. At journey's end, it's worth the short drive back to your starting point at Healdsburg, where some of the Wine Country's best restaurants await. Try Mateo's Cocina Latina.
5. Picnic in the Presidio
Okay, so this one is still in the city but you will feel a world away in this wooded park and former military base close to the south end of the Golden Gate Bridge. Every Sunday until October 27 you'll find gourmet food trucks, live music, free sports games and blanket-side cocktail service on the Main Post lawn. Take plenty of cash and a picnic blanket - it will double as extra warmth if the fog spills in. See offthegridsf.com

San Francisco Checklist
GETTING THERE: Air New Zealand flies daily from Auckland to San Francisco.
ONLINE: americascup.com