Railway museum stays on track by fusing history with fun, says Vincent Morello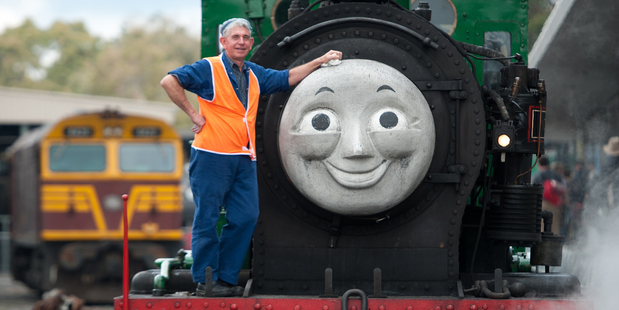 Make sure your children are calm when you arrive at Australia's largest railway museum, Trainworks.
Otherwise, they're likely to get overexcited by this historic, state-of-the-art facility which features children's sensation Thomas the Tank Engine.
Trainworks is an easy 90km drive south from Sydney to the hamlet of Thirlmere, and boasts more than 100 rail carriages and steam, diesel and electric locomotives dating back to the 1800s.
My family and I arrived at the 5ha site on a weekend, when Thomas and Friends were part of the many attractions that can keep children entertained for an entire day.
The "Day Out with Thomas" package introduced us to a full-size Thomas, and fellow engine Henry transported families in 1920s passenger carriages on 50-minute return rides to Buxton.
The Fat Controller was available for a hello and photos, while volunteer staff told us intricate details about the train line that was once part of the Melbourne run until bypassed in the 1920s.
The lush grass area gave way to jumping castles, mini-train rides and face painting, with plenty of picnic areas left for visitors to enjoy.
Donald, the black engine, remained parked but billowed along while staff explained the inner workings of steam technology.
Some of the rail lines lead into the museum which, along with the Great Train Hall and Roundhouse, was upgraded in the past few years, and where the Governor-General's historic carriage, nicknamed the "Palace on Wheels", is on display. Visitors can also enter a prison carriage.
At the far end of the museum is the old mail train, with a small slide that pops children out in front of The Legend of 1021 theatrette. The lights go out and a curtain is rolled back, displaying steam engine Cardiff 1021 that arrived in New South Wales in 1916.
Had enough? Venture outside to the Great Train Hall, where more than 60 locomotives and carriages span hundreds of metres in length and include the State Governor's car, the rail pay bus and the "rolling grocery store".
At the end of the hall is the working roundhouse, where staff perform maintenance and upkeep.
CHECKLIST
Getting there: Jetstar flies daily from Auckland to Sydney.
Details: The next Days Out with Thomas are July 13-14 and October 19-20.
The writer was a guest of Trainworks.
- AAP
Find out more at Australia.com