Great Britain's capital has played a central role in a cornucopia of brilliant but underexposed films.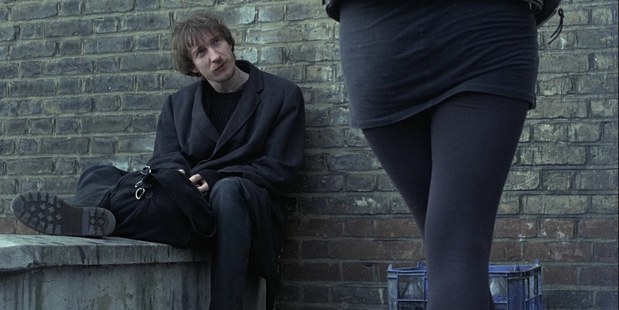 A scene from Mike Leigh's film Naked. Photo / Supplied
Amongst the oldest and greatest metropolises on the planet, London has been the setting for many famous films.
But the city's unexplored realms - its magnetic lure, murky underside, cultural clashes, enigmatic rhythms, and ancient ghosts - have been central to some lesser known movies.
Here we examine some of the films that revel in the many aspects of the real city of London.
Babylon
1980, Franco Rosso
With a heavyweight reggae soundtrack featuring Dennis Bovell, Aswad, I Roy, and Yabby U, Rosso's Babylon perfectly portrayed racial tensions in South London. This was the world according to The Clash's version of 'Police and Thieves', in a city still simmering from the 1976 Notting Hill Carnival riots. Brixton is the grimy backdrop; while London's black culture is colourfully depicted.
Blow-Up
1966, Michelangelo Antonioni
A slightly off-key, but hugely compelling attempt to understand the Swinging London of the mid-1960s, Antonioni's Blow-Up remains one of the best documents of the era's counterculture.
David Hemming's photographer character traverses the city, from the West End, to Woolwich's mysterious Maryon Park, taking in stoned Chelsea parties and a wild Yardbirds club performance along the way.
Finisterre
2003, Kieran Evans and Paul Kelly
It was a bold move for English dance trio Saint Etienne to produce a movie to compliment their sixth album. But Finisterre the film was a brilliant evocation of the city as a living organism, showing a day in the life of a London populated by an ever changing cast of fascinating characters. Interestingly, it was inspired by the unvarnished 1967 documentary The London Nobody Knows.
Hidden City
1987, Stephen Poliokoff
The debut film work for the television schooled Poliokoff, Hidden City owed debts to both Blow-up and a newspaper article about Secret London. Obsessed with what the surface of the city disguised, this thriller about big time conspiracies captures a murky and inhospitable London. The imaginative use of locations is particularly noteworthy, including the then undeveloped Docklands area, and an obsolete part of the London Underground.
London
1994, Patrick Keiller
Keiller's virtually forgotten masterpiece is a psychogeographic navigation of the city left behind after years of Thatcherism. The Time Out Film Guide said London "lies in that fertile territory between fiction and documentary", and the film certainly bridges those two very different storytelling techniques quietly and effectively. Few British films before or since have been as inspired as this; little wonder it was another major influence on Finisterre.
London Kills Me
1991, Hanif Kureishi
Part of an emerging generation of British writers and artists who confronted multiculturalism head-on, Hanif Kureishi created some of the most assured portraits of London during the 1980s and 90s. Amongst these were the classic My Beautiful Launderette from 1985, and Sammy and Rosie Get Laid. London Kills Me meanwhile, was a flawed but entertaining portrayal of loser life in Notting Hill that many now view as a decent glimpse of that period in London.
Naked
1993, Mike Leigh
David Thewlis was a dark force of nature in Leigh's 1993 classic, playing the troubled genius Mancunian Johnny. Naked is a much starker look than Keiller's at the damage wrought by the social changes of the previous decade, as Johnny wanders through a bleak and unforgiving East and Central London, encountering various dissolute characters. Although bleak there is a very black streak of humour at the heart of Leigh's script.
Performance
1970, Nicholas Roeg and Donald Cammell
Perhaps Mick Jagger's greatest acting moment, and a sublime debut for the lauded British directors Cammell and Roeg. With occult overtones, Performance interweaves the lives of James Fox's gangster and Jagger's paranoid and hermetic rock star, in a Notting Hill basement. There's a strong nod to the disillusionment that prevailed at the conclusion of the 1960s, as Roeg's virtuoso cinematography come to the fore.
Pool of London
1951, Basil Dearden
Set around the dock area from which the titles is derived, Pool of London is a masterful British crime thriller that followed Dearden's The Blue Lamp. The story concerning a merchant seaman's criminal activity is fairly uninspiring, but the depiction of the bustling Docklands area of the time, and of the gritty life surrounding it, is fascinating.
Wonderland
1999, Michael Winterbottom
Winterbottom's attempt to capture the feeling of living in the midst of such an unimaginably huge and chaotic city is largely successful. Wonderland, largely set in suburban South London, examines the dynamics of an atomised and emotionally deficient family. A moving and memorable film, with the character of contemporary London exploited to the fullest.
* For information on film locations in London, see movielondon.net or movie-locations.com/places/uk/gtrlondon.html
- nzherald.co.nz