Kris Shannon gets busy in the Japanese capital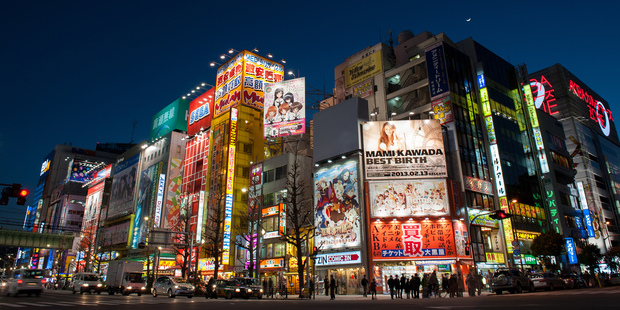 Shibuya Scramble
The scene at the Shibuya Scramble is how a neophyte might imagine Tokyo to be. The world's busiest pedestrian crossing seems to play host to a good portion of the city's 13 million population - some taking in the light show, some soaking up the commotion, and others simply crossing the road.
Culture-shocked tourists gaze up at the neon billboards and pretend they're Scarlett Johansson in Lost in Translation, while commuters eschew their smart phones and, instead of staring at a screen, watch where they're going. After all, attention must be paid when trying to navigate a sea of hundreds of people, though the alluring advertising is rather hard to ignore. It's even more obtrusive while waiting on the corner of the crossing, watching as several trucks adorned with giant glowing signage do the laps.
With all luminous lighting, the Shibuya Scramble is best visited by night, a time when 12-storey tall Celine Dion's features are positively radiant.
Rooftop 'PDT' bar
Perhaps the perfect complement to a stroll through the Shibuya Scramble is a nightcap at a secluded establishment known as a PDT bar - Please Don't Tell.
It's a phrase that captures both the bars' advertising strategies and their charm. The rooftop premises we visited was tucked away down an urban alleyway and, with no neon signs guiding the way, the directions of someone in the know were vital (if not a slight contravention of the PDT message).
Once inside what resembled a local's apartment building, the lounge turned out to be a fully-stocked bar. Upstairs, the open-air balcony was chilled by an occasionally biting Tokyo breeze but gas heaters, comfy couches and cozy blankets were as warming as the whiskey.
Away from the noise and bright lights, the rooftop bar provides a weary tourist a welcome escape from the hustle and bustle of Tokyo.
Roppongi Robataya
Avoiding the hustle and bustle for too long, though, almost defeats the purpose of a trip to Tokyo, but a meal at Roppongi Robataya quickly fixes that. Dinner and a show in one compact room, the experience is unlike anything found at larger restaurants.
Diners seat at one table surrounding a traditional Japanese barbecue and ingredients - some still in their death throes - on ice. Once an order is placed, two rotund chefs at the head of the table repeatedly chant the request in Japanese before using oversized paddles to scoop up the selected seafood and, once cooked, return the desired meal to its recipient.
The "shouty place", as it was called by our hosts, is well known to Hollywood's elite, as the staff were only too happy to prove. Without invitation, photo albums were produced to show off the famous faces of Roppongi Robataya's clientele, with the likes of Tom Cruise apparently fond of the histrionics.
Streamer Coffee Company - Shibuya branch
The sake flows rather freely at Roppongi Robataya and, if too much is imbibed, a visit to Streamer Coffee Company may be in order the following morning. Because there's little better to ward off a hangover than a latte made by a barista with a shoe sponsorship.
The owner of the Shibuya branch was the first Asian to become a world champion latte artist and subsequently earned a contract with New Balance, that bastion of fine coffee. And that coffee must suffice for those feeling the after-effects of the night before, with seaweed pockets stuffed with rice replacing bacon and eggs for breakfast fare.
The cafe is certainly popular among ex-pat mums who, with an English-language school right around the corner, drop off the kids before meeting to do whatever it is ex-pat mums do. We were warned to arrive before the 9am rush hour, and that advice was as well-received as the caffeine boost.
Electric City
All that caffeine can be easily burned off with a wander around Electric City, where the excess energy comes in handy if you wish to build your own tablet computer.
At least that's what seems possible in the markets teeming with electronic components - just in case the sprawling departments stores nearby fail to cater to specific demands.
Electric City is also the centre of Tokyo's anime district, an area in which young daintily dressed women dot every street corner enticing customers to experience the thoroughly Japanese concept of maid cafes.
The whole place goes some way to reinforcing certain stereotypes, and those are only strengthened with a visit to a local toy stockist. Among the myriad video game and cartoon characters, a shopper can also find intricate recreations of Godzilla destroying the city, or schoolgirl-themed figurines which should probably come with an R18 label.


Tokyo Checklist
FLIGHTS: Air New Zealand has five services per week to Tokyo (Narita Airport) and economy class airfares commence from $2031 per person return including airport and government costs.
ONLINE: japan-guide.com


• Kris Shannon travelled as a guest of Air New Zealand.