Devout desert dwellers and blessed bovines live in harmony in the Rajasthan desert, writes Paul Rush.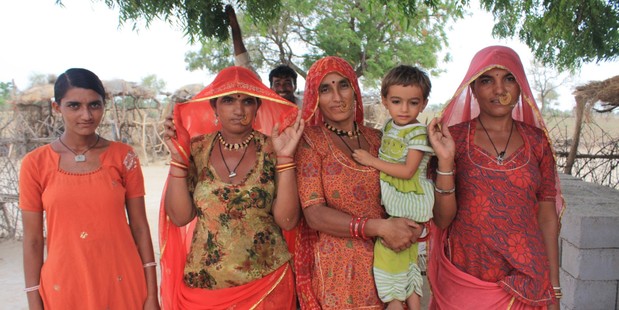 India's largest desert takes some taming. After an hour of hair-raising, bone-rattling dune bashing in a funky Mahindra Quadro 4WD vehicle based on an American jeep, I'm left with a lot less grunt than G.I Joe. There's a feeling of splendid isolation here. The rippled red sand dunes stretch away to infinity.
The great Thar Desert extends over much of Rajasthan, the land of princes, where Rajput warrior clans held sway for centuries under the protection of towering red forts and astute maharajahs. From the Manvar Desert Resort where I'm staying, dune safaris provide a great escape into the wilderness of sun baked sand, tangled thickets and steep escarpments. The owner, Moti Singh Rathore, has realised his dream in preserving the heritage and culture of this remote area.
The serious dune-raiding ends abruptly at a small desert compound with two thatched roof dwellings and a mud brick factory. I'm intrigued to find a cottage industry in such a remote location. A small olive-skinned Dalit woman is squatting in semi-darkness hand pumping leather bellows to feed air into a miniature furnace.
Once the iron is in a molten state she deftly places it on an anvil and hammers it into shape to form a knife blade. I examine her handiwork, which includes sickle blades, axe heads and an ornate smoking pipe with copper wire wrapped around it in a decorative pattern. All the while the craft woman's head is heavily veiled due to my presence as an unknown male visitor.
Further on we come across a cluster of primitive "dhani" or village huts with thatched roofs and plastered walls. A small boy and girl are role-playing as goat herders, which will likely be their adult occupation, while mum watches on and dad builds a dry-stone wall. Granny shows me a fine gold-coloured serving bowl, which is her pride and joy. Nearby, family members till the soil, while an infant squats contentedly near the water jug in the centre of the field. A white Brahmin milking cow sprawls out languidly on the warm earth.
This humble peasant family are Dalits, the lowest caste whom Mahatma Gandhi called "God's people". I would like to have talked to them and learned more of the traditional way of life, which has changed little in centuries. However, they are reticent and appear to be overawed by foreigners.
The origins of the four Hindu castes can be traced back to the beginning of civilisation when people came to be recognised by their occupation. Brahmins were fair-skinned Aryans who took the roles of priest and teacher. Kshatriyas were warrior caste, and Vaishyas were the darker-skinned traders and menial workers. Shudras did cleaning and sanitation work and lived on the outskirts of society. Initially, the caste system was fluid but by 600AD it was decreed that birth irrevocably fixed one's status.
Today the Indian Constitution makes it illegal to discriminate on the basis of caste, but with 80 per cent of the country's one billion people living the traditional village life, the system has a strong hold. The Dalits remain poor, living at the subsistence level of around $2.60 per day.
I learn through my interpreter that this family typically eats millet bread for breakfast cooked in buttermilk with yoghurt. Lunch is a yoghurt curry cooked in goat's milk and dinner consists of vegetables such as desert beans, pulses plus a bowl of cassava. While their desert compound is surrounded by cows, goats, deer and a host of wild creatures, their religious beliefs preclude killing any animals. Bugs and beetles are carefully brushed off firewood and dried dung before it is laid on a fire.
Our dune safari moves on to another compound, which is a model of aesthetic and practical design. The buildings and courtyard are formed of well compacted cow dung and straw, so smooth that it has the appearance of concrete, complete with hairline expansion cracks.
Three lovely girls pose demurely for a photo and show me their sleeping, cooking and storage rooms, which appear comfortable and well provisioned. Dria, Khuhsbu and Raju are proud of their desert home and smile broadly each time I make a gesture of admiration for their facilities. Dria, the eldest, demonstrates her numeracy skills by counting in English from one to fourteen in a lilting, mellifluous voice. As I leave, a pure white cow approaches the girls seeking a little affection and they run towards it and embrace it warmly.
From the top of a high dune I look out over the vast expanse of the desert, which fades into a shimmering mirage on the horizon. Two camel handlers, Vhimsing Singh and Arjun Singh emerge from the sandy wastes and help me mount a gangly dromedary. A South African couple mount the second beast and the handlers lead us on foot along the prominent ridge.
For such an inhospitable place as the Thar Desert, I'm amazed at the abundance of animals and birds around us. Blackbuck antelopes with long spiralling horns and frisky chinkara gazelles appear in tight family herds. An ungainly nilgai or blue bull, the largest antelope, lumbers off in the distance. Egrets, herons, storks and cormorants feed in a rare waterhole while overhead, kestrels and goshawks soar on the thermals with malicious intent.
Thanks to the local Bishnoi people whose Jainist philosophy requires them to be 100 per cent pure ecologists, no creatures are hunted. As a result India has a great diversity of flora and fauna. It's the only country with both lions and tigers in the wild.
Travelling on to the city of Jodhpur, I reflect on the peaceful dhani dwellers of the desert and their docile, affectionate milking cows and contrast that scene with the bothersome bovines that stretch out on bustling city streets as if they own them.
How did this sacred cow syndrome originate. Unproductive traffic-blocking Brahman cattle seem to be the complete antithesis of a fast-developing economy with the promise of becoming a leading world power. It's already functional anarchy on India's roads and the humble cow compounds the chaos. Traffic stops for no one, only cows. The golden rule for pedestrians crossing roads here seems to be: look left, look right and then run for dear life.
In India all animals are sacred and Gau Mata or Mother Cow enjoys a special place in the Indian psyche. This originates from the first agriculture-based civilisation before the advent of money, where wealth was determined by the number of cows a family owned. The cow became legal tender, exchanged for goods and services, offered as dowry at weddings, handed over as tax and gifted to priests to gain karma and assure salvation.
The crux of the problem today appears to be the reluctance of owners to put a beast down once it ceases to produce milk. It's simply not politically correct to kill the poor creature so the only alternative is to abandon it on the streets.
Once let loose the cows are sure to thrive as the first roti (unleavened bread) cooked is left out for a cow to eat. City residents routinely feed local strays with a smorgasbord of delicacies to propitiate the gods. Lord Vishnu's eighth reincarnation was Lord Krishna, a pastoralist who played his flute to keep his cows happy.
With this exulted pedigree, I decide to accord a little more respect to the holy cow. Then as we negotiate the main square in Jodhpur I see an entire herd scattered over the intersection, blocking our path. My immediate reaction is to ask my driver to honk his horn continuously and nudge them (figuratively) out of the way.
But then I check myself think of Mother Cow and decide to wait patiently until a gap opens up. Am I being truly respectful I wonder? Or have I simply been cowed into submission?
FACT FILE
Getting There
Cathay Pacific has daily flights from Auckland to Delhi.
Getting Around
Adventure World organises small group tours around Rajasthan in modern vehicles with local guides at each city to show you the sightseeing highlights such as palaces, forts, temples, gardens and produce markets. Carry a good supply of lower denomination currency (10, 20 and 50 rupees) as tipping is widely practised in India.
Manvar Desert Resort
This attractive cluster of 21 cottages in rustic, rough-hewn sandstone is on the Jodhpur-Jaisalmer Highway to Rajasthan. It's an ideal holiday base under leafy shade trees with alfresco dining that captures the wonderful quietude of the desert. The resort offers a luxury tent camp experience out in into desert with a moonlight feast, Rajasthani folk singing and a sunrise camel ride. (Between October and March)
* Paul Rush travelled to India courtesy of Adventure World Tours and Cathay Pacific.
- nzherald.co.nz