San Pellegrino chefs help to make the Noosa International Food and Wine Festival a gastronomical event not to be missed - but get your tickets early for the next one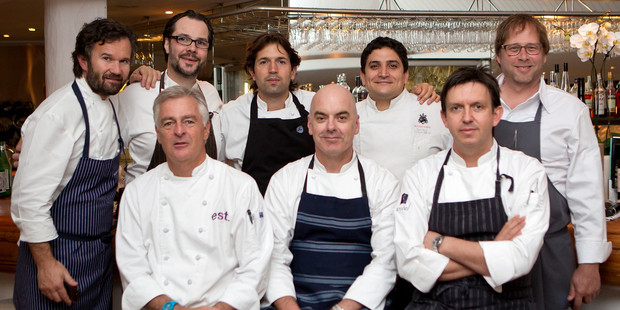 The Queenslander sitting beside me at the Noosa International Food and Wine Festival's gala concert dinner exhibited a healthy waste not, want not mentality as he filled his water bottle with a good quantity of the Baileys Muscat dessert wine left on our table at the conclusion of the meal.
Who could blame him? The wine was delicious and although the dinner - local galangal and turmeric broth with clams, ocean trout, prawns and mussels; beef cheek bourguignon; dragon fruit and berry panna cotta with macadamia crumble - was well executed, it had followed drinks and then a concert in an adjoining marquee where each seated ticket holder was given a chocolate box of the prettiest canapes you are ever likely to see. What's more, all 10 jewel-like treats were created by visiting guest chefs from the 2012 San Pellegrino World's Best Restaurant list. Called Edible Music, the night (an eye-widening surprise for the locals because it was cold and raining) was the official opening of the festival, which this year drew 30,000 to the resort town for its 10th anniversary.
The San Pellegrino chefs (from Nahm's David Thompson to Japan's Yoshihiro Narisawa, Carlo Cracco from Milan and Kiwi Ben Shewry from Melbourne restaurant Attica) came on to the concert stage in pairs for a cameo appearance, at which time you were instructed to eat the canape from the box that each had conceived.
Some chefs attempted to dance. Sydney's Tetsuya Wakuda opted to crack open an egg to reveal his bon bon of toro Petuna ocean trout formed as a bright orange yolk.
Tricks aside, Queensland's Virtuosi Orchestra, flautist Jane Rutter, soprano Taryn Fiebig and tenor Virgilio Marino launched a party to remember, heralding a delectable five days which would groan with enough food and drink to feed a small, wealthy nation for quite some time.
The festival, which added "international" to its title two years ago, attracts Kiwis and other overseas guests as well as Australians, giving food lovers the chance to not only hobnob with the world's top chefs but to watch food demonstrations, listen to seminars and to buy, for an A$8 ($9.60) ticket, wines and dishes that ranged from Louisiana-style Noosa spanner crab cakes to African jungle curry served in a halved pineapple, and lots more besides.
My dinner companions that first night, the Queensland couple on my right, had been to eight previous festivals; the couple on my left, originally from Hawkes Bay, had been to all 10. They remembered the early days when just 100 visitors would show up to sample the products from a few contributors. This year, there were 300 contributors (including New Zealand's Cloudy Bay clams, Regal Salmon, Heilala Vanilla and Matua Valley wines) along with 150 volunteers to ensure all went smoothly.
Tickets sell out fast (sometimes in a few hours) for special events, such as the not-to-be-missed favourites like the Sunshine Coast Food Trails, now offered on a choice of two days because of their popularity.
On the Asian one I attended, guests travel by bus to Tim Warren's Ganisha Spice Farm in the Hinterland. Welcome cocktails await, concocted by Sam Christie from acclaimed Sydney and Melbourne's Longrain, accompanied by Thai-flavoured prawns and coconut served on betel leaves (familiar morsels to anyone who has dined at the restaurants) as guests tour the farm. Then it's on to lunch, this year hosted by Matt Preston and cooked by David Thompson, Longrain partner and executive chef Martin Boetz (now concentrating on a new farm venture) and his protege, Louis Tikaram, spice queen Christine Manfield, who recently shut her Sydney fixture Universal, and MasterChef Australia's Poh Ling Yeow. Wines came courtesy of The Lane Vineyard in Adelaide. A memorable day for A$195 a person.
Other events were pricier. New to the festival were two eight-course Qantas Premier International Degustations, featuring the San Pellegrino World's Best Restaurant chefs and leading Australian chefs (A$495 a person) and a Delicious Produce Awards dinner in a barefoot marquee where you donned towelling scuffs as protection from the cool night sand (A$375).
An intriguing Japanese and Indian lunch and a seafood lunch in a barefoot marquee on the beach were also added this year. Wellington's Martin Bosley joined the line up here.
Next year's festival is expected to run from May 15-18. Good luck with the tickets ... they go on sale in the second week of January, but those who join Club Chilli (noosafoodandwine.com.au) receive the programme first.


MEET THE CHEFS
David Kinch, Manresa, US
Chef proprietor of Manresa restaurant in Los Gatos, California, David Kinch has been awarded two Michelin stars for each of the past seven years. "People say to me, 'Do you really want that third star?' But my answer to that is that I really want to keep my two!"
Kinch has been named the best chef in America for the Pacific region by the James Beard Foundation, was named GQ magazine's chef of the year in 2011 and Manresa was on the San Pellegrino list of top 50 restaurants worldwide in 2012. Kinch was in Australia cooking at a degustation dinner and demonstrating on stage at the Noosa festival.
His food has been described as Catalan, French and Japan-influenced but he admits he doesn't know what to call it. When pressed, he says it's contemporary California (but not Californian). "California is more of a concept."
Kinch, 52, still works 12-hour days at the stove, putting in an additional two or three hours daily on matters relating to the biodynamic farm in nearby Santa Cruz, owned by former lawyer Cynthia Sandberg, which supplies nearly all the produce for his restaurant. Love Apple Farms grows 250 cultivars, with 160 varieties of tomatoes on its 9ha. Everything is heirloom. "We also do a lot of seed saving," Kinch says. "I find myself there two to three times a week."
Taking into account what's ready for picking, Kinch will tweak his menu 10-15 per cent every day, making big changes every six-seven weeks. He describes creating menus from the produce as his biggest challenge and biggest satisfaction.
"What I find exciting is not necessarily a technique or a fancy dish but a product, a perfect tomato, hard wheat durum spaghetti brought back from Italy. A warm tomato from the sun gives me greater satisfaction than fancy tomato recipes."
Meat is sourced from small producers nearby but also from Quebec. Fish is local but also from Japan. "I do not believe in the concept of locavorism if the product is inferior. I choose to limit myself by the quality of ingredients but not geography."
And his favourite cuisine? "Japanese. Japan is my favourite place to eat in the world. It's the single greatest eating country without exception; the quality of the product, the skill and level of technique, the deep regionalism. The Japanese are unafraid of modernism and contemporary techniques. In Japan, they have a wealthy, educated and sophisticated population that's not afraid to support artisans. And they cook with no fat! '
Kinch has just written his first cookbook, Manresa an Edible Reflection, about the first 10 years of the restaurant. Including narrative and recipes, it is to be released in October but is available now on Amazon.
And his plans for the future? More of the same, he says. Cooking in the kitchen while he is still passionately keen and visiting Sicily because of its great produce. "Also, I'd really like to visit Auckland, New Zealand," he adds ... just in the nick of time.
Philip Johnson, E'cco and One Eleven, Brisbane
New Zealander Philip Johnson may be a well-respected force on the Brisbane dining scene but he's also a fan of the Playcentre Cookbook from his childhood days in Oxford, near Christchurch.
Johnson opened his E'cco Bistro in the city in 1995 and, just two years later, it was named Australian Restaurant of the Year by Gourmet Traveller magazine. At the end of 2012, he opened his second restaurant to rave reviews. Bistro One Eleven and its espresso bar are part of a lavish A$3.8 million riverside building fitout in Brisbane's CBD.
Johnson is still involved with both establishments daily but is more likely to be found attending a function or lunch for regular customers than at the restaurant stoves. He has been involved with the Noosa food festival since its launch 10 years ago. This year he cooked for the lavish 10-Year Degustation and at a marquee-on-the-beach dinner, along with a spot of food demonstrating. Enter the Playcentre 1956 cookbook from which he taught festival-goers how to make a chocolate self-saucing pudding. "No one would put their name to anything that didn't work," he says of the local Oxford women who contributed to the book. "If I lost this, I'd lose my life.
"Cooking for me is almost a reflex action," he says. "While I am a bit sick of pin-boning salmon, for instance, and don't need to do that these days, picking herbs with the guys in the kitchen can be pleasant.
"Although it's often bandied around, I would describe my food as being produce-driven, cooked with love and detail; it's all about flavour.
"It's not purely organic but I will buy good organic produce, such as Byron Bay potatoes. The skin can be rubbed off with your fingers. If we don't support these organic growers they will disappear. They put in a lot of care so they deserve to charge a bit more."
Johnson's background includes, working in the pastry section of the Ritz and at Antony Worrall Thompson's Menage a Trois in the 1980s and also later at his dell'Ugo restaurant. Johnson spent time at London's River Cafe as well, saying the late Rose Gray was the most influential person on his career. "She simplified cooking for me: serving food that looks natural where flavour is paramount."
He says a pivotal moment was sitting on the steps at Menage a Trois and watching the morning deliveries.
"I saw 15-20 types of mushroom (we had two then in Australia), 15 lettuces, 20 types of unpasteurised cheese. That's when it went 'click' that this is what I wanted to do."
Although E'cco is more formal than Bistro One Eleven, Johnson says that he has tried to create a restaurant where you could have bowl of soup and not be penalised for it.
- VIVA