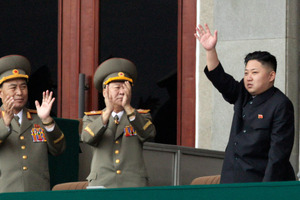 Skiing destinations tend to be in well-heeled areas - from Queenstown to the Austrian Alps and Whistler. Naturally, North Korea wants to take its place alongside the well-groomed resorts.
And with their neighbour and perennial rival South Korea hosting the 2018 Winter Olympics, North Korean leader Kim Jong-Un has issued a national appeal to speed up work on his country's "world class" ski resort.
Describing the Masik Pass resort in the northeast of the impoverished country as a "gigantic patriotic work", Kim urged greater effort to complete the project - with 110km of multi-level ski runs, a hotel, heliport and cable cars.
The ruling Workers' Party "remains unchanged in its resolution to build a world-class skiing ground within this year", the Swiss-educated Kim said in a message carried by the state-run Korean Central News Agency.
The resort, being built by the military, will "provide the people and school youth and children with highly civilised and happy living conditions", he said.
When Kim's father, Kim Jong-Il, died in December 2011 he left a country in dire economic straits - the result of a "military first" policy that fed an ambitious missile and nuclear program at the expense of a malnourished population. Kim Jong-Un has followed a similar path.
Despite a reported rise in staple food output, daily life for millions is an ongoing struggle with under-nutrition, according to a recent World Food Programme report.
Kim paid a "work guidance" visit to the resort last week and observers have offered a number of theories for why the resort has been made such a priority. Some speculate that the North might consider making a late bid to co-host some events of the 2018 Winter Olympics, which will take place in the South Korean resort of Pyeongchang.