Winston Aldworth flies takes a flight across Nepal.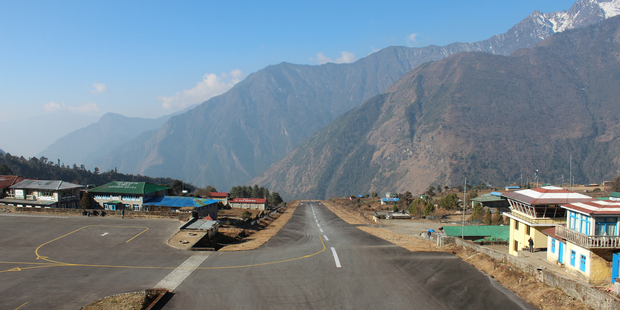 The plane: A De Havilland Canada 6-300. On the way up, we had the Dornier 228.
Class: We're all in this together. You know you're about to take off from - dun-dun! - The Most Dangerous Airport in the World when the pilot puts on a baseball batters' glove so he can punch the throttle for take-off. As soon as we're up, he removes the glove. Out of the park!
Price: About $300. Tickets are heaps cheaper for Nepali passengers than they are for foreigners, which is really cool - just like Fonterra sells milk at a reduced rate to New Zealanders. Oh, hang on a minute ...
On time? Are you kidding me? We were more than a day late. The rest of my hiking group had already gone out in a chopper as Tenzing-Hillary Airport is often closed by bad weather. Helicopters swoop in to pick up weary travellers, who are paying upwards of $850 just to get out of there - even though they already have tickets booked on fixed wings.
If your travel insurance is any good, it should cover the cost of the helicopter ride, if it's needed for you to reach a connecting flight out of Kathmandu. Check first.
My seat: Fourth back, on the left. There's not a lot of room on board, as everyone has a yak poo-splattered pack on their laps. Best views are on the left-hand side as the plane goes up, and on the right as it heads back to Kathmandu.
Fellow passengers: Four Sherpa people - the rest are unwashed Western trekkers.
How full? There are 21 seats. Three are empty, which seems odd given the number of people desperate to get out of Lukla after a day of no flights and heavy fog. My Sherpa mate suspects they leave those seats empty to avoid overloading. How thoughtful.
Entertainment: Fellow passengers amused themselves by spotting other planes and taking selfies. The fog was pretty thick; on a good day, the scenery is spectacular as you wind your way through towering valleys.
The service: A beautiful Nepalese girl shuffles along, all crouched over, saying, "Fasten seatbelts for take-off". Once we're up, she hands out lollies and cotton wool (for your ears). Given that Lukla seemed about to descend into wild rioting, I wondered if her seat could have been better used.
Food and drink: A couple of lollies.
Toilets: None. Though some passengers might pee their pants at the sight of the 11-degree angle of the runway.
Luggage: A 15kg bag in the hold. And they're pretty fussy about checking the weight.
The airport experience: Part Lord Of The Flies, part "Last Chopper Out Of Saigon" as stranded hikers scramble for exodus. Important lesson: there are no guarantees in Lukla. Some of these poor trekkers have hiked for weeks and lack the mental reserves left for a three-day wait.
Would I fly this again? Yep. I reckon I'll head back to the Everest region, and that means landing in Lukla. Just remember to pack a lot of patience and enjoy the ride.
• Winston Aldworth travelled as a guest of World Expeditions.