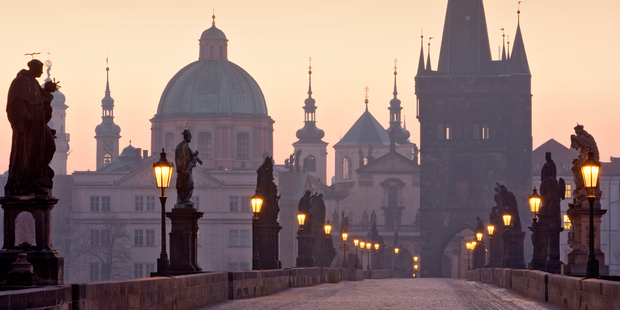 My partner and I are planning a trip to Europe in mid-September for 10 to 12 weeks. We're going to London and Paris and a few spots in northern Italy, then continuing south through Italy and into either Spain or Greece (we're not sure which will be cheaper given their current economies). We've also considered travelling from northern Italy into central/eastern Europe. What do you suggest, factoring in the weather, our activities and our budget? We're finding the abundance of choice overwhelming! - Sarah
Lonely Planet's Sarah Bennett and Lee Slater reply:
With almost three months up your sleeve, you could embark on a grand European tour visiting numerous countries. Spain is marginally more expensive than Greece and most of eastern Europe, so if cost is a major factor, you may wish to skip it.
Eastern Europe is a fascinating destination, and the following itinerary traces a route through some of the region's diverse landscapes and historic cities before heading south to the Mediterranean for some autumnal sun.
As it happens, the shoulder season of September through October is arguably the best time to visit, as the crowds and prices have dropped off and the weather is generally pleasant.
From northern Italy, head through Austria, pit-stopping at Salzburg and Vienna on your way to the Czech Republic. Experience Prague's famous old-world heritage, and its lesser-known hip neighbourhoods like Vinohrady and Zizkov. From there you could head further east into Poland and the effortless beauty of Krakow, or north into Germany and hedonistic Berlin.
Come November, head south in search of the sun, through the Balkan countries of Croatia, Montenegro and Albania, and into Greece. No trip to Croatia is complete without seeing the baroque buildings and marbled streets of Dubrovnik, or sauntering along the Adriatic coast, with its sapphire waters, hidden coves and remote islands.
Highlights of Montenegro include historic towns hemmed in by limestone cliffs in the Bay of Kotor, and the primeval forests and alpine lakes of Biogradska Gora National Park.
After years of government-enforced isolation, Albania welcomes travellers with sincere hospitality. Tirana, the capital, is lively and colourful with a buzzy cafe culture, while further south more sedate offerings are on hand in the Unesco World Heritage-listed museum town of Berat.
Getting around eastern Europe is simple and economical, with extensive rail and bus networks, and loads of budget airlines serving major cities. Good online resources are flycheapo.com, raileurope.com, bahn.de and eurolines.com


WIN A LONELY PLANET GUIDEBOOK
Email your questions to travel.info@lonelyplanet.com and they'll be answered by Lonely Planet's experts.
In addition, the best question each week will earn a Lonely Planet guidebook. Add your postal address and the guidebook you'd like (see lonelyplanet.com).
Not all questions are answered and Lonely Planet cannot correspond directly with readers.