Rob McFarland revels in the opulence of a two-day rail trip in Africa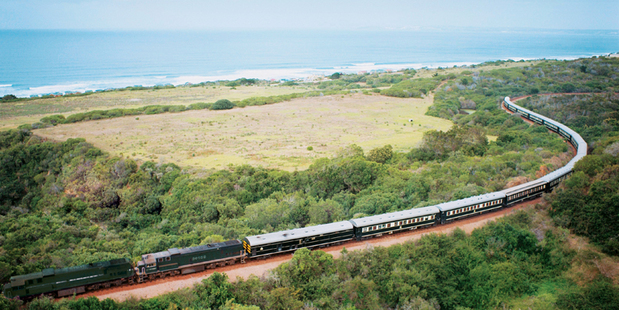 By the second day of my journey from Cape Town to Pretoria I've learned three valuable lessons about train travel: first, shower when the train has stopped; second, don't fill your glass to the top; and third, remember to close the window blind before using the bathroom. From the smiles and cheery waves of the track workers, this is clearly not the first time someone has made this last mistake.
It's a reminder that there's a world outside the lavish cocoon in which I've been engulfed for the past day and a half. Since arriving at Rovos Rail's private lounge at Cape Town station and having a glass of champagne coaxed into my hand, my journey has been an opulent blur of remarkable food, fine wine and mesmerising scenery. Billed as the most luxurious train in the world, Rovos Rail's Pride of Africa is an indulgent haven of wood panelling, thick-pile carpet and old-world elegance. Every time I stroll down its narrow corridors, I expect to bump into Agatha Christie.
At 11sq m, my deluxe suite is enormous (by train standards). It has a double bed, a desk, two chairs, a fridge and an en suite bathroom with toilet and full-size shower.
Three large picture windows provide an ever-changing view of the passing scenery and there's even a telephone and guest directory.
All meals are served in a beautiful 1920s pillared dining car with plush leather seats, antique light fittings and crisp white table linen. While the dress code is smart-casual during the day, everyone is encouraged to dress up at night (evening dress for women; jacket and tie for gents) and the formality feels appropriate. Next door is a lounge car with comfortable sofas and armchairs and at the back of the train is an observation car with a bar and outdoor viewing area. This open-air section quickly becomes my favourite part of the train and I spend many an hour watching Africa unfurl behind me.
The scenery varies from arid plains to lush vineyards and at times even resembles Outback Australia. We pass through numerous shanty towns, each a sea of corrugated roofs joined by strings of brightly coloured washing. Occasionally, when we stop in a siding to let another train pass, clusters of hopeful, grinning children peer up from the track below. At other times I watch straight-backed women cross the tracks, elegantly balancing large bundles of sticks on their heads.
During the 48-hour journey, we make two stops, the first at the tiny town of Matjiesfontein, and the second at Kimberley. The trip would be worth it for the stop at Matjiesfontein alone. Founded in 1884, it's a bizarre little place with a single stretch of tarmac road lined with restored Victorian cottages, an old Shell petrol station, a hotel and a pub. We're met by resident tour guide John Theunissen, a larger-than-life character who bugles us aboard an old red double-decker bus for a 10-minute tour of the town.
He shows us around the Lord Milner Hotel before we retire to The Lairds Arms for a pint and a singsong around the piano. At the bar I meet two Dutch couples who are staying overnight in the town. They come every year, simply because it's so unusual.
Kimberley, on the other hand, is a much more polished experience. Buses and guides wait to escort us to the Big Hole, an attraction based around what is claimed to be the largest hand-dug hole in the world. An estimated 2722kg of diamonds were extracted from this 215m-deep mine between 1871 and 1914 and there's an excellent range of exhibits, films and artefacts that chart the diamond rush. De Beers still has its headquarters here, even though most of Africa's diamonds now come from neighbouring Botswana.
Back on board, days become a leisurely blur of eating, reading and napping. In fact, I don't think I've ever consumed more food in a 48-hour period. Breakfast is the usual selection of cold and hot options and lunch and dinner are four-course affairs with matching wines. A typical offering is grilled queen scallops for entree, balsamic marinated ostrich fillet for main, Huguenot and Amabutho cheddar for the cheese course and fresh fruit salad with mascarpone cream for dessert. The quality and presentation of the food is astonishing, particularly given the confines within which it is prepared. The ham, cheese and mushroom omelette I have for breakfast one day is the best I have ever eaten. The all-inclusive tariff means you never have to worry about signing chits at the bar or taking your wallet to dinner. It even extends to the drinks in the suite's minibar and the free onboard laundry and pressing service.
My companions, 42 in all, are a mixed bunch, including a group of nine from Slovakia, several couples from the UK and a family from New York. The only complaint I hear is that some people have difficulty sleeping. The track is rough in places and even though the train stops for three to four hours each night, it can still mean you're shaken, rather than lulled, to sleep.
This weekly two-night trip is one of eight journeys Rovos Rail runs through Africa. The longest is the mammoth 28-day Cape Town to Cairo trip. I'm not sure I could spend that long on a train - none of my clothes would fit at the end. This trip felt like the ideal length, with enough stops to keep it interesting yet still ample time to relax. Is it the most luxurious train in the world? All I know is that I can't think of anything I'd change, except, perhaps, frosted windows in the bathrooms.


Info
Getting there
Emirates flies from Auckland to Cape Town. See emirates.com
Rovos Rail
Suites on the Cape Town to Pretoria trip start from about $1675 (ZAR13,600) per person and include all meals, excursions and drinks. See rovos.com. Also see southafrica.net


• Rob McFarland was a guest of South African Tourism and Rovos Rail.