Peter Calder enjoys an ethically sound tipple in a Melbourne bar.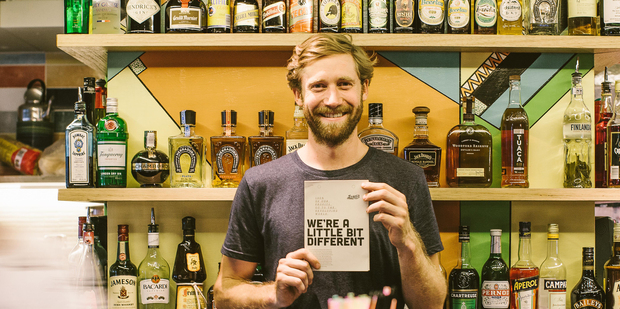 The Irish and the Scots had a word for it. A shebeen was a bar that operated - or tried to operate - below the radar of the excise officers. But the word also surfaced in apartheid-era South Africa to describe an illegal bar in one of the black townships.
Now there's a bar called Shebeen in Melbourne that's completely legit and on a mission to change the world, one drink at a time. The brainchild of social entrepreneur Simon Griffiths - a finalist in the Young Australian of the Year 2013 - it stocks beers and wines from the developing world and sends all the profits back to aid projects in each drink's country of origin.
So if you order an Ethiopian beer you're supporting KickStart (Ethiopia), which provides agricultural equipment to small farmers so they can increase their crop yields. The profits on the sale of a Tusker beer, a product of East African breweries, will go towards the One Acre Fund in Kenya, which helps farmers with tools, education and insurance. Sales of India's Haywards beer will help Vision Spring (India) to increase rural India's access to spectacles; a glass of tasty Kleine Rust rose helps Room to Read provide local language books to school children in KwaZulu-Natal; a margarita made with el Jimador tequila helps Root Capital in Mexico to lend to and advise small agricultural businesses.
Griffiths turned down a career with a major investment bank in favour of travelling and doing aid work in Asia, Central America and Africa, including a spell as an aid worker in South African shanty towns in 2007. He and Zanna McComish, a friend from Melbourne, came up with the idea for a non-profit bar while sipping local beers at an idyllic beach bar in Tanzania.
Griffiths raised $300,000 in donations in cash or kind to get the venture off the ground. An American liquor company came on board, as did Vernon Chalker, the owner of top Melbourne bars Gin Palace and Madame Brussels, who is an unpaid consultant.
"Your average bar-goer isn't supporting Kenyan farmers on a regular basis," Griffiths told an audience at a TEDxMelbourne talk in November 2011. But that's what he wants to have them do.
He road-tested the idea in one of Chalker's bars and in a pop-up establishment, and from the results there confidently projects raising $250,000 in the first year at the rate of up to $2 a drink.
That's only the beginning. He forecasts raising $1 million in year three, and there are plans for liquor manufacturing and retail partnerships. For a man whose other idea is toilet paper manufactured under the Who Gives A Crap? brand, which spends 50 per cent of its profits building toilets in the Third World, nothing is too outlandish.
Shebeen is tucked up the end of Manchester Lane, off Flinders Lane, which is one of the central city's hippest precincts, home to such legendary eateries as Cumulus Inc, Chin Chin and Meatballs. But the fitout is not as flash as the neighbours': intended to evoke the shebeens of the townships, it uses recycled corrugated iron walls and old fence palings. The lighting, some of which looks homemade but certainly isn't, features fittings that might have once been outdoors; the seats on the bar stools might once have been in a sport stadium. There's something both cheeky and slightly sobering about such transgressive references to liberation of public property by people who barely knew what it was to have property.
If the young hip kids working the bar were shocked to see someone show up who was older than their fathers, they covered well. "Of course you do," said one when I told her I fancied a beer. She plonked a small enamel pie dish of salted popcorn in front of me and directed me to the list.
It's not exactly comprehensive: 10 beers, a cider, eight cocktails and seven wines the evening we were there (there are sandwiches and sliders and "post-colonial cheeses", too). But there's something pretty special about having a drink and knowing you're fighting poverty at the same time.
SHEBEEN
36 Manchester Lane, Melbourne
(00613) 9650 6931