Sometimes wildlife is a bit too wild, so we appreciate sculptures of animals instead, embedded in concrete, as nature could have intended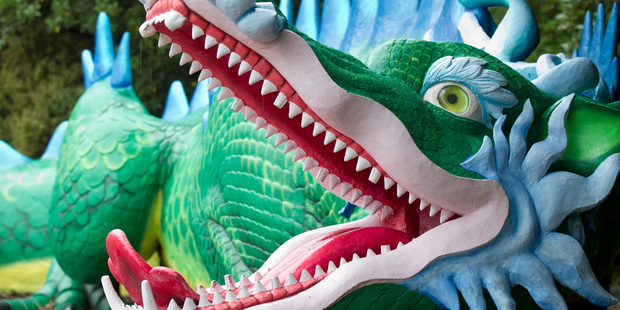 1: The Dragon at Auckland Zoo
This vibrantly painted dragon has been pleasing the crowds at Auckland Zoo for 55 years. At 15m long, it has room for loads of children to clamber and climb on it. When it all gets too much, take refuge in his toothy mouth. This lovely lizard is possibly in more family snaps than Niagara Falls.
2: Critters in Myers Park
Myers Park, Queen St, Central Auckland.
On the lawn in front of the kindergarten, Rachel Walters' bronze bird sculptures Hau te Kapakapa - The Flapping Wind, include a kokako under a paper bag and an oyster-catcher beneath a cardboard box. Or check out the beastly tangles of the Five Rams (ma, pa and three kids) a gift from Auckland's sister city Guangzhou. These dudes beg to be puzzled over: how on Earth have goats come to represent one of the most hyper-modern industrial cities on the planet?
3: Wetland Community Play Park
Sir Barry Curtis Park, enter at Stancombe Rd, Flatbush.
The play park was built to encourage awareness of the nearby wetlands. The jewel in the park's crown has to be the giant metal pukeko babies and their mother. Oversized stone eggs, metal stems that play sounds and pavers that fill up with water on wet days to make puddles for children to splash in complete the picture.
4: Olympic Park
Portage Rd, New Lynn.
A delightful park for people of all ages. Near the carpark you'll find spinning tops by Steve Woodward as well as a bridge to view the art from, which is handy. The large metal eels by Whare Thompson are always a big hit, while the giant tea cups, an homage to Crown Lynn by Louis Purvis, are truly dishy.
5: Birds in the ferns
Auckland Domain
Look beyond the big, challenging pieces in the rolling lawns of Auckland Domain's sculpture trail, installed almost a decade ago and ferret out the charming Greer Twiss bronze birds nestled among the plants of the fernery. Called Graftings, the 10 pieces include nine native birds - then spot the introduced pear tree. You can play twitcher, figuring out which bird is which (then look for the specimen tags). Anoraks and binoculars optional.
6: More birdy friends
Auckland Botanic Gardens, Manurewa
Since she took residence on a park bench in 2012, Jamie Pickernell's Bird Lady invites us to make friends. James Wright's Friends or Foe (in the children's garden) reminds small sorts to behave - or else.
7: Ground control
Auckland Airport
Those wonderful mad cows - painted that is - that adorned the airport during Rugby World Cup may have headed to their artistic abbatoir, but you can still spot Sean Crawford's steel sheep (officially called The Pioneer, Maui's Bird and the Earthly Star) on Leonard Issit Drive. And there's something about that wonderful about the hulking steel moa and kiwi at the domestic departures entrance that just say welcome home (or haere ra, if you're heading away).