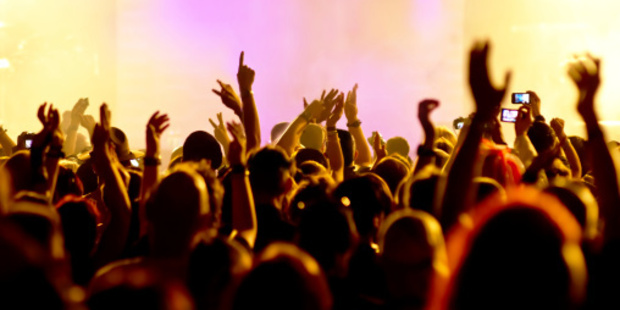 Another year, another northern summer of music festivals approaches.
The unofficial start to the season is normally the Isle Of Wight Festival, where this year you can see The Stone Roses, The Killers and Bon Jovi headlining. It begins on June 13, and will also be shown on Sky Arts.
The big news, however, is always Glastonbury, which this year starts on June 26.
It has a cachet most other festivals dream of, and now the organisers have finally managed to persuade The Rolling Stones to join in.
The wrinkly rockers will be the filling in an Arctic Monkeys and Mumford & Sons sandwich over those three days, although if none of those tickle your fancy there are plenty of other bands you can watch - from the comfort of your sofa if you haven't managed to get tickets, as even the BBC's interactive service lets you choose from a long list of acts and assorted highlights over the weekend.
Of the other big-name festivals, T In The Park at Balado in Kinross-shire, Scotland has Mumford & Sons, Rihanna and The Killers.
Latitude, which takes place in mid-July, has an especially good line-up this year - Bloc Party, Kraftwerk and Foals top the bill in Suffolk.
Kraftwerk particularly will be a special occasion. The German electronic pioneers are planning to hand out 3D glasses to everyone in the 50,000-strong crowd to enjoy the experience.
Leeds and Reading return to their alternative roots this year, with Eminem, Green Day and Biffy Clyro headlining, while V, in Stafford and Chelmsford, is offering Beyonce and Kings Of Leon.
There are literally hundreds of others to choose from, too, catering for whatever taste in music you have.
There's every chance you could go to one of these festivals and have the time of your life.
They are, after all, calendar events, collectively attended by hundreds of thousands of people each year and covered by all aspects of the media.
The rising costs of going to a festival, however, especially in an economy that shows no sign of improving, mean that for many it's just not an option.
As recently as five or six years ago, punters were going to two festivals a summer.
Now a recent survey showed that the average age of a festival-goer is 36.
They've never been cheap, but festival prices have certainly increased. Tickets for three-day festivals start at around 150 - Glastonbury was 205 plus a booking fee this year - and while that's not bad value if you see, say, 20 bands over the weekend, it's a lot to fork out in one go.
Add in transport, food and drink, perhaps the odd t-shirt, camping essentials you need to stock up on before you get there, and costs quickly spiral.
That's not the only reason some of us might reconsider our options, either.
It's almost June and the weather is showing no sign of improving. Barring a few weeks during the Olympics, last year was a washout. Chances are if you've got 500-700 going spare, you'll want to spend it on seeing some sun with a holiday overseas.
It is possible to combine a festival and warmer climes, though. Sonar, which takes place in Barcelona from June 13-15, is one option.
Tickets are currently still available, and this year Kraftwerk, Pet Shop Boys and Skrillex will be headlining, with hundreds of other DJs and electronic artists filling up the rest of the bill.
It's worth having a look at the line-up of Ibiza Rocks, too. It kicks off in June and runs until September. It's a gig every week, and this year's line-up includes Jake Bugg, AlunaGeorge, The Vaccines, Bastille, Professor Green, Tinie Tempah, Beady Eye, and Chic featuring Nile Rodgers.
There's INFestival in Zagreb, Croatia, which always has a great bill. This year features Arctic Monkeys, Bloc Party, Iggy And The Stooges, Basement Jaxx, Editors and NOFX among many others.
Opener Festival in Poland is another which guarantees a bit of sunshine, while any line-up featuring Alt-J, Animal Collective, Queens Of The Stone Age, Blur, Arctic Monkeys, Crystal Castles, Editors, Kings Of Leon, Australian Nick Cave And The Bad Seeds and Tame Impala is bound to go down well. That takes place the first weekend of July.
The weekend after, Optimus Alive in Lisbon is similarly starry, featuring Green Day, Vampire Weekend, Depeche Mode, Two Door Cinema Club, Jessie Ware, Phoenix and Band Of Horses.
Further afield, there's Fuji Rock. Of course, if money's a problem, going to Japan isn't the answer you might be looking for. But if you want to make a holiday out of a festival with a quality line-up, it's difficult to beat.
This year's headliners are Nine Inch Nails, Bjork and The Cure, with The xx, Skrillex, Jurassic 5, My Bloody Valentine and Vampire Weekend also on the bill.
Set in the Naeba Ski Resort near Niigata, two hours on the bullet train from Tokyo, it's as picturesque a site as you could imagine and, thanks to Japanese attitudes to litter-dropping. Plus, the food is brilliant and the drinks are relatively cheap.
Festivals in Britain can feel like spending a weekend in the trenches while being simultaneously mugged for your cash.
Fuji Rock always feels like a treat, even if the giant insects there look like something out of a horror film.
- AAP