In English, the word "wander" means to ramble or roam. In German it has a slightly different meaning which equates to the English term "hike", usually through places of wilderness and natural beauty.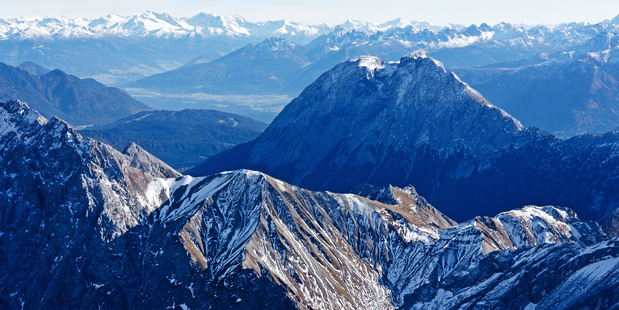 "Wandern" is one thing this race of healthy, outdoor-loving people love to do, and the Allgauer region in the Bavarian Alps fits the bill.
The German winter sports and ski resort town of Oberstdorf, tucked in the southern corner of the country next to the Austrian border, is gateway to a region that's popular with locals but still well off the beaten track.
On my first day I set off on what I thought would be a little walk to explore the area.
Little did I know that it would turn into an epic three-hour hike by towering snowy mountain peaks, through quaint alpine villages and past some of the most breath-takingly panoramic views I have ever seen.
The next day I bought some heavy-duty shoes from one of the many hiking shops in town and picked up a map.
I was about to get serious about this "wandern" thing.
OBERSTDORF
Oberstdorf is a five hour train trip from Frankfurt Airport and two hours from Munich.
It's your starting point for a 2000-odd-kilometre network of walks to suit everyone from the casual stroller to the extreme mountaineer, as well being a quaint and pretty town in its own right.
You can do a guided historical tour of the town or just wander around yourself, mingling with horse-drawn carts and men in Lederhosen and feathered hats.
The town itself consists mainly of holiday homes, guest houses and historic buildings including the Church of St Johannes Baptist, built in 991.
On the main street you'll find cafes, bakeries full of pretzels and other yeasty delights, Bierstube, and shops selling chocolates, mountains of cheese, wood carvings, Dirndls, Lederhosen, hiking equipment and ski gear.
The town is nestled at the bottom of two towering snow-capped peaks, the Nebelhorn and Fellhorn mountains, both of which offer ski fields chair lifts.
The village is also a wintersports haven and home to a skiing and Langlauf school, as well as the Erdinger Arena ski jump stadium and the Eislaufzentrum ice skating complex, both of which are used for training and competitions.
OBERSTDORF TO SCHOLLANG
A gravel path from the ice sports stadium follows the Trettach River north past alpine ranges that rise majestically up and disappear into the mist.
After about half an hour you'll reach Illerursprung, where the Trettach joins Allgau's two other main alpine streams, the Breitach and the Stillach Rivers, to form the source of the famous Iller River, which eventually empties into the Danube.
The town of Rubi lies about 30 minutes further on at the foot of the Rubihorn Mountain.
Like Oberstdorf, Rubi is primarily a holiday town, but it has kept a rustic alpine character.
At the Almenhof In Rubi restaurant you can choose from local specialties including garlic bread with lard, pork schnitzel with mushroom cream sauce and buttered noodles before carrying on the Schollanger Burg Kirche, a church perched at 825m on a cliff overlooking the town of Schollang.
Another easy 15 minutes takes you down to Schollang before beginning your return trip.
OBERSTDORF TO SPIELMANNSAU
It's snowing today, great fat white whirling flakes that have frosted the trees and covered the streets and houses of Oberstdorf in wedding cake white.
But that's no deterrent to the hardy group on this guided hike.
Our guide Renate, an Oberstdorf local of 15 years, does a head count, asks if everyone has suitable shoes ("you wouldn't believe how many people lose the sole of a shoe at the top of the mountain") and puts up an umbrella with a businesslike flourish to keep off the snow.
"Some people you can't hike with an umbrella," she says in German.
"But of course you can."
Our destination is Spielmannsau, a tiny settlement 7km south of Oberstdorf in the Tettrach valley which until 1844 was a part of Austria.
Crossing a bridge past the Oberstdorf Langlauf school, I am in a landscape that can only be described as a postcard-perfect winter wonderland.
We wind up a forested mountain path for 2km until we reach the Christlesee, a mirror-like turquoise alpine lake situated at 916m.
Spielmannsau, the alpine equivalent of a one-pub town, is about an hour away.
We stop for and a warming Kartoffel Suppe (Potato soup) before heading back.
OBERSTDORF TO OYTAL
This truly stunning hike takes you 7 km east of Oberstdorf to the beautiful Oy Valley.
Setting off from the paraglider landing area you follow a steeply ascending, winding path that follows the rushing Oybach River, a tributary to the Trettach.
It's fairly strenuous going but eventually the path flattens out and opens up to a view of the jagged ridges of the Himmelhorn and Schneck mountains and the wide expanse of the Oy Valley.
A path through a tree lined avenue leads you to the Berggasthaus Oytalhaus, situated at 1009m, where you can stop for a meal or a beer.
You travel back to Oberstdorf in a horse drawn cart but I decide to return on foot, this time taking the high road back and finishing up at the Erdinger ski jump arena.
IF YOU GO:
Visit the official Oberstdorf website at oberstdorf.de
- AAP