Rarely are hikers rewarded so richly for their toils as on the steep slopes of Italy's Cinque Terre region, where five ancient fishing villages cling to the sheer slate cliffs below.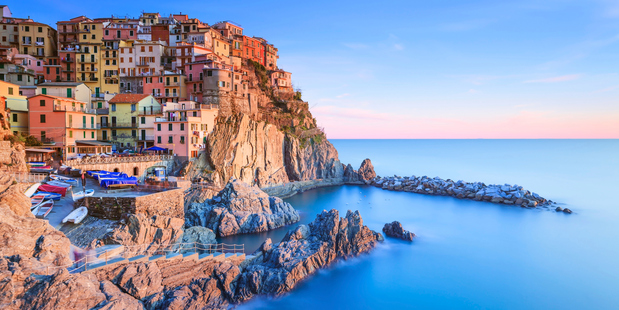 The going uphill in the Cinque Terre region is especially tough. But the panoramic vistas along the way make up many times over for the energies expended, and the experience from on high is, literally and figuratively, breath-taking.
Small wonder these five spectacular villages on Italy's western or Ligurian coast are among the most photographed in the world.
Make sure you have plenty of storage space on your camera, because every time you find the "best scenic shot" of your life, chances are an even better one awaits around the next bend.
My base is Corniglia, the smallest, oldest and most central of the five, so I plan two full-day journeys, one up and one down the coast, which will take in all five.
My first hike is the most popular of all, from Corniglia's Gothic church of San Pietro straight up the mountainside, then across the vineyards and olive groves to Volastra and down to Manarola.
It's a solid three hours worth, more if you stop for a delicious pasta lunch, and with views like this, why wouldn't you?
The first hour is heavy work for the knees and thighs, but the pealing of the midday church bells from below, in stereo from both Corniglia and Manarola, mark the end of the 450 vertical metre ascent.
Some say the descent is just as hard, especially on the calf muscles, but my lungs appreciate a break.
It's in the in-between bit, through the steeply terraced vineyards, that lies the heart and soul of the Cinque Terre region, as I discover later in a chat with Stefania Basso, whose vineyards I pass through.
She is a local tourism representative whose name also adorns a well-known label on one of the Sciacchetra wines native to this region.
When she and her husband started making their dry, fruity whites 15 years ago, locals thought they were mad.
Now they produce 50,000 bottles a year, small by the standards of nearby Tuscany but quite an achievement in these monumental hills.
"Living here is difficult," she says.
"It would be much easier somewhere else. But this is where I was born and this is where my roots are.
"This area has a long culture and history. My mother moved here from Sestri Levante (20 kms away) 46 years ago and is still considered an outsider. I am only half an outsider," she laughs.
She talks of her ``project'' to provide employment for locals, and to stop the old way of life from slipping away.
She means this literally. The Cinque Terre is prone to landslides, especially in the heavy winter rains. Road closures are common and some of the marked hiking trails are occasionally closed.
Her vines help bind the land together, making it stronger and providing roots not only to mother earth but to her own past.
"I want the roots to be there for my daughter, too," she says.
From Manarola I take the train to Riomaggiore - you can't walk everywhere in two days - and then back to Corniglia to fall exhausted into an afternoon sleep.
I can't believe how tired I am. There are 384 more steps from the train station up to the village, 21 steps up from the village square up a narrow alley to my apartment building, then 65 more to my flat at the top. I count them. Each one hurts.
The next day I take the train to Monterosso then spend the best €2.50 euros of my life, on a bus fare up to the hillside sanctuary of Saviore.
The 10-minute "hike" on four wheels saves my life. If I attempted to walk it I might still be there.
Now I can concentrate on enjoying those views. This eight km walk takes me across and down a narrow bush path around the mountainside to the Madonna di Reggio shrine and down to Vernazza.
Along the way I cross several tiny brooks and have to ford one larger stream. Occasionally the descent is step-ladder steep.
The Cinque Terre villages were built on these geometry-defying cliffs, spurs and outcrops to make them safe from pirates. They do not give up their treasures easily.
You can undertake less strenuous walks between the five towns along the seashore. But that would deny you the vertiginous pleasure of a bird's eye view while your feet are still on the ground, and the opportunity to commune with the hills.
I crash into bed again that afternoon, physically spent but feeling like a part of the natural world around me.
I drift to sleep with the words of Stefania Basso in my mind: "There's a good reason this is called Cinque Terre - five lands - and not five towns."
- AAP