Liz Light enjoys life in the slow lane on a Turkish island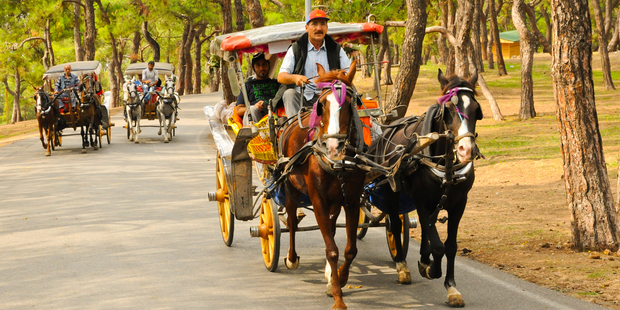 Motor-driven vehicles are an omnipresent necessity in almost everyone's lives and bring with them speed, noise and pollution, but there are still a few quiet places where vehicles are forbidden. The Princes Islands near Istanbul, Turkey, are such places.
These nine islands are an hour-long ferry ride from Istanbul. Five are inhabited and the two biggest islands, Buyukada and Heybeliada, have decent-sized towns with the usual amenities, just no cars or trucks.
Instead, transport is by walking, bicycle or horse and carriage. Deliveries are made by horse and cart, the hearse is a horse-drawn coach and most of the 10,000 residents of Buyukada use the public carriage-taxi service.
Behind the town square, with its quaint clock tower, shops and restaurants, we follow the smell of horses to find the taxi stand. A carriage, driver and two horses for a two-hour island tour costs only $50.
The carriage has two large wooden-spoke wheels at the back and smaller ones at the front. It carries up to four people on two flat seats facing each other. The driver is in front. It has a sun cover with fancy fringing, side rear-vision mirrors and, to ward-off bad things, a horseshoe with a central glass "evil eye" dangles from the side.
The horses are happy and healthy and trot off briskly, with an occasional tickle from the driver's whip. The driver, lean with a grey moustache, wearing jeans and a Nike cap, is clearly fond of his horses and treats them well. We clip-clop along neat tree-lined roads with rambling wooden Ottoman houses in pretty gardens. Bougainvillea sprouts fountains of hot pink, purple and red, and oleander is rich with colour.
The town is surrounded by pine-forested hills and occasional farms, usually breeding horses, dot flatter land.
As we trot along, there are slivers of views of sunshine on the metallic sea, and the smudged hills of Istanbul in the distance.
Halfway round the island we stop at a teashop, where the horses are given oats and the drivers have a cuppa and a smoke.
Then it's trit-trot through forest, past a lighthouse, past massive stables where these horses probably live when they're not working, past a sandy beach and on to the opposite side of town.
People have travelled from Istanbul to the Princes Islands for peace and quiet, willing or not, for 1000 years. Since Byzantine times, problematic princes, nuisance mother-in-laws, unmarried sisters and other potential inconveniences to the sultans were banished here.
The town centre has quaintly cobbled streets and little lanes. People promenade, gentlemen take tea and play backgammon, women keep an eye on toddlers. We walk along the waterfront and through suburban streets with grand old wooden houses. Few people are about; an old man watering a vegetable garden, a dark silhouette behind a lace curtain, the laughter of a child.
Except for the breeze in the trees, pigeons cooing and the occasional snort of a horse the quietness is uncanny. It seems impossible that the frenetic hum and buzz of Istanbul, with its 15 million people, is not far across the water.


Info
Getting there: Singapore Airlines flies from Auckland to Singapore 12 times weekly and from Singapore to Istanbul, Turkey, four times weekly. singaporeair.com. There are regular ferries to the Princes Islands from Katabas ferry terminal. A one-way ticket is 5 Turkish lira, about$3.
Where to stay: The Novotel Istanbul is new, with double-glazed windows, so no noise, great sea views, lovely bathrooms and delicious breakfasts. It's 7km from the city centre but a free minibus service provides regular drop-offs. accorhotels.com