In the first of a three-part series, Ben Crawford takes an exciting weekend road-trip to Coromandel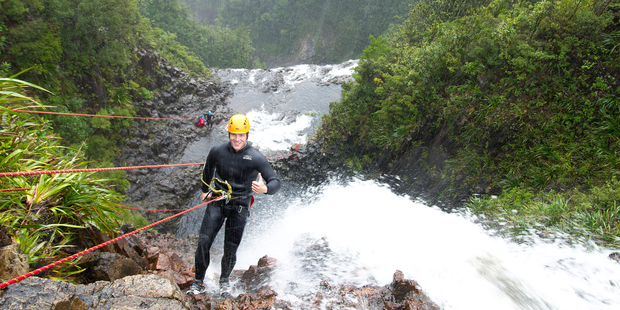 I'm afraid. I'm shaking as I invade the man-space of our guide, Russ, grasping for a handhold of rock, plant or jacket. Anything. I thought I'd be like Sylvester Stallone in Cliffhanger, nonchalantly scaling rocky faces with my bare hands. But right now I can only manage a shuffle, fighting nerves as I edge closer to the vertical drop.
She's certainly a different world compared with where our weekend began.
Within an hour of merging like a zip at Spaghetti Junction on Friday afternoon, my girlfriend, Kylie, and I are relaxing in the mineral hot pools at Miranda, on the Firth of Thames. Stresses evaporate as the warm water eases body and mind. This has to be the perfect way to end a working week.
So, what better way to start the weekend than with an all day canyoning adventure?
We meet our Canyonz guides, Russ and Wayne, in Thames the following morning with our fellow explorers - three Kiwis and a German couple. After a short van ride into Kauaeranga Valley, we're soon hiking through the forest.
Luckily, our soak in the hot pools has limbered us up for the steep grind.
At the summit, we get a true appreciation of our epic surroundings. It's pouring and the rain has brought the forest to life in a smorgasbord of greens. Then I notice everything around me heads in one direction - down. Very steeply. Ridge after ridge converges in a narrow canyon split by Atuatumoe Stream as it cascades to the valley floor, far, far below. Welcome to The Sleeping God Canyon. There's no time to think as we change into thermals, wetsuits, booties, helmets and harnesses. After a karakia from Wayne and a practise of our newly learned abseil skills, it's game time.
I'm second in line for our first challenge, a 30m waterfall. Negotiating slippery, vertical rocks isn't my strong point and I can't believe where Russ wants me to stand. This is when I invade his man-space, but he's used to it. Taking a deep breath, I load up my eight, the numerically-shaped device that lets me control my descent, and gingerly step over the edge.
The harness takes my weight and I immediately feel more comfortable, and confident as I navigate the rock face to the pool below. There might just be a bit of Stallone in me after all.
We spend the day negotiating everything the twisting canyon puts before us. There's abseiling, lots of it. We plummet down rock hydroslides and get plenty of hang time traversing giant abysses on zip lines. My favourite thrills are the huge rock jumps into pools, one of them a knee-wobbling 15m high.
One after the other, we successfully navigate everything we encounter, everyone overcoming fears. Our constant companion, the thundering torrent of water beside us, is drowned out by ever-increasing laughter, squeals and yahoos.
With a final uncoupling of our ropes, we're at the bottom. It feels incredibly satisfying.
Before long we're back at the van in warm, dry clothes, retelling stories from the day over sausages and L&P. A day that started with handshakes with strangers ends with hugs among friends.
Canyoning is hungry work so we stop off at The Grahamstown Bar and Diner in Thames for dinner before the short drive to Whangamata. Arriving at the Southpacific Motel 45 minutes later, we're absolutely spent, with that kind of tiredness only prolonged physical exertion can envelop you with. Luckily, a homely room with plush carpets and a deliciously warm shower welcomes us. I don't even remember falling asleep.
I've never been standup paddleboarding (SUP) before. Neither has Kylie. So we decide to give it a crack on Sunday morning and paddle out to Donut Island, a kilometre offshore. It looks like a hidden tropical paradise.
At Surf SUP, we're greeted by owner Chris and instructor Carlos. They're both laid-back characters living in sync with the ocean. They whip up coffees in the store's cafe before sitting down for a yarn.
Unfortunately, conditions aren't on our side to paddle out to Donut Island. The surf is 1.8m and very messy. But hearing how awe-inspired Carlos and Chris are of the island after being there so often makes me keen to return and experience it.
Today, we head to the harbour, which is like glass. Carlos gives us a couple of tips, but it's pretty much over to us. The boards are huge and stable, making it easy to get the hang of things, even for my 100kg frame.
Soon, we're gliding past sundrenched beaches and native bush, the aches from yesterday disappearing as we get into the rhythm of paddling. It's a contrast to yesterday and perhaps more of what Kylie had in mind when I proposed a weekend in Coromandel.
After a thoroughly enjoyable hour and a half we're back and I think I've found a new toy I need to buy.
With grumbling tummies, we pop into Six Forty Six for brunch. After one of the best scones I've had in a long time, homemade toasted muesli and a couple of perfect flat whites, it's reluctantly time to head home.
Catching the final glimpse of the coast in my rear view mirror I get a feeling I'll be spending a lot more time in the Coromandel soon.


Do your own thing
Play: Canyonz is the only company permitted to operate in the Sleeping God Canyon. Ph 0800 422 696 or visit canyonz.co.nz
Surf Sup Whangamata offers SUP lessons, board hire and guided trips to Donut Island. 703 Port Rd, Whangamata, ph (07) 865 8096, surfsup.net.nz
Stay: Miranda Holiday Park: 595 Front Miranda Rd, Miranda. Ph 0800 833 144, mirandaholidaypark.co.nz
Southpacific Motel: A four-star serviced motel in central Whangamata. Ph (07) 865 9580, thesouthpacific.co.nz


• Ben Crawford travelled courtesy of Tourism Coromandel. Next week: Spy editor Andy Pickering and his partner, Leigh, head there for a romantic getaway.