Alicia Rancilio meets George Motz, a man whose mission some people will admire, and others will simply ask 'why?'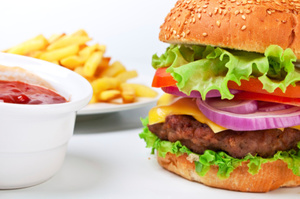 If you love a good burger, you may think George Motz has the best job ever. He criss-crosses America as the host of US Travel Channel's series Burger Land, looking for the country's best burgers.
He consumed 70 burgers in the three months it took to shoot the first season, exercising regularly to accommodate his indulgence. Now he's staying away from burgers temporarily to give his system a break. Still, he says, "I crave a burger every single day."
One thing he stresses, however, is that burgers are not all created equal.
"One of the greatest dividing lines is the frozen patty versus the fresh meat burger," says Motz. "It is very difficult for restaurants to keep fresh meat in the house, so the restaurants that are making hamburgers with fresh ground beef, it's not easy and they're doing the right thing."
He also says there's a lot of regional variety in burgers. Here are a few of his favourites from different parts of the US.
MISSISSIPPI
"They have these Slugburgers and Doughburgers. There's some kind of breading mixed into the meat, which is a throwback to the Depression and meat-rationing during World War II to make the meat go further. These are still available in parts of the South, especially northern Mississippi."
NEW MEXICO
"You have the green chilli cheeseburger. They're hot and they're so good. You can find them only in West Texas, South Colorado and New Mexico."
CONNECTICUT
"There's a phenomenon known as the Steam Cheeseburger. It's a chunk of ground beef put into a steaming cabinet and the cheese is steamed right next to it and poured on like molten goo."
CALIFORNIA
"If you're in Los Angeles there's Irv's Burgers. If you're new to Northern California, try Val's Burgers in Hayward. It's unbelievable."
ILLINOIS
"Chicago is a great burger town. People love to eat in Chicago. They've got the famous Billy Goat. You've got to get the triple with cheese. Edzo's is a new place doing an old-school burger in Evanston and Lincoln Park. There's the famous Kuma's Corner in Chicago."
WASHINGTON, D.C.
"There is a very famous place called the Tune Inn. The hamburger is unique because it's a classic cheeseburger. No crazy toppings. You're blocks from the Capitol building. There's also Ben's Chilli Bowl. They're very famous for their half-smoked with chilli on top."
NEW YORK CITY
"New York has a very fractured hamburger identity true to its name of being the melting pot of America. There really is no true hamburger identity in New York other than there's so much to choose from."
TEXAS
"Dallas has a good burger culture as well. There are a few places. One is called Keller's. It's a drive-in. [You] order a great burger and a beer from the driver's seat. That's heaven to me. There's also Jack's Burger House with a few locations in the Dallas area. They're Greek-owned and they put Greek spice on the burger."
- AP