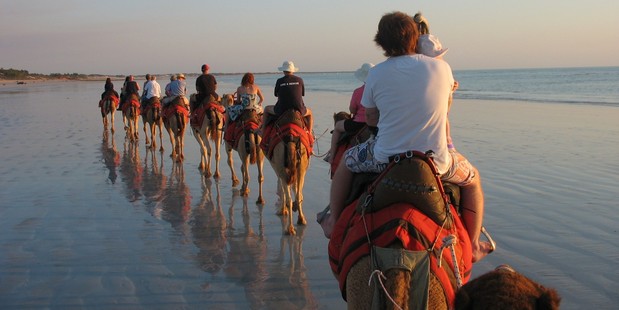 As the first rays of sunlight filter into my luxury eco-tent at The Billi private villas, I wake with the realisation that I have one day left in Broome, so I plan to make the most of it.
Broome is no ordinary Australian coastal town. This place is a sub-tropical holiday gem with character and serendipity. It may be one of the world's most remote communities, closer to Singapore than Sydney. During the Shinju Matsuri Festival of the Pearl in early September when the full moon and spring tides coincide, the world comes to Broome. The little pearler of a town with 16,000 residents becomes a 40,000 strong Mardi Gras of celebration and revelry.
I've risen early and driven down to Chinatown for breakfast, ready to be swept up by the fun of it all. Sammy the fire-eating Chinese dragon has come out of hibernation to lead the Carnival of Nations through the town centre to the sound of clashing drums and cymbals. I'm waiting for him on a prominent corner but he catches me by surprise, snaking his way down the street as a writhing red mass above a blur of running centipede-like legs.
A colourful display of ethnic floats follows Sammy, paying tribute to some of the fifty or so nationalities that have sustained the lucrative pearling industry.
When the excitement has died down and I've retrieved my sunhat, which flew off into the path of the dragon, I wander through the market stalls and browse the pearl shops in Chinatown, the beating heart of Broome. This compact town is a joy to amble around with everything of interest within a five-minute walk.
I'm keeping a tight grip on my credit card as the various outlets are brightly illuminated to tempt shoppers inside and tantalise them with strings of lustrous beauties that reflect your image in their gleaming nacreous surface. These are some of the finest cultured white pearls on the planet. It's a psychedelic sensory experience just to see them and hold them. I'm sorely tempted to buy a string.
It's time for one of the day's highlights, the Broome Long Table Fusion Lunch, which sounds quite a mouthful and it is. A fleet of colourful rickshaws deliver six degustation courses from local restaurants to the big marquee. Opera singers and instrumentalists entertain the crowd as the food files in and the wine flows. The Kool Spot Cafe sends in spicy beef soup, Azuki Japanese Fusion offers fried chicken with tom yum aioli and Roebuck Bay Hotel despatches local prawns infused with Thai flavours.
The guests around me have come from all over Western Australia to enjoy the occasion. It's an annual treat for many of them. A "grey nomad" retired couple have driven here from Melbourne in their 4WD Land Cruiser and caravan over the previous month. Last week they attended the Broome Opera Under the Stars in a natural amphitheatre overlooking the ocean. This couple have not missed a Broome festival in the last seven years.
The cavalcade of courses continues with crispy fried port hock from Aarli Bar, tender beef from Matso's Cafe and Brewery and sweet treats from Ra Ra's Cafe. I meet some colourful local identities including Freddy Corpus, a prominent Kimberleywood movie actor and onetime hard hat pearl diver who has dived as deep as 60 metres in the desperate quest for pearl shell. His father was Japanese and his mother Aborigine. This is typical of the eclectic mix of races that has forged the heritage of this unusual town.
The festivities will continue for 10 days. Time and tide appear to be extremely elastic here. I'm intrigued by what I hear about the microbrewery called Matso's. It's a true Broome heritage treasure in a relocated building that once stood beside the brothels, opium dens and mah-jong palaces in Chinatown during the pioneering days when the port was packed with pearl luggers and thirsty divers.
Presented with a complete tasting tray of specialty beers, I wonder how I might do justice to the generous offering. The answer is to sip and savour and watch the shimmering waters of Roebuck Bay ebb and flow to the gravitational commands of an unseen moon. This is not a small thing as only Nova Scotia's Bay of Fundy exceeds the monumental eleven metre tidal variation of this Kimberley coast.
My favourite tipple from Matso's range is the alcoholic ginger beer, which is ambrosia in a glass and their best selling product. Their chilli beer gives a real kick and it's hard to resist the seductive appeal of the low carb, high-heeled, 6.8 per cent alcohol light amber ale called Dirty Blonde. Matso's most-awarded craft beer is the Smoky Bishop, a wonderful drop named after the local bishop, a moderate smoker and imbiber. Once he tasted the new libation he promptly offered a blessing on the brewery.
The day is drawing to a close as I make my way to the broad, sweeping sands of Cable Beach to view the sunset from the humped back of a camel. It's an iconic Broome institution and no one does it better than Red Sun Camels; morning, afternoon and sunset every day of the year.
My mount is Kabul, the alpha male of the herd who is amazingly strong and broad of back. So broad that I will be destined to walk bow-legged for the rest of the night once I dismount. However, he's intelligent, patient and good mannered and I ride him into the vivid orange/red sunset in a state of contented reverie. The trek is small beer to Kabul, he walked here with an eccentric lone explorer all the way across the desert from Queensland - a prodigious feat even for an indomitable dromedary.
Broome wouldn't be Broome without its iconic camel ride on Cable Beach or its amazing Festival of the Pearl. It seems that there's always something going on in this extraordinary town, which is a blend of bustling port and remote outback. But that's Western Australia all over. The big, raw-boned desert state will stage 100 events in 70 locations this year. But, for me, it's pretty special that I was in Broome just at the right time and got swept up in its festival of fun and frivolity. As the saying goes, "you've just got to be there."
* Paul Rush visited Broome courtesy of Air New Zealand, Skywest Airlines, Tourism Western Australia and The Billi Private Villas.
FACT FILE
Festival Times
Shinju Matsuri festival and Long Table Lunch are held in late August or early September to coincide with the full moon and spring tides. The Visitor Centre can provide details by email or post.
Accommodation
The Billi private villas offer magical luxury eco tents nestled under a tree canopy around a stunning central pool. Wooden walkways meander through established gardens, providing the ideal holiday base in Broome.
WEBSITES
westernaustralia.com.au
australiasnorthwest.com
broomevisitorcentre.com.au
thebilli.com.au
cablebeachclub.com.au
redsuncamels.com.au
matsos.com.au

Getting There
Fly there with Air New Zealand Book now
Find out more at Australia.com
- nzherald.co.nz