There's no mistaking it, Ubud has taken over from Seminyak - with its comparatively garish nightclubs and resorts - as Bali's premiere destination.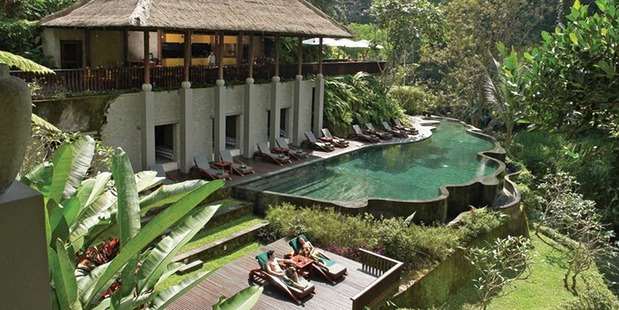 Ever since that book, travelers have been flocking to Ubud like moths to a meditative flame. The spiritual and artistic heart of Bali, tourists swarm its elegant little streets, and signs abound for healers, healing massages, and medicine men.
However Ubud is still ripe to overflowing with its original charm, whether it's delicious local fare you're after or simply a stroll through the less frenetic back roads - which lead into dustier, quieter villages flanked by vibrant rice paddies.
The trick - if you love the idea of striking a balance and incorporating some relaxation and wellbeing into your Ubud stay - is to choose accommodation very slightly outside its busiest streets, so you can take refuge when the hotbed of activity gets too much. Somewhere, if your dollar will allow it (and in this part of the world your dollar will go much, much further) with a swimming pool, English-speaking staff to help you plan your stay, and a shuttle to get you in and out of the town centre.
My choice was Maya Ubud Resort and Spa, located between the Petanu River valley and the verdant rice fields of Peliatan, and situated on some of the most beautiful hotel grounds I have ever seen. Including two tranquil swimming pools - one looking out onto the river valley, and one set amid the forest greenery; both seemingly suspended between sky and earth.
Maya's landscape and architecture is inspired by the traditional Balinese lore of orienting villages along a north-south sacred axis: a central ceremonial walkway leads to the lobby, the villas or dwellings are then positioned on either side, creating a village-like axis that follows the contours of the land.
Consisting of a open plan living area and bedroom, separate bathroom and terrace, my villa is flanked by lush gardens and captures true comfort, style and luxury. From the canopied bed and weathered recycled timbers to the hammered silver bath and old cart wheels mirror frame, it's a delightful setting that' s a treat to come home to and wake up in. And a little bit in-between, when work called. (Thank goodness for the strong WiFi connection.)
For those who like to alternate their time between a resort experience and adventure outside the resort's confines, Maya offers a huge amount to do. For spa junkies, Spa at Maya is perched high above the lush river rainforest valley - and from here, walkways wind through lush foliage to private treatment pavilions complete with daybeds overlooking the valley.
There are also cooking classes, riverside picnics, village trekking, cycle tours, and a range of complementary services such as morning yoga, hosted nature walks around the grounds, and daily afternoon tea. Not to mention its signature restaurant (one of four restaurants and bars) Maya Sari - whose breakfast buffet still features in my dreams, especially the sweet sticky coconut rice with pumpkin.
Of course, there will be times you want to tear yourself away from the luxury of Maya - hard as that may be - and explore Ubud. The resort runs a shuttle (no charge) into the town centre every hour until 5pm, and outside of that charges just $6.25 per taxi ride into the centre.
Once in the centre, tourist "information centres" abound, so planning a day tour to attractions around Ubud is simple and affordable. Not that there is any lack of activity in Ubud itself. For a start, Ubud is a foodie's paradise, with limitless cafes options ranging from traditional Indonesian fare to organic and vegan cuisine.
Fans of massage will be in heaven, too - a masseuse chosen at random on the street turned out to be one of the best I've ever had. For a price that would barely cover two flat whites back home. And beauty salons pepper the town, if a relaxing blow dry or meticulous manicure is in order.
Other 'to-dos' include a traditional nighttime dance show, the famous Ubud monkey forest, or shopping for exquisite silk robes, batik quilts, silver jewelry or wooden homeware.
Just be warned: if you're traveling in the Balinese summer, you'll feel the heat. Especially after a few hours of traipsing around taking in all the incredible sights, sounds and smells. Which is when you simply grab a taxi, or give Maya a call, and succumb once more to the resort's beckoning charms.
- nzherald.co.nz