Sydney's waterfronts are crammed with thousands of people taking in the lights and sounds of the Vivid festival. Chris Schulz is there.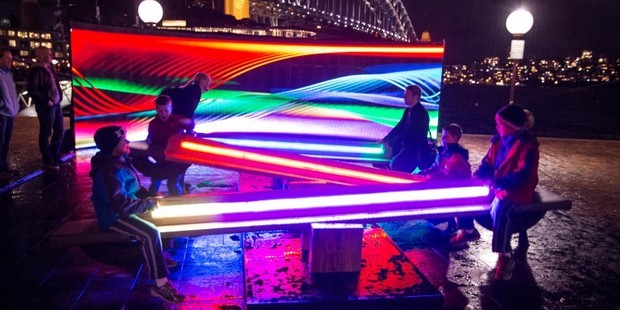 Like moths to a flame. That's how one punter described the pulling power of Vivid Sydney, as thousands of visitors descended onto Sydney's waterfront for the opening weekend of the festival.
He has a point: So many people were taking part in Saturday night's Vivid Light Walk, which encompasses 40-odd lighting exhibitions, there were queues for many of the interactive displays, and standing room only for others.
But once you've seen a few exhibits, it's easy to see why it's so popular. Start your light walk at the Sydney Opera House, and you'll take in many hypnotic and enchanting lighting displays on buildings, like the giant neon lights shooting across the harbour that turn the iconic concert hall into a pinball machine and ten pin bowling alley.
Keep walking and you'll pass a giant light bulb, a wall of lights that can be manipulated into shapes, hanging baskets of fibre optic cables distorted into the shapes of plants, a huge canopy lit with 11,000 neon bulbs, a waterproof piano that lights up as you play, and beautifully designed chairs that flicker into action when you sit on them.
Then there's the Museum of Contemporary Art, the standout work by Spinifex that has an eight minute display that turns the building into a work of art, one minute crying tears of goo, the next turning heads with thrilling colours and stabs of dubstep.
There are several New Zealand artists involved too, including Tim Hunt, one of the contributers to Richochet, a dazzling installation involving laser beams shooting across a narrow alleyway near The Rocks centre off George Street.
Three days isn't enough to take it all in. You'll need a week if you're really going to experience everything Vivid has to offer.
Three other things to do in Sydney:
Ride the Monorail one last time: Sydney's rundown monorail is being put out of its misery in just over a month so it doesn't compete with the city's expanding light rail services. That's just 35 more days to ride around town pretending you're in an episode of The Simpsons. It doesn't really go anywhere, but then that's not
the point is it? You're on a monorail - just smile and enjoy it.
Website: www.monorail.com.au
Sydney Harbour Bridge walk: A quick admission: I'm terrified of heights. But I dared myself to do this on a sunny Sydney day and I'm glad I did. The views are spectacular, the breeze washed away my hangover and a gigantic P&O cruiseliner was backing into the harbour at the time. People were waving but I couldn't wave back - I was too busy gripping the railing in terror. If you're braver than me, you can even do a bridge climb. I won't be joining you.
Website: Sydney Harbour Bridge
Bondi Beach: What trip to Sydney would be complete without dipping your toes in the water at the region's most famous beach? I was there on a Saturday and the farmer's market was incredible, full of a spectacular array of organic produce, tasty pastries and treats. The smell of authentic chai tea was wafting over the markets when I visited, but the sold out soon went up and I missed out. Better luck next time.
Website: www.bondibeach.com
* Chris Schulz travelled to Sydney on behalf of Destination NSW.