Island time A walk in Atiu jungle feels like scuba-diving, says Jim Eagles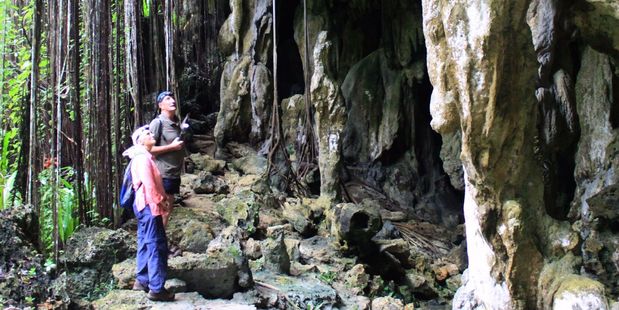 Suddenly, through the forest of massive stalactites and slender banyan roots, there came a clicking sound.
"Ah," said Marshall Humphreys, who was showing us through the Anatakitaki Cave on the island of Atiu, "they're getting ready to have breakfast."
From the darkness of a cavern a small bird came swooping, followed by another, then another. As they entered the daylight the clicking changed into a melodious tweeting. But when they swerved back into blackness, the clicking resumed. "They use the clicks as a sort of sonar to navigate through the caverns," said Marshall.
The birds were the rare Atiu Swiftlets, or kopeka, found only in this cave and another smaller one in an inaccessible part of the island.
Atiu is part of the Cook Islands, which 66,000 Kiwis visited last year. Yet though Air Rarotonga provides a regular service to the island, Marshall reckons only a handful of us ever visit.
His cave tour took us deep into that jungle on one of the four-wheel-drive tracks criss-crossing the island, and then on a walk through the tropical forest and fossilised coral, which locals call makatea.
The makatea was on the sea floor until geological movements raised it up, and walking among it was like scuba-diving on a reef.
There were no fish, of course, but brushing past the lush foliage felt almost like swimming through a forest of kelp; colourful birds darted past like frightened damselfish and several kinds of crab made an appearance.
Finally we reached the entrance to the cave, a gaping hole which visitors had to climb down until Marshall installed an aluminium ladder. The stone scenery inside was spectacular and also contained remarkable coral formations from the time the caves spent under the sea.
The kokepa could certainly get around in the dark better than I could, I reflected as we made our way back out of the caves. I still managed - even with a headlamp to guide me - to bonk my head on a shining white stalactite.


Atiu Checklist
GETTING THERE
Air New Zealand flies from Auckland to the Cook Islands six times a week.
Air Rarotonga flies from Rarotonga to Atiu every day except Sundays.
ACCOMMODATION
Atiu Villas includes a central restaurant and bar.
DETAILS
Find out about Marshall Humphreys' cave tours at atiutoursaccommodation.com


• Jim Eagles visited Atiu with help from Cook Islands Tourism, Air Rarotonga and Air New Zealand.