Venice hosts its famous art biennale in June. Graham Reid offers survival tips.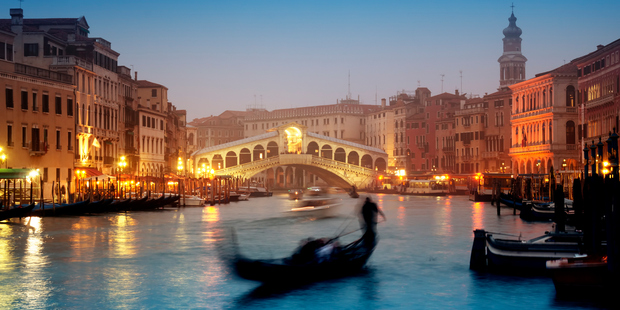 All the old English couple probably wanted was to be out of the rain, but when you choose a restaurant as your refuge you need to order something. They could find nothing on the menu, which stretched over four pages, to their liking.
"All I want is some scrambled eggs and a pot o' tea," he said with weary resignation.
But this restaurant in Venice couldn't oblige so they sloshed off into the cold night. The waiter looked at me and shrugged as if to say...
Venice has too many charms to count, but it can also be a trap if you expect food to be cheap, and it can be heaving with tourists, especially during the art-fest that is the Venice Biennale.
Every second year, Venice hosts the work of dozens of contemporary international artists (often breathtaking, some mundane) and in the Biennale's early weeks the narrow lanes are jammed with tourists, artists and their entourages, journalists and the few remaining locals sweating in the heat.
This year's Biennale opens on June 1 and runs until November 24 (the Venice Film Festival starts in late August for added mayhem) and smarter visitors wait until party season is over, the weather cools and hotel prices drop to something more manageable.
The Biennale takes place in two major areas - Giardini and Arsenale - as well as site-specific spaces around the city. You'll want at least a full day at both the pleasant Giardini and Arsenale (easy walking, Venice is flat) but you'll need the map for the others. Expect to get lost.
So here are tips on how to survive the Venetian art experience. Sorry, I have no idea where you can get scrambled eggs and a pot o' tea.
Where to stay: Some prefer to stay in nearby towns, which often aren't that cheap either, but it's worth paying extra to save travel time and be amid Venice's strange grandeur, especially at night when it can be mysterious and silent. Book soon, consider going mid-week and staying more than three nights (weekend prices and short stays often mean higher rates). You can find decent small places online (budget+hotels+venice and start trawling) but because I'm not going this time here's my tip: Alloggi Agli Artisti, just minutes from the station in a quiet side street.
Where to eat: Anywhere you can afford is the right answer. Avoid obvious places on main thoroughfares. If you can engage a local (they seem rare), or someone in your hotel, ask for advice. Go into areas such as the old Jewish quarter near Cannaregio and look for an osteria for quick snacks, or a trattoria for something more substantial.
For Biennale days pick up water, fruit, cheese, etc, from street markets beforehand. If you need coffee remember, in most places you pay to sit. By all means sit in St Mark's Square and have a beer or a meal while the orchestra plays, but check with your bank manager first. There are multiple undeclared charges.
What to see: To get an overview of Venice take a ferry around the perimeter. Consider going to Lido to look at swanky hotels, but better is a trip to the islands of Murano (famous for its glass), Burano and especially quieter Torcello (great mosaics in one of the churches).
New Zealand sculptor/installation artist Bill Culbert is at this Biennale and the New Zealand pavilion is at the Instituto Santa Maria della Pieta, a few minutes' walk east from St Mark's Square along the waterfront on the way to Giardini. Darryn George is creating a room in the 15th century Palazzo Bembo near the Rialto Bridge.
Getting around: Unless you have just received an inheritance you probably won't travel by gondola. Venice is a walking city, but avoid the narrow main thoroughfares at peak times (mid-morning, lunchtime and late in the afternoon).
Buy a three-day ticket for the water buses (vaporetto) to speed things up, but once at the main sites of the Biennale you will be walking.
What else: If you're there for art you can't ignore the Peggy Guggenheim Collection of early 20th century masterpieces, or the wonderful old Accademia (both on the Grand Canal). You'll be tripping over churches.
How to prepare: Do your homework and when there get moving early. Worth reading is The City of Falling Angels by John Berendt, who lived in Venice for a while in 1996. Interesting insights into a slightly fictionalised, often seedy and rather strangely self-obsessed Venice that tourists could rarely access.
Pack patience.
CHECKLIST
Getting there: Emirates offers a daily service from Auckland to Venice, with direct connections at Dubai in both directions. Fares are now available from $2642 return, including all taxes.
Online: veniceconnected.com
On the web: For more on Bill Culbert see: nzatvenice.com