Leena Tailor finds something for everyone at the Disney resort of Aulani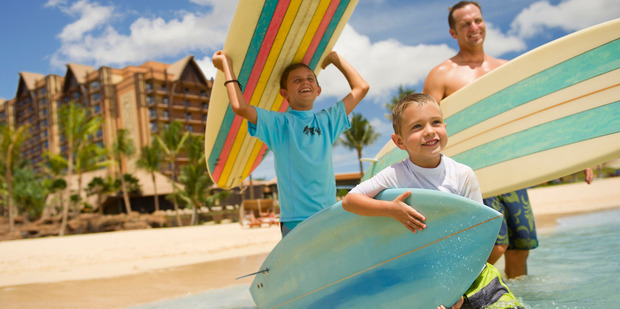 In bright blue boardshorts, a Hawaiian shirt and with Minnie at his side, Mickey Mouse is dancing under the stars to the tune of Electric Boogie by The Hot Billys. On the lawn below, Goofy and Chip 'n' Dale are helping lead hundreds of spellbound kids - and parents - in what one passer-by describes as "Disney aerobics".
With their idols leading them in a twilight dance party, the yawns of an action-packed week become fewer as the youngsters follow every step, hypnotised.
It's been an exhausting day for the wee ones, who might have started the morning with breakfast with Mickey or queuing for photos with Donald Duck.
"I did it! I did it," shrieks one girl, after getting her prized picture.
This may not be Disneyland, but there are few other places in the world where children can kick off their day eating waffles with Goofy and end it dancing with Mickey at a "Starlit Hui".
And while it's not all about Mickey and the crew at Aulani, a Disney Resort and Spa on the island of Oahu, the looks of wonder, joy and fascination on the faces of every youngster in the vicinity of the characters creates a magical buzz, which can't help but bring out your inner child. Soon, I also find myself in line to meet Mickey. And kind of excited about it. That he takes a liking to my hat just makes me more giddy.
Opened 18 months ago, Aulani aims to celebrate Hawaiian culture and give families somewhere to "come together". After being greeted with delicious-smelling leis, the family vibe is immediately evident, with dads teaching daughters how to swim, mums taking toddlers for paddleboard rides and siblings racing to the shaved-ice stand.
With two pools, waterslides, a lazy river, snorkelling lagoon and the gorgeous Ko Olina beach, the resort also runs daily activities for both children and teens, such as fish-feeding, fire-pit storytelling, poolside games, sunrise yoga and an adventure trail leading players through the sprawling property while solving mysteries.
But it's the little touches that can give the biggest buzz. On our final day we discover that, just like Disneyland in LA has "Hidden Mickeys" (Mickey images concealed in rides and buildings), Aulani has 300 "Hidden Menehune", which Hawaiian legend describes as "mischievous small people". Once privy to the knowledge that the figurines are tucked away in elevators, rooms and hallways, it's hard not to be in Where's Wally mode.
Meanwhile, the resort's Pu'u Kilo volcano has 100 animals etched into its exterior,
and inside it along waterslides - but they'll be spotted only by young people in-the-know, usually thanks to a staffer letting them in on the secret.
When the heat becomes too intense, there's a chill-out room with video games and movies. When it's parents who need time out, Aunty's Beach House entertains children for free while adults indulge in the Lanawai Spa's Kilikili treatment (a decadent Hawaiian massage using exfoliating scrubs and body butters under gentle rain showers) or a sunset dinner at beachside restaurant 'Ama 'Ama. The restaurant's chocolate cake with caramel chards and coffee cream was the best dessert of my life.
While dining options come at a range of prices, including a reasonable poolside snack shack, bills rapidly pile up, so budget-conscious families can head across the road to the Ko Olina Centre for some cheaper meals or to stock up on snacks, which can be stored in the room fridge.
Aulani oozes culture, but no trip to Hawaii is complete without a luau - a traditional Hawaiian feast, much like a hangi. The closest is a 10-minute stroll away at Paradise Cove, where prices start at US$88 ($106) for adults and US$68 ($82) for children. After a dinner of pork, fish, chicken, salmon and salads, you can take a hula lesson and by "certified" as a Paradise Cove dancer. Then it's on with an action-packed show that pays tribute to Hawaiian and Polynesian history and culture, including a segment on New Zealand. The fire dancer was dizzying.
Those wanting to explore Oahu further can head to Waikiki Beach for a wander along bustling Kalakaua Ave and an affordable family dinner at Cheeseburger in Paradise, followed by complimentary cookie sampling at one of many Honolulu Cookie Company stores.
Head to the famous surf spots of the North Shore, where Sunset Beach and Banzai Pipeline present the picture-perfect image typically seen on Hawaiian postcards.
Nearby is the Dole Plantation, where kids will love losing themselves a maze that's one of the largest in the world. The plantation started as a roadside fruitstand and now attracts more than a million visitors a year, many stocking up on a range of pineapple-flavoured products from bubblegum to coffee.
Oahu may be the most accessible of Hawaii's eight islands but, if time allows, many will urge you to explore further afield.
We take a 40-minute flight to Hawaii Island, commonly called "Big Island" to avoid confusion with the state.
At the Hilton Waikoloa Village, a young boy is proudly counting a rainbow sleeve of about 20 wristbands. The hotel just ordered 30,000 of the popular bands, which kids collect each time they check into a pool or order off a children's menu. They're rewarded with icecream after collecting six.
While entering the lobby could be just like walking into any other Hilton property, a sign suggests this is no ordinary resort: "Head to the left where the tram or boat will take you to your tower."
Through an enchanting Grand Staircase, I spy the 25ha waterfront resort's star attraction, a sparkling lagoon with sea turtles and fluorescent fish, weaving their way through wobbly paddle-boarders, snorkellers and boys making bridges out of beach chairs.
With pools galore, 1241 rooms in three towers, a dolphin enclosure, US$77 million ($92 million) worth of Asian and Polynesian artwork, 14 restaurants, a kids' club, teen spa, two golf courses, eight tennis courts and even an underground service tunnel, this eye-opening playground of extravagance cost US$360 million ($434 million) to develop.
"They pretty much employed the whole island to build this place," says director of marketing Leanne Pletcher. "It's phenomenal."
While walking is an option, I'm captivated by the idea of having a boat as my only means of transport for three days. By the end, celebrity has gone to my head and I start to think of the captain as my personal chauffeur.
Kids are just as enamoured, hanging their heads off the side of the boats peering at fish, or spotting rare birds on the land, which is home to hundreds of species.
At breakfast, Lagoon Spoon is perhaps the only spot on earth where children are encouraged to mix M&Ms and Gummi Sharks with cereal.
A 20-minute walk along the hotel's rocky shoreline will bring you to the neighbouring Marriott's white sand beach. Just don't pick up any rocks as keepsakes on your way back - it's bad luck and the Hilton receives monthly letters from guests returning rocks having experienced bad fortune after leaving Hawaii.
The next day I head to the Kona Pool, gliding under it's waterfall into a mysterious cave where I discover a secret jacuzzi.
The sight reminds me of the waterfront hot-tub at Aulani, where I watched an 8-year-old bikini-clad girl racing in and out of the pool with friends for two hours before it occurred to the trio to take a break. With Mum at the nearby bar sipping champagne, she sunk into the bubbling water, a wide grin spreading across her face.
"Wow. This is the life," she knowingly informed her younger gal pals, who jumped in behind her.
Indeed, for an 8-year-old, it really doesn't get better than this.
CONTACTS
O'AHU
Aulani - A Disney Resort & Spa
Paradise Cove Luau
Dole Plantation
HAWAII ISLAND
Hilton Waikoloa Village
Leena Tailor travelled to Hawaii courtesy of Hawaiian Airlines, which flies from Auckland to Honolulu on Oahu three times a week.