Never shy of sticking her oar in, Elisabeth Easther shares some ideas for nautical adventures you can embark on - if you sea fit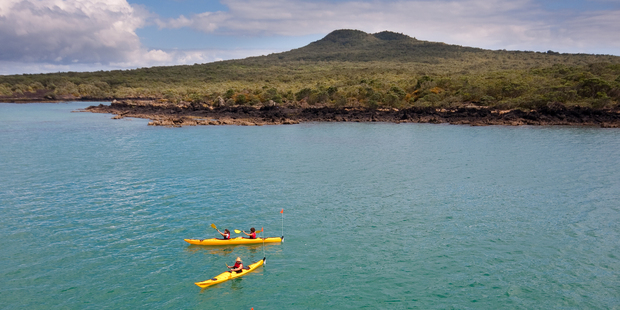 Auckland is paradise for boaties. Pleasure boats, sailboats, motor boats, from one-person kayaks to 10-foot tinnies to 70-foot super yachts, there's a boat for every taste, and almost every budget. The Hutchwilco Boat Show prompted us to check out these maritime experiences that make the ocean more accessible - without actually owning a boat.
Auckland Sea Kayaks
Phone: 0800 999 089
One of the best things about Auckland Sea Kayaks is that it offers a whole bunch of different kayaking tours for all fitness and experience levels. You can do a day's paddle to Rangitoto Island, or set a course for its scoria shores on a sunset excursion.
Or perhaps you fancy a sleepover? There are several two-day trips where you can stop on an island for a fully catered (and comfortable) tenting experience. If fresh water is your thing, head up the Puhoi River with a bunch of mates. The Auckland Sea Kayak people take safety and training very seriously, too, meaning not only will you have fun, you'll be safe.
And if all that isn't enough, they're members of Forest and Bird and are actively involved with improving the environments they work in.
Waiuku Estuary Kayak Adventures
Phone: 0800 gobykayak
If you've ever wanted to nip up the Waiuku Estuary, this is the journey for you. Setting off from the information centre by the historic Kentish Hotel, paddle to Waitangi Falls, two-and-a-half kilometres away. There, paddlers will enjoy a picnic lunch before a relaxed paddle back. On the way, stop off at Waiuku Sandspit beach. Depending on time and tide, guests also have the option of extending their trip (at no extra cost, how cool is that?) and cruising around the sheltered inlets.
The final destination on the itinerary is the Waiuku Museum on River Lane. You'll want to take a camera (in a waterproof bag) and keep your eyes peeled for a range of birdlife including herons, kingfishers, South Island pied oystercatchers, fantails, welcome swallows and ducks. We say O for oarsome.
Slippery Creek Kayak
Phone: (09) 294 7567 or 021 818 376
Or kayak down Drury Stream between Slippery Creek in Drury to Hingaia Bridge just west of Papakura. You can explore the lesser known bits of the upper Manukau Harbour and wind through wetland and estuarine waters including some swift water. There's a burgeoning kayak tourism scene in this corner of Auckland: the website kayaktrails.co.nz has some lovely maps and trails, complete with accommodation suggestions, with trails from an hour or two to a complete five-day excursion down the Waikato River (planned to link to the river portion of the Nga Haerenga national cycle trail.)
Canoe and Kayak and Yakkity Yak
Canoe and Kayak have eight centres around the country (including Waikato, Bay of Plenty, Manukau, North Shore and Auckland), which are designed to help people have fun on the water through selling or hiring them a kayak or taking them on a tour.
There are excursions on glassy lakes with glow-worms, or opportunities to head for the ocean or to rivers with rapids.
There's also a Maori carvings tour in Taupo, a kayaking fishing adventure in the Bay of Plenty or circumnavigate the Mount. Down in Taranaki you can make a trip round Sugar Loaf Mountain with the added bonus of seal spotting, if you are lucky.
If you find kayaking really floats your boat you can join their club, Yakkity Yak. New members do the Sea Kayak Skills Course with qualified instructors (course costs $395 and includes your first year's membership) to learn confidence in capsizing, boat handling and paddle skills, plus the knowledge to keep you safe and have fun on the water. Then experience your first trip to put it all into practice.
Float to Riverhead Pub with The Red Boats or The Riverhead Ferry
Phone: 0800REDBOATS
The best thing about cruising to the Riverhead Pub is you can have the odd tipple knowing your designated skipper will get you home safely.
The Riverhead Cruiser leaves from Westhaven Marina and is a public ferry that goes every Sunday, as well as other selected dates throughout the year, with a fascinating commentary along the way. Also available for private charter, it can take up to 100 people. Or how about going on one of The Red Boats' public fishing trips from Westhaven; anyone can jump on from $55pp. The Riverhead Ferry is another option and is also a scenic cruise with commentary along the way.
Groups of over 15 people can charter a sailing, otherwise the boat goes every second weekend through winter, and every weekend the rest of the year. Both ferry trips take about one-and-a-half hours and cost $35 return, cheaper than a taxi.
Or paddle there if you'd rather, Canoe and Kayak can get you there, as can Outdoor Discoveries and Travel Drift.
Voyager Maritime Museum
Phone: (09) 3730800
There are plenty of ways to find your sea legs at the Maritime Museum, from 15-minute adventures, to others lasting a few hours.
The Ted Ashby is a popular vessel, a ketch-rigged deck scow, typical of the boats that used to operate in New Zealand's northern waters. With two sailings most days, this trip is an hour-long (noon and 2pm on Saturdays and Sundays; Auckland adults $15, non-Aucklanders $29).
Or try Breeze, a square-rigged brigantine, one of the traditional wooden sailing ships similar to the vessels used for New Zealand coastal and inter-Dominion trade in the 19th and early 20th centuries (trips tomorrow, Sundays June 2, 16 and 30, depart 1pm).
These trips last two-and-a-half hours, and are best suited to adults and children over 12.
As for the SS Puke, a steam tug thought to have been built in the 1890s, she is as cute as a button. Trips take 15 minutes and cost only $1 for children and $2 for adults (steaming trips between 11am-1pm, 2-3.30pm, Sundays June 2, 16 and 30).

The Maritime Museum is always looking for volunteers, so if you want to see even more of the sea, this could be the ticket for you.
Sometimes it can be just as cheap to go on a fishing charter and catch your own fresh-as haul, than it is to go to the fishmarket.
With Wave Dancer Fishing Charters, anglers can enjoy the rush of catching their own dinner, without having to fork out for the boat. And you may even have dolphins or whales thrown in at no extra cost, but just for looking, and not for hooking, ok?
Wave Dancer has three 28-foot vessels fitted out for a wide variety of fishing, with the latest tackle, bait, ice, plus all safety equipment, and expert tuition. You can bring your own rod and tackle.
With vessels leaving from Auckland and Sandspit, they can put together a charter targeting snapper, kingfish or just cruise the Gulf.
Sea Bike - Mission Bay Watersports
Phone: (09) 5217245
The sea bike, as its name suggests, is a floating contraption powered by pedalling. Tandem sea cycles, as practical as they are attractive, can take up to three persons (2 adults, 1 child) and you don't need any special skills - just pedal and enjoy the view. And if you put the effort in, you can reach speeds of up to 12 knots. Next time you're stuck in traffic on the harbour bridge, have a think about getting yourself one of these. From as little as $25 for a turn around the bay, this could be the next big thing. Closed for winter, these guys will be open for sea-bike business again in November.