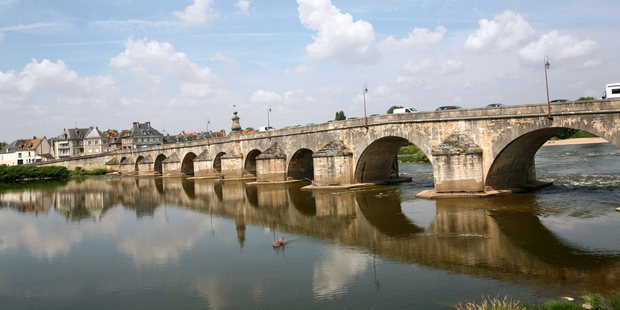 My wife and I are interested in doing a cycle tour in France. We have heard about a cycleway of about 800km that follows the Loire River. Is one-way bike hire available for this trip? Also, what accommodation is available? We are looking to spend about two weeks cycling - is this realistic? Are there any other cycling routes/tours in France that you could recommend? - Wayne Mitchell
Lonely Planet's Sarah Bennett and Lee Slater reply:
Following mainly quiet back roads over gently rolling hills, the Loire a Velo trail makes for easy cycling and is a fine way to explore the aristocratic pomp and architectural splendour of the Loire Valley. Starting at the town of Nevers in Burgundy, and meandering for about 800km all the way to Saint-Brevins-les-Pins on the Atlantic Coast, there's plenty to see en route.
Fine wine is present from the outset and you may well find yourself veering off into the esteemed vineyards of Sancerre and Pouilly-Fume. The delightful 200km section between Chalonnes-sur-Loire and Sully-sur-Loire passes through a Unesco-listed World Heritage Area dotted with historic cities and villages, and extravagant castles and fortresses.
Further downstream is the innovative and lively city of Nantes, where there's a wonderful dining scene and a 48-tonne, four-storey mechanical elephant that holds 49 passengers.
The Loire a Velo is extremely popular, attracting about 700,000 riders a year. Supporting them is the Accueil Velo (Welcome Cyclists), an accreditation scheme involving almost 400 tourism operators who commit to provide quality services to visiting cyclists.
As well as hotels, gites and campgrounds, tour bookings, bike and baggage transfers, rentals and repairs, route maps, audio-guides and details of operators are available at www.cycling-loire.com.
Cycling for six hours a day at an average speed of 15km/h, you could complete the ride in less than 10 days, although two weeks should give you enough time to take things relatively easy or pit-stop for a couple of days. If you don't fancy completing the whole route, a good option is the Chateaux Explorer: a 233km, five-day cycle between bourgeois Saumur and the medieval town of Blois (pronounced "Blwah"). As well as taking in many of the big-name chateaux, the ride detours from the main tourist trail to explore some of the Loire's lovely tributaries, the Vienne, Indre and Cher.
We will be in England in late December, and have a spare week or slightly less. Can you suggest an itinerary that would start in Cornwall on Boxing Day and end in Gosport on New Year's Eve? We will have a rental car, and plan to visit London after our stop in Gosport. I have thought about travelling through Wales and up to Edinburgh, but the trip all the way back has me stumped. Can you help? - Julie
Lonely Planet's Sarah Bennett and Lee Slater reply:
The United Kingdom's excellent network of motorways and major roads makes the car a flexible and economical way of getting around.
You should select your itinerary based upon how much time you want to spend behind the wheel and what you want to see. Edinburgh is a wonderful city, but it's a very long drive from Cornwall: about 850km and at least 10 hours, and that's without a detour into Wales.
If you're determined to head north of the border, then we suggest a mixture of urban odyssey and outdoor adventure on the way back.
Stop first in Durham, to visit its grand Romanesque cathedral, and then head to the North York Moors with their desolate splendour, or the Yorkshire Dales. Further south are the academic and architectural treasures of Cambridge and Oxford.
To reduce your driving time, you could stick to the south of England. From Cornwall, head to the granite tors and swirling mists of Dartmoor before heading further east to Dorset's Jurassic Coast, where you'll find caves, fossils and picture-postcard villages with wonderful names like Langton Herring. From Dorset or Hampshire catch a ferry to the green and groovy Isle of Wight, or head north to the Cotswolds with its bucolic vistas and honey-coloured villages.
Whichever route you choose, the Automobile Association's Route Planner and SatNav will help you join the dots.
WIN A LONELY PLANET GUIDEBOOK
Email your questions to travel.info@lonelyplanet.com and they'll be answered by Lonely Planet's experts.
In addition, the best question each week will earn a Lonely Planet guidebook. Add your postal address and the guidebook you'd like (see lonelyplanet.com).
Not all questions are answered and Lonely Planet cannot correspond directly with readers.