A glider ride takes in the islands' more isolated spots - including the beach from Lost, says Yvonne Tahana.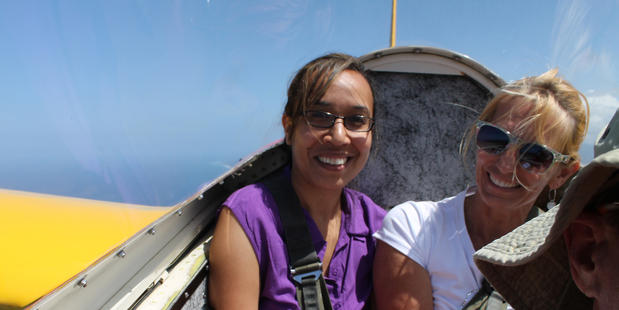 The glider pilot asks for the camera when we're high up in the thermals that come off the sea before hitting the green mountains which borders Oahu's Dillingham Airfield.
Nick Voge, the pilot of our three-man glider, isn't too fussed that at about the same time as he's snapping pictures over his shoulder of his back-seat Charlies - fellow travel writer Ruth Scott and I - we're about to become unhooked from the Vietnam War era L-19 Bird Dog.
When the old warhorse loosens the winch, Nick still doesn't have his hands on the controls. There's a sound like a monkey wrench clattering on a concrete floor and then glider drops slightly, enough for a few butterflies, before we're boosted up by the north-easterly trade winds.
On the ground, the orange and yellow glider doesn't look all that special, but up in the air, moving out to sea where whales have spent an hour this morning, this craft feels like an American eagle, or some great winged albatross: regal.
Voge flies commercial craft from Oahu to other Hawaiian islands for his day job, but gliding is a passion and it's where you'll find him on his days off.
His passengers are often stunned mullets up here, silenced by the blue-green sea at Waialua. He points to Ka'ena Point, where Hawaiians believe their souls departed this world, from before turning the plane towards the state's famous North Shore surf beaches, Turtle Bay, Pipeline and Waimea.
For this gaping fish, it's a happy out-of-water experience.
"Now you know why birds are the only animals that sing," he says.
The beach below is where Lost was filmed, but now it's a quiet place. Barely any people come here, Voge says. Tourists who hang out at Waikiki don't really know it exists. Endemic monk seals are sunbathers from time to time.
"You could come here and run around naked and no one would know," he jokes.
From the ocean looking back to land you can see how rain, over thousands of years, has carved the ranges into bony spindles. Below the mountains, an old quarry and train tracks are markers of this area's working past; vegetables such as onions are still grown in neat fields. Up the road is a polo field, which is busy most weekends.
Voge is good for a gossip. The President was born in this state and has a friend who lives out this way. He's been known to bring his motorcade to visit. Voge is proud of him.
"Our man Obama is doing the job," he nods, before he turns the plane around for landing.
It's surprisingly smooth, barely a bump until the nose meets the concrete and even that's not a worry.
The 20-minute flight's gone much too quickly, but back on the ground I notice the glider has the perfect name: Bird of Paradise.
CHECKLIST
Getting there: Hawaiian Airlines and Air New Zealand each fly three times weekly between Auckland and Honolulu. Hawaiian plans to add a fourth flight during the peak travel period of September 19 to October 11.
Further information: See honolulusoaring.com.
Yvonne Tahana travelled as a guest of Hawaiian Airlines.