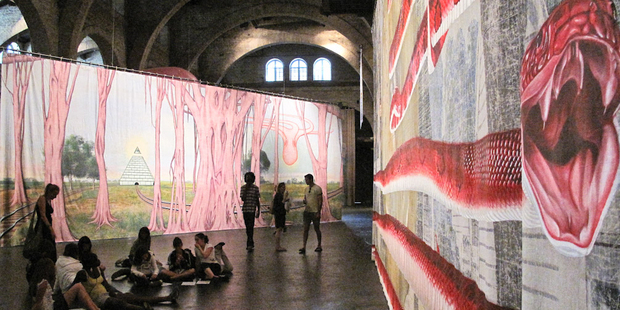 We will be staying in Bordeaux for five days early in July, prior to 10 days barging on the Lot, Baise and Garonne rivers and canals, departing from Agen. Can you suggest interesting places and sights to see in Bordeaux and the surrounding countryside? We plan to rent an apartment somewhere out of the city, but would like to explore the city too. We will have a car for transport. - Terry and Averil Denvers
Lying on the west bank of the Garonne River in the southwest French department of Gironde, the port city of Bordeaux is the largest Unesco-listed urban World Heritage site. Pedestrianised boulevards, restored neo-classical architecture and a high-tech public transport system make it a joy to explore. The countryside around Bordeaux is full of renowned vineyards and legendary chateaux, many of which can be visited.
Within the city bounds, the Cathedrale St Andre is a must-see and a Unesco World Heritage site in its own right. Mostly built between the 11th and 14th centuries, its exceptional masonry carvings include a 50m-high gargoyled belfry.
Should you climb the tower's 231 steps you'll be rewarded with a spectacular panorama of the city.
Bordeaux also has a healthy collection of museums and galleries. Gallo-Roman statues and prehistoric relics dating back 25,000 years are among the highlights at the Musee d'Aquitaine, and cutting-edge modern art can be viewed against the dramatic warehouse backdrop of the CAPC Musee d'Art Contemporain.
Other notable galleries include the Musee des Beaux-Arts showing the evolution of Occidental art from the Renaissance through to the mid-20th century, and the Musee d'Arts Decoratifs, a treasure trove of faience pottery, porcelain, gold, glasswork and furniture.
Bordeaux's main tourist office runs a packed programme of bilingual tours including a two-hour walking tour that takes in the city's floodlit buildings and monuments; gourmet food and wine tours are also available.
No visit to the region would be complete without sampling some of Bordeaux's famous red wines. Whet your appetite first with a short, informal introduction to wine and cheese hosted by the Tourist Office every Thursday (plus Saturdays in summer). The region has more than 5000 chateaux - also known as domaines, crus or clos - referring not to palatial castles but rather to the places where grapes are grown and wines are made.
Smaller outfits sometimes accept walk-in visitors but reservations have to be made at most, especially at the well known.
Northwest of the city, along the western shore of the Gironde Estuary, lie some of Bordeaux's most celebrated vineyards.
The port town on Pauillac lies at their heart, surrounded by the distinguished Haut-Medoc, Margaux and St-Julien appellations.
The town's tourist office, Maison du Tourisme et du Vin has information on the various chateaux and how to visit them.
Also worth visiting in your car are the medieval village of St-Emilion (40km, 40 minutes' drive), and the beautiful sea port of La Rochelle (188km, two hours).
Can you tell me which airlines fly between Hawaii and Cancun, Mexico, if any? Is there a website that lists all the airlines flying a particular route - not only Hawaii to Cancun but all airports in the world? - Allan Horner
There are no direct flights between Hawaii and Cancun, but it's relatively easy to travel between the two. From Hawaii, you can fly to numerous hubs in the United States, including Los Angeles, Phoenix and Houston, then catch a direct onward flight to Cancun or one via Mexico City.
There isn't an easily located, definitive list of all airlines and airline routes, but carriers servicing particular places can usually be found on airport websites. Hawaii's main airport in Honolulu has such a list, as does Aeropuerto International de Cancun, Mexico's second busiest airport.
Both airports are well served by major airlines so finding a suitable, cheap flight shouldn't be too hard if you book far enough in advance and avoid the high seasons: December to April for Mexico; and December to April and July to August for Hawaii.
Flights and fares can be found on websites of individual airlines, but the simplest way to search for the most convenient and economic flights is to use one of the many online flight comparison websites. We like hipmunk.com for its clarity and ease of use, although there are many similar websites to choose from. We recommend comparing at least two or three to ensure you get a good deal.
Other popular websites for information include expedia.com, orbitz.com, momondo.com and skyscanner.co.nz.
WIN A LONELY PLANET GUIDEBOOK
Email your questions to travel.info@lonelyplanet.com and they'll be answered by Lonely Planet's experts.
In addition, the best question each week will earn a Lonely Planet guidebook. Add your postal address and the guidebook you'd like (see lonelyplanet.com).
Not all questions are answered and Lonely Planet cannot correspond directly with readers.