Peter Malcouronne meets new arrivals at Auckland Airport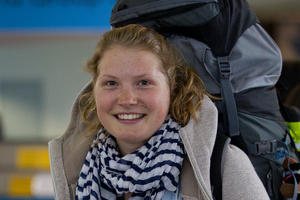 "I'd say my favourite city, so far, has been Masterton."
"Sorry, where?"
"Masterton. It's near Wellington. I worked there."
"Did you just say... Masterton?"
"Yes. Not because of the city - well, not so much - but the people. The people make a city sometimes."
Nineteen-year-old German Merle Lau has been in New Zealand since November. She's here to meet her sister Maret, 22, who has just got in from Dortmund.
The Lau girls have a month-long road trip ahead and, at the risk of perpetuating national stereotypes, have devised a supremely well-organised itinerary. We'll get back to that in a moment. First, I want to hear about Merle's adventures.
"Well. I arrived in Auckland and went up to the Northland. Then I did a tour around the North Island...
and then flew from Wellington to Christchurch. Then I did a route around the South Island."
Pretty much everything, really. The Abel Tasman was a highlight; Merle met another strapping Germanic backpacker at a hostel and they did the track together in four days.
Sure, it was beautiful, but it wasn't nearly as memorable as Masterton. That unlikely tourist mecca.
"I worked at a vineyard for five weeks," says Merle. "I was a WWOOFer. We weren't grape-picking - we were thinning out vines, fixing nettings, that sort of thing. It was totally new to me, but the people were very kind. I had a great family there, a great time."
And so to the itinerary with Maret. "We've hired a camper van and are going around the North Island. But we'll stay in Auckland till Sunday because we have tickets to a rugby game. The Blues."
It'll be Merle's first live game. "I saw the All Blacks against England in November on TV." She sighs. "That was not a good game. We lost. So we won't talk about that."
We? We lost? What loyalty this honorary citizen evinces. Enough for me to confidently bust out that old chestnut: "So what brought you all the way to New Zealand?"
"I was [deciding] between Australia and New Zealand, but I talked to a lot of people who'd been here and decided New Zealand because of the nature. Also people told me about the lifestyle. That it's more easygoing and that Australia had a lot of parties - it's more the party country - and I thought New Zealand is more like me."
What a splendid answer! Merle may have inadvertently come up with the posters for Flight of the Conchords' Murray's next campaign: "New Zealand: It's more like you." And: "New Zealand: We (don't) like to party (too hard, or all that often)."
The international WWOOF scheme places travellers on organic farms, where they learn about ecological farming practices and work in return for food and board.