Justine Tyerman manages to leave Waiheke with her limbs intact after spending Easter - but not a fortune - on the island with her family.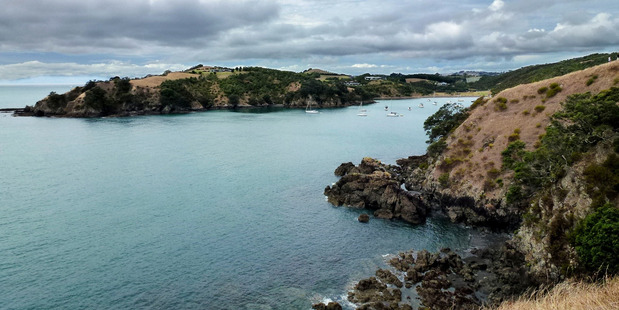 Visions of dollars flying out of his wallet dulled my husband's enthusiasm for the idea of an Easter family holiday on Waiheke Island. And the prospect of long, leisurely afternoons of wine-tasting did not excite him one little bit either. My hyperactive husband does not really do relaxation - he likes activity with a capital 'A'.
For him, the cons - it will cost an arm and a leg for the four of us to eat, drink and sleep on Waiheke at pay-a-surcharge-just-to-breathe Easter-time; I don't like drinking wine in the daytime; and what's wrong with Easter at home anyway? - seemed to far outweigh the pros - a 40-minute ferry trip for daughter who lives in Auckland, a mere three-hour flight for daughter who lives in Sydney, a place with a cool holiday vibe away from home where we could be together as a family and not fall into the trap of spending most of the time doing chores - and the famous Waiheke micro climate.
So it was time to convene a summit meeting among the female members of the family, assisted by a clever little iPhone app, our top-secret female-members-of-the-family Whatsap Chat Group.
We came up with a cunning plan worthy of a Doha or WTO round of talks: a Walks-for-Wine trade-off. For every hour indulging in Bacchus-type activity, or rather inactivity, we would spend the equivalent time doing exercise worthy of Olympian athletes. That was the theory anyway.
Accommodation on the island was at an absolute premium at Easter but thanks to Richard at Bachcare, we found a privately-owned, two-bedroom apartment at Waiheke Resort overlooking Palm Beach and paid only a forearm (under $200 a night). Modern, tastefully-furnished and equipped with everything we needed, we put the BBQ and new kitchen to good use cooking family favourites our daughters ordered in advance - Dad's curry and boned-out lamb roast on the BBQ.
It was only a five-minute downhill walk to Palm Beach, exercise which also earned us Bacchanalian credits.
We serendipitously scored box seats at the Waiheke Island Easter Jazz Festival, the resort being one of several venues for the annual event. Our apartment was directly above where world-class bands were playing so we could listen to the mellow music from our balcony or close the double-glazed doors and shut out all sound at sleep-time.
We decided to go for quality not quantity in our selection of vineyards so we chose two and did them well, ever-mindful of the accord we had struck.
Following a recommendation from Sharon at Auckland Tourism, Events and Economic Development, we lunched at Casita Miro, a Spanish-style vineyard restaurant. We shared a variety of flavoursome dishes and a divine bottle of Passage Rock rosé and then reclined, chatted and dozed outside under the olive trees for a few hours.
HH (hyeractive husband) had a new high-tech toy to play with - an iPad mini - purchased duty-free by Sydney-based elder daughter so he was happily occupied discovering all the cool apps he could install with the help of younger daughter.
The Matiatia Headland Walkway was the trade-off for our winery indulgence. Another hot tip from Sharon, the walkway was indeed stunning. It took us to the top of a ridge overlooking sparkling jewels of bays where dozens of yachts and launches were anchored, past World War 2 bunkers dug into the hillside, reminders of the role Waiheke Island played in defending Auckland from attack, and down to pretty Cable Bay.
A sign advised us that the next part of the track was suitable for experienced trampers only. Veterans of many a South Island alpine track, we forged boldly ahead wondering what sort of hazards lay ahead. We climbed steeply from the bay to a spectacular cliff-top track with views of the rocky shore and Rangitoto Island and Auckland in the misty distance. This part of the walk offered the added bonus of skirting the fringe of an exclusive gated compound and was indeed potentially dangerous due to the temptation to ogle the opulent mansions, manicured gardens and sculptures instead of paying attention to the track.
That evening we took a chilly bin packed with nibbles, wine and beer down to idyllic Palm Beach where we joined hundreds of couples, family groups, dog walkers and grandparents with little ones, enjoying the mild, autumn evening and savouring the last of the golden weather.
Lunch at Man O' War Vineyard was the focus of the next day. The picturesque pebble and shell beach in front of the tasting house was abuzz with families and yachties rowing or motoring ashore in smart white tenders to sip wine and graze from platters under the trees at the winery. We ordered two delicious platters for four of us and a superb Man O' War pinot gris. The family-friendliness of the establishment ensured great business for the winery on that Easter Sunday.
Our token walk for what was left of the day was along Palm Beach and the adjacent secluded nude beach - where a few brave souls with alarmingly white bodies were attempting to sunbathe and swim, au naturelle, away from curious eyes - up a track above the beach and back home through an area of lovely tropical bush.
Keen to maintain the beach theme and avoid restaurants with scary surcharges, that evening we feasted on yummy fish and chips in newspaper from a shop right by the beach.
With an exercise deficit to make up for, we spent our last day exploring Stoney Batter Historic Reserve, learning about the fascinating history of the WW2 military installations at the far northeastern end of the island.
Owned by the Department of Conservation, the area is a Category 1 Historic Place with three concrete gun emplacements and an extensive system of interconnected tunnels.
The area is also a nature reserve with unusual rock formations, walkways and fabulous views of the Hauraki Gulf.
Another of Waiheke's many drawcards is its micro climate. While Auckland appeared in the distance to be smothered in murky grey cloud, Waiheke's silvery dawns cleared to sunny, mild days, warm enough for swimming yet without the intense heat of the summer.
Our strategy, with its secret meetings, summit talks and trade-offs worked a treat - so much so, a joint communiqué was agreed upon at the end of the weekend to reconvene at Waiheke next Easter.
- nzherald.co.nz