There's something for everyone in Noosa and Sheriden Rhodes finds winter is the ideal time to visit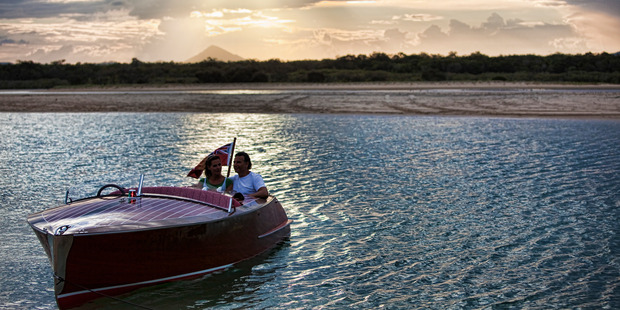 There's something magic about Noosa in winter. While Kiwis wrap sun-starved bodies beneath layers of jumpers, coats and scarves, here it's eternally summer.
The humidity prevalent at the height of summer is gone. The air is fresh, the beaches sparkling, and the sand soft and inviting. Winter is when many New Zealanders, like flocks of migratory birds, cross the ditch, taking advantage of consistent sunny weather (the average May temperature is 23 degrees), uncrowded restaurants and a warm sea, while the frenetic pace that invades Noosa at peak periods is replaced with a more unhurried, laid-back tempo.
Any local will tell you that winter is Noosa's best-kept secret. Take long walks through the glorious Noosa National Park, swim at empty beaches, spot sleepy koalas, hit the road for a scenic drive into the lush hinterland, dine at alfresco restaurants and shop along iconic Hastings St. You can also combine your winter holiday with a jam-packed programme of events. Where else can you spend a morning browsing galleries, followed by a swim at Laguna Bay, before popping back for a literary lunch or concert with the star of Jersey Boys Australia, Bobby Fox, hot off the stage from his critically acclaimed, national performance as Frankie Valli?
WINTER HIGHLIGHTS
The Noosa Long Weekend: It started as a modest backyard festival aimed at filling a cultural void, but the Noosa Long Weekend Festival has morphed into a major, national 10-day artistic celebration. "Noosa is renowned for its sand, sun, surf and great restaurants, but there were lots of locals, predominantly expatriates from Sydney and Melbourne, who were missing a sense of entertainment, art and music.
So we thought we'd bring it to Noosa," explains patron and co-founder David Williamson. For the inaugural festival in 2002, Williamson and his wife Kristin had to twist Bryan Brown's arm to get him and wife Rachel Ward to attend, offering enticements such as longboarding. Now it's the artists who are lining up to perform. As part of this year's programme, from June 14-23, you can see a stage tribute to the music of Frankie Valli and the Four Seasons; a human circus; listen in on a chat with one of Australia's best-known cartoonists, Michael Leunig, and tuck into a three-course progressive prawn lunch. Naomi Price in alter-ego mode as "Adele", will sing at a late-night supper club while Bobby Fox, the hot star of Jersey Boys Australia, will perform the festival's opening act, "4 Seasons in 1 Night". The festival includes 85 ticketed and free events with in excess of 12,000 tickets on sale.
Book online or phone +61 7 5455 4455.
Noosa International Food and Wine Festival: It's short notice, but if you're on the Sunshine Coast this month, this three-day tribute to Australian food and wine is not to be missed. Now in its 10th year, it boasts a phenomenal line-up of leading chefs, winemakers, media, restaurateurs and serious foodies. This year's guest list features chef and owner of Marque Sydney, Mark Best, Peter Gilmore from Quay Sydney and Andre Chiang, whose Singapore restaurant Andre was voted one of the world's best restaurants. Have cooking lessons and sit down to lunch with some of these chefs, follow fun food trails from farm to table and sample cuisine from the country's best chefs at local restaurants. This year you can experience an English Riverside Picnic concocted by some of Australia's leading British-born chefs, help judge some of the world's best cocktails on Noosa's pristine shoreline, or sit down to an unforgettable degustation dinner cooked up by chefs from the coveted 2012 S. Pellegrino World's Best Restaurant List. The event runs from May 16-19.
Take to the water: Don your sunnies and channel Grace Kelly as you explore the Noosa River and Lake Cooroibah aboard a classic wooden speedboat. The timeless mahogany runabout, Noosa Dream, was handmade in Seattle, and takes punters for stylish chauffeur-driven tours. The 90-minute "Lake Escape" tour takes in the multimillion-dollar homes of Noosa Sound, the beaches of Noosaville and the houseboats of Tewantin. Along the way you'll explore Noosa's north shore, see Sir Richard Branson's private island resort and take in hinterland vistas at the stunning Lake Cooroibah, where you'll drift silently amid pristine bushland enjoying the stillness and solitude. And you'll also cruise to the river mouth to see Noosa's abundant birdlife, so have your cameras ready. Day and sunset cruises available.
A walk in the park: In summer, Noosa National Park, Australia's most visited national park, is packed with visitors, walking, swimming and admiring the dramatic coastal views. Winter gives you the chance to take it all in, minus the crowds. Stroll barefoot along secluded beaches, swim in magical inlets, spot koalas high in the gum trees and scrub turkeys, black cockatoos and lizards closer to ground level. There are five different walks you can do, including a one-way stroll to the beautiful Sunshine Beach for coffee at Costa Noosa Espresso Cafe, or loop back into town for gelato at Massimo's.
Visit the Noosa National Park Information Centre in Park Road, Noosa Heads for walking trail information.
Markets: The famous Eumundi Markets put the historic township of Eumundi well and truly on the map. Established in 1979, the colourful, eclectic market transforms this otherwise sleepy hinterland town 15 minutes outside Noosa into a buzzing, bustling shopping mecca on Saturdays and Wednesdays. The market's philosophy is "Make it, Bake It, Design It, Sew It, or Grow It" so there's no chance of finding cheap, overseas-made products on sale. Shop for homemade ginger beer, locally made clothes, handbags, quality toys, leather belts, organic fruit, veges and colourful artwork. Enjoy the live entertainment of bongo drums, bush poetry or the electronic didgeridoo and drop into a local pub afterwards for a XXXX (pronounced four-ex) beer on the wide, shady veranda.
At the weekly Noosa Farmers' Market you can chat with a local pineapple grower, buy organic coconut oil, and ask a farmer why his bananas taste so much better than those at the shops. From 7am-12pm each Sunday.
Where to stay: Book a room in the thick of the action at the recently rebranded Mantra French Quarter, fresh from an extensive $5 million makeover. The one and two-bedroom deluxe apartments are the top pick at this chic French-style charmer. The property features an enclosed lagoon-style swimming pool, framed by lush gardens and a fabulous location a two-minute walk from the surf club and cafes on bustling Hastings St. Opening specials include a two-night "relax and refresh" package with in-house movies, popcorn and cheese platter from $AU187 ($NZ225) per night in a one-bedroom deluxe apartment or from $AU229 ($NZ276) in a two-bedroom deluxe apartment. Prices valid for bookings until May 20 for travel until December 24. Guests also receive a free 30-minute facial when they purchase a one-hour massage at the Endota Day Spa in Noosa.
For more info, visit tourismnoosa.com.au or phone +61 7 5430 5000.
CHECKLIST
Getting there: Fly there with Air New Zealand.
Further information: See Australia.com.