Peter Malcouronne meets new arrivals at Auckland Airport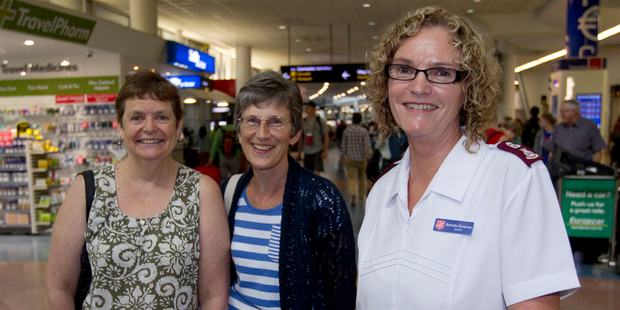 Gill Scoltock and Gael Laughland are waiting for a third member of the Impossible Surname Society to emerge. "She's an old friend," Gill explains. "Brenda Ennever. We worked together for the Salvation Army."
Ah ... the Sallies - the good old Sallies. Even in these secular times, they remain ubiquitous and I confess I'm glad of it. The old-school brass bands. The op shops that clothe the poor - and Grey Lynn's unholy hipsterati. The foodbanks. The work with alcoholics and addicts. "God's work," you might say. Or merely good work.
Forgive the digression, but deceased Salvationists also boast the best less-is-more epitaphs on their headstones. "Promoted to Glory," they say. It's hard to beat that.
But back to Brenda. In early February, she and husband Mark took a three-year posting in Fiji. Suva Central Corps. "It's going fantastic," a uniformed - and just-arrived - Brenda tells me. "Mark's looking after the property ...
getting it up to cyclone standard. And I've been doing a lot of child sponsorship work. We support hundreds of children. Most of the sponsorships start when they're little. At kindy. We carry it on until they finish school or university."
Ever since founders William and Catherine Booth started "saving" trafficked women in London's East End in the 1860s, the Sallies have done their bit - and then some. William Booth's best-seller, In Darkest England and the Way Out, reminds of the socialism-as-applied-Christianity of Michael Joseph Savage.
I digress again. Brenda, who is yet to get to the beach in Fiji, is back home for only four days. Tomorrow, she's attending a domestic violence training day, and then she's whizzing down to Wellington to see her daughter, Naomi. And her new grandson, Benson. Her second. She hasn't met him yet. "We've skyped - but you don't get to cuddle them when you're skyping.
"He was born on the 19th of February - one week after we got to Fiji. I was praying that he would come before we left - he was a few days late - but it didn't work."
She laughs. I imagine Brenda's prayers would have been more earnest and literal than most, but it wasn't to be. "I believe it was God's purpose for my husband and I to go to Fiji. To fulfil whatever reason He has for sending us there."