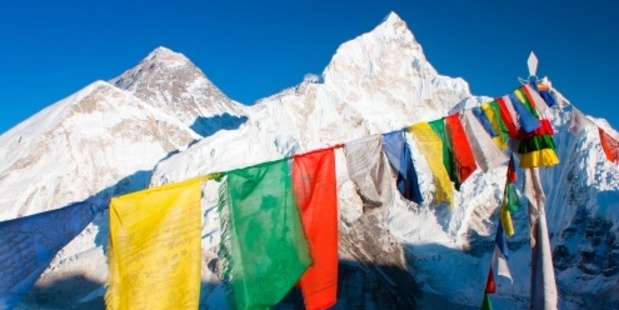 Black fingers claw at your neck. The zip of your windcheater is yanked away from your red raw chin.
You gasp for air. You're choking. Something has wrapped itself around your throat.
You gasp again, deeper, more hungrily. You're sucking in air but your lungs are not quenched. They crave more. They crave breath but you're still choking. No, suffocating.
Gloved fingers claw again, pulling away the collar of your jacket, the layerings of fleece scarf and the neck gaiter that has until this point helped keep airborne Himalayan dirt from coating your teeth.
The world around you is white with snow and glare. The black tip of Everest is somewhere to your right but you don't care. Hunched over, hands on knees, you instead stare at your boots.
It's too hard, you think. This was never your goal. You've reached Base Camp, may as well just turn around and head back to the warmth of your Gorek Shep lodge, you reason.
But pride and determination keep you from succumbing. And so does your sherpa.
Pleas of "should I turn back?" are met with "no, it's OK, slowly slowly".
You're not even halfway up Kala Pattar - a mountain rising above Everest Base Camp to 5545m - but you soldier on.
You are in an adventurous group of six yet the remaining quintet has broken away and you're falling further behind with each gasping stop.
The rest of your World Expeditions travelling pack, another eight hikers, are still curled up in bed. They won't be woken for breakfast for two more hours.
You scale one miniature crest to meet a fallen mate. He's coughing up phlegm.
Fearing a chest infection will soon take hold he curses Kala Pattar as he begins a premature descent.
It's minus 25C and tips of fingers are numb despite your gloves. Toes feel frozen even though they're encased in thick socks and hiking boots.
Nipples are so icy they seem bound to fall away from your chest. Pounding fists against breasts does nothing to stop the chilled pain.
After what feels like an eternity yet has only been 2.5 hours, you see the peak.
From mounds of rocks, rainbow prayer flags flutter in a light wind. A handful of other hikers snap photos of themselves in front of the distant summit of Mount Everest.
It's from this vantage point that you can finally appreciate the looming Everest, at 8848m. Cloud obscures its triangle tip but you can see its walls are black and sheer, and incredibly humbling.
How some people can scale such a monstrosity is an achievement that leaves you in awe. For mere mortals, Kala Pattar is high enough.
You take a moment to appreciate the landscape, take numerous photos and then begin your descent over snow-covered rocks. It's slippery but you hop along.
With each step lower you can breath more easily and your energy returns, but only momentarily.
By the time you arrive back at the Gorek Shep lodge, ready for a hearty breakfast, you collapse in a heap. Even the sherpas look exhausted.
It's only 9.30am. You still have a full day's hiking in front of you and your body is overcome with fatigue.
Yet your mind is buzzing from conquering a mountain.
You succumbed to the curse of Kala Pattar, the lure of that extra Himalayan challenge.
A challenge that's harder, more fearsome, than reaching Base Camp. One that will literally take your breath away.
IF YOU GO
GETTING THERE: China Southern Airlines flies to Kathmandu via its southern China hub Guangzhou from Australia's major cities as well as Auckland.
It flies to Guangzhou from Sydney twice daily, from Melbourne, Perth and Brisbane multiple times a week, and from Auckland daily.
The airline also offers daily flights between Kathmandu and Guangzhou, with stopovers of less than three hours on connecting Australian flights.
Fly China Southern's Canton Route from Australia to Nepal in economy class from $1210 and in business class from $4080 (conditions apply).
For more information, call China Southern on 1300 889 628 or visit flychinasouthern.com.
STAYING THERE: World Expeditions' Everest Base Camp and Kala Pattar tour is 18 days. Accommodation is a combination of 8 nights in permanent campsites, 6 nights in eco lodges and 3 nights in a hotel. The campsites and lodges are basic, with a mix of squat and western toilets.
PLAYING THERE: The Everest Base Camp and Kala Pattar tour is rated at a moderate fitness level. Of the 18 days, 14 are spent trekking. The tour costs A$2440 and includes most meals, airport transfers, a return flight to Lukla, trekking permits and park fees (conditions apply).
For details and departure dates go to worldexpeditions.com or call 1300 720 000.

• The writer travelled as a guest of World Expeditions and China Southern Airlines
- APP