In the heart of Asia, Macau's Portuguese past emerges strongly in its scrumptious cuisine, finds Paul Rush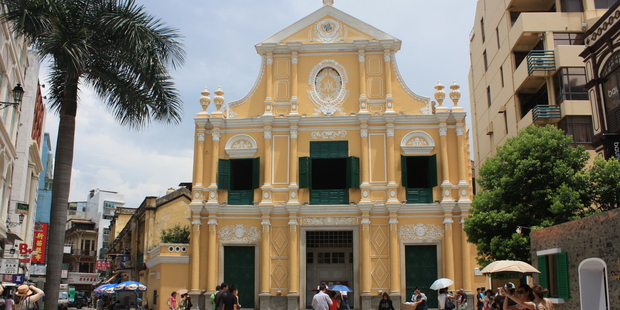 I have come to Macau to experience its flavour. Not Chinese dishes, but its European-style food.
Antonio's on Rua dos Negociantes, Taipa Island, is a fine-dining restaurant that offers a traditional Portuguese meal, the perfect introduction to Old Macau.
Antonio Coehlo's enthusiasm, jovial personality and meticulously thought-out menu ensure that I feast like a king in his cosy, mahogany-framed dining room. He tells me with conviction, "I'm Portuguese, but I live here and I cook with patience and love. Macau is a very safe, cosmopolitan city that still has its own identity. Even the big casinos can't change that."
As our group orders, the waiter ticks a box to indicate our ethnicity - European, so not too spicy; Chinese, very spicy; Portuguese, salty; Japanese, not too salty.
The appetisers come and go with mouthwatering rapidity - goat's cheese with a layer of honey and grilled Portuguese sausage. Our celebrated chef has more surprises up his sleeve with mains of fried garlic prawns with white wine, and charcoal-grilled sea bass.
Macau is in China's southern Guangdong province, on the west bank of the Pearl River Delta. At just 24sq km, this Special Administrative Region (SAR) is remarkably easy to get around. The Historic Precinct's streetscapes, piazzas and 20 monuments can be explored on foot over two or three days.
Tiny shops are crammed with every conceivable fast food - some that defy identification. The top sellers are beef jerky in a dozen variants. I try tasty dried sweet pork. There is a scrumptious variety of chocolates, peanut candies, moon cakes and icecreams. My favourite is the freshly-baked, melt-in-the-mouth almond cake.
I linger over an icecream under the remarkable granite facade of St Paul's Church, which soars skywards like a giant altar piece. Even though it's in the heart of Asia, Macau has a harmonious Mediterranean atmosphere.
The Wine Museum takes my fancy with its interesting stable of 115 bottled wines from Portugal, Macau and mainland China. Our group enters into the spirit of Portuguese life with satisfying sips of reds and whites from Oporto, Dao, Douro and Alentejo; our most popular is the 2008 Rose from Douro.
Our last evening calls for a special treat and tour guide Alorino leads us back to Taipa, to the cosy, authenticity of O'Manuel Cozinha Portuguesa.
Chef and founder Manuel came here in 1979 and has a notable reputation. His house specialty is clams with lemon sauce, white wine and coriander and they arrive fragrantly. Like all Portuguese cuisine, this dish is well seasoned with salt and spices, which enhances its flavour to briny and zesty.
The mains dish is a delicate baked duck with rice and Portuguese sausage, followed by the unmissable Lord Stow's Portuguese egg tart, stuffed with delicious creamy custard that melts in the mouth.
I'm still singing the praises of the Portuguese lifestyle and am amazed at the way it has flourished in perfect harmony with ancient Chinese customs. The Macau melting pot of "Little Portugal" and "Big China" has that effect on you.

• Paul Rush travelled to Macau courtesy of Cathay Pacific Airways and Macau Government Tourist Board.