At the top end of the Great Barrier Reef there's something for everyone, discovers Tash McGill.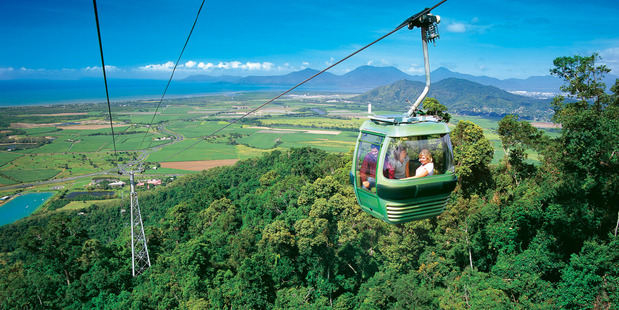 City life for backpackers and adventure lovers
The city of Cairns is great for backpackers looking for an easy base. The newly re-developed esplanade sprawls out with grassy banks alongside a lagoon perfect for soaking up the sun. A brief wander across the street offers easy dining, plenty of low-cost accommodation and accessibility via shuttle services to almost every tourism operator in the area, all the way up to the Daintree. From sky diving to hot air ballooning, kite-surfing and almost any adventure sport you could think of, Cairns is the hotbed of adventure tourism in Far North Queensland.
While you're in town, make time for the Kuranda Scenic Railway, departing from Cairns Station daily. This restored train crawls up into the mountain range through 15 tunnels and dozens of spectacular turns before stopping at the Barron Falls, a breathtaking outlook.
Last stop is Kuranda itself - the last vestige of a 1970s hippie outpost, complete with open air markets and kitschy stalls among a few galleries focused on local artists. Take the Skyrail Rainforest Cableway back to the coast and soar over kilometres of untouched rainforest.
Palm Cove is paradise for families and babymooners
A 30-minute drive north of Cairns and accessible by shuttle from the airport, Palm Cove is a haven for families with small children and babymooning couples. Peppers Beach Club & Spa sits beachfront, nestled alongside plenty of restaurants, local cafes and casual dining experiences. Well-designed with family-friendly spaces (a lagoon pool complete with sandy beach) and a separate formal adult pool, the sun is captured all day long and - as with most of the resorts here - you have the choice of apartment style suites with well-stocked kitchens or hotel-style accommodation. A walk through the village each day will take you along the beach where stinger nets are provided in season and deposit you comfortably at the local Apres Beach Bar & Grill for a local tasting platter - barramundi, crocodile, ostrich and kangaroo. Palm Cove has a great tourism office, car rental agency and is on the shuttle route for day trips to Port Douglas, if you decide you've had enough peace and quiet.
Party in Port Douglas
Couples, friends and backpackers who love resort towns find paradise in Port Douglas. An hour or so from Cairns International Airport, Port Douglas has the most direct access to the Great Barrier Reef and surrounding treasures; whether your tastes run to sunset sailing cruises, jetboats, scuba or snorkelling. The reef is a focus during the day, but at night the town can come to life. There's a bus between the resorts and the town centre, where the weekends find a range of live music and sports bars spilling over into the streets. Bigger than Palm Cove and prettier than Cairns, Port Douglas is also home to the QT Boutique Hotel, with one of the best hotel buffet breakfasts you'll find in Australia, stylish rooms and a well-designed pool area to soothe aching muscles. The bar springs to life from late afternoon with dinner, drinks and dancing so you needn't leave the resort.
Daintree for eco-lovers
For eco-lovers and lovers of luxury, the otherwise untouched and earthy Daintree Rainforest is home to the Daintree Eco-Lodge and Wellness Spa. Nestled in 6.5ha of rainforest, the Lodge consists of 15 bayans (villas) in private surrounds with a spa focused on Aboriginal wellness treatments. Walking tracks allow for a more personal discovery of waterfalls and the soothing soundtrack of the forest birdlife, while some of Daintree's unique offerings are within easy reach.
Local guides can take you walking along beaches, mangroves and mudflats on a
Kuku Yalanji Cultural Habitat tours, learning about local culture and history as well as offering rare insights into the delicate eco-system in this ancient rainforest.
Getting there is easy - Sun Palm Transport do a prompt and easy shuttle service to and from the airport to Cairns, Palm Cove and Port Douglas.