Little evidence remains of the original inhabitant of a palace in Split, writes Jim Eagles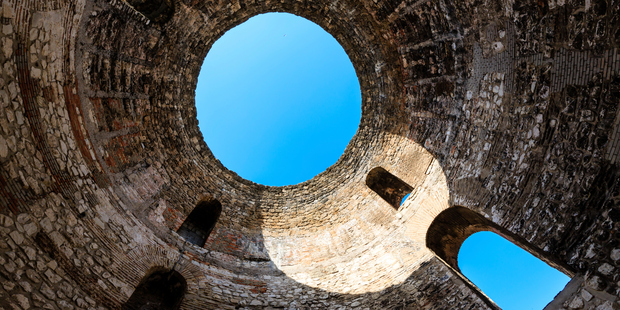 I just spent a few days at the Emperor Diocletian's beach house on the Dalmatian Coast and it was amazing.
As you'd expect, with Diocletian having been the Emperor of Rome, the most powerful person in the ancient world, the palace he built for his holidays - and then retired to in 305 - is pretty impressive, covering 190m of prime seafront.
By all accounts the site is not quite as pristine as when he built there nearly 2000 years ago - over the years the city of Split, with a population of 350,000, has sprung up around the palace walls - but New Zealanders know all about the way coastal development can spoil rosy memories of yesteryear.
In any case, Split's combination of hot sun and azure seas, extraordinary history and fascinating architecture, great art and delightful music, good food and interesting wine, still makes a unique travel experience.
We actually went there twice.
First we spent a day strolling around the palace and its surrounds as part of a Delights of Dalmatia walking holiday.
Guide Milenka pointed out how much of the palace is still there - walls and gates, major buildings and underground cellars - but over the centuries has been adapted for use by later arrivals.
For instance, the seafront wall, which originally provided direct access for visiting ships, now houses a line of restaurants with views of the busy port.
Many of the cellars are now home to bustling souvenir shops selling everything from marble sculptures to fridge magnets and, Milenka complained, "pay almost nothing in rent".
The broad main streets the Romans built were transformed by the commercially minded Venetians, who ruled here for several centuries, into narrow alleys lined with shops that today sell wonderful icecream and slices of pizza, beautiful dresses and elegant shoes, books in many languages and works of art.
In one corner of the palace we watched an old woman, one of about 700 people who live in the ancient white limestone apartments once occupied by senators and tribunes, haul out washing on a clothesline hanging from a Roman wall splashed with very modern graffiti.
In another corner, Milenka pointed out a rare example of an ugly modern glass and steel bank building which, incongruously, has Roman cobblestones covering the ground floor.
We stayed in one of two hotels built inside the palace for a couple of nights, before heading to Italy, France and Spain, and discovered even more about Split's remarkable blend of ancient and modern. One wall of our room, three floors up in the Peristil Hotel, was the stone rampart of the palace.
Our window was a small opening in the metre-thick fortifications, presumably once useful for firing arrows at attackers, these days offering an interesting view of a church just outside the palace.
During the day, the window allowed in the raucous babble of a busy market - offering clothes, produce, leather goods and souvenirs - operating under the old walls. In the evening it offered more musical sounds: chiming bells, small groups of men singing in the local klapa style, the honking of horns or the mournful wail of sirens.
And we had only to step out the door to find ourselves surrounded by history because the Peristil is right behind the focal point of the palace, the great dome of Diocletian's mausoleum, these days the Cathedral of St Dominus.
It is one of the great ironies of history that during his 26 years as emperor Diocletian presided over a brutal persecution of Christianity, only for his protege Constantine to effectively adopt it as the official religion, opening the way for the triumphant Christians to first despoil their oppressor's tomb and then to convert it to their own use.
Indeed, so effectively did they obliterate all trace of their enemy that in our few days in Split the only reminder I could find that he actually built the place was a replica bust of him, on display in one of the cellars.
Rival religions got much the same treatment: a small passage just opposite the cathedral leads to an elegant building with a battered sphinx outside, once the Temple of Jupiter but now home to a statue of John the Baptist and the tomb of an early bishop.
Still, at least Diocletian knew nothing of the fate that awaited his bones and his palace shortly after his death, and he seems to have enjoyed a happy retirement.
According to one contemporary account, a few years after his retirement he received a deputation asking him to become emperor again, and replied: "If you could show the cabbage that I planted with my own hands to your emperor, he definitely wouldn't dare suggest that I replace the peace and happiness of this place with the storms of a never-satisfied greed."
I did look around the old palace to see if the new inhabitants were still taking pleasure from their cabbages. There were plenty of window boxes full of flowers. And I did find a couple of vacant lots being used as gardens. But there wasn't a cabbage in sight. Presumably the Christians got those, too.
Getting there: Cathay Pacific offers special fares to the Croatian cities of Zagreb, Split or Dubrovnik in conjunction with Croatia Airlines via Rome, Frankfurt London, Paris or Amsterdam. Ph Cathay Pacific 0800 800 454 or 300 8056
For details on Croatia Airlines services call 0800 CROATIA or (09) 837 9897.
Getting around: Headwater's Delights of the Dalmatian Coast is a small-group guided walking tour that includes Split, Dubrovnik and Trogir. The eight-day tour costs from $3560 each, twin share. Ph Adventure World on 0800 465 435. To find out more about visiting Croatia go to croatiatimestravel.co.nz
•Jim Eagles visited Split with help from Cathay Pacific, Croatian Airlines and Adventure World.