A journalist's guide to drinking in Hong Kong.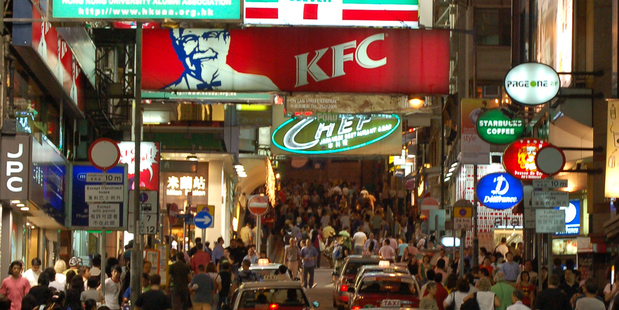 If you have to drink your way across the territory, these six places should be on your must-visit list.
The Parlour
2A Canton Rd, Tsim Sha Tsui
For many, a night out in Hong Kong begins in the morning. The champagne brunch is an island institution and The Parlour does it like no other.
Built in 1881, the bar offers a rare glimpse into Hong Kong's colonial past.
Every weekend from 11am the sweeping terrace comes alive as locals and expats descend on its tables to catch up and escape island life for a few hours.
The attraction is four hours of unlimited Veuve Clicquot champagne. However, the food is also incredible and, at HKD$638 ($98) it is exceptional value. Veterans give the Dragon's Back cocktail a go. Note: It is inevitable you will finish the day sitting chatting at a completely different table from the one you started on.
Foreign Correspondents Club
2 Lower Albert Rd, Central
Regardless of whether you're a journalist or not, if you get the chance, go to the Foreign Correspondents Club.
The FCC is a members-only club for reporters, diplomats and business people; however, there is a provision for travelling journalists, so bring a business card. Entry for everyone else is reliant upon a hook-up or a little bit of tenacity and pure luck.
Once you're in keep an eye out for the matriarch, Claire Hollingworth. The former Telegraph correspondent's biggest scoop set a high benchmark for journos who followed: she reported the outbreak of World War II.
Phones must be switched off and cash is not accepted across the bar.
Lupa
Third Floor, LHT Tower, 31 Queen's Rd, Central
Once you've worn out your welcome at the FCC - head to Lupa. The bar is Italian maestro Mario Batali's first foray out of New York and in to Asia.
Lupa calls itself a Roman-style trattoria - it's raucous, festive and delicious. Bypass the restaurant for La Terrazza - a leafy Italian garden setting three stories above the hustle and bustle of Queens Rd Central.
Settle in for an hour or so beside one of the huge freestanding fans, and wait for the nightlife to stir in downtown Hong Kong.
The Blue Butcher
108 Hollywood Rd, Central
Next stop: Hollywood Rd, Sheung Wan - easily the hippest neighbourhood in Hong Kong.
The Blue Butcher is a taste of Americana - a New York-style eatery serious about its meat, its nose-to-tail dining is not for the faint-hearted and neither are its drinks.
Prohibition era-inspired cocktails dominate. The Pomegranate margarita is a favourite, but the house specialty is a dance with the Blue Fairy. It's a concoction of absinthe, London dry gin, Blue Curacao and Lillet blanc, presented in an antique fountain and shared among four.
Famous for its psychedelic properties, the Blue Fairy is perhaps the perfect primer for Lan Kwai Fong ...
Lan Kwai Fong (LKF)
Almost beyond description, this small district in Central Hong Kong is a world famous expat drinking haunt.
Think all-night happy hour, loud 80s music, and jelly shots administered through a syringe. Settle in and watch the wildlife.
Din Tai Fung
20 Canton Rd, Causeway Bay
The morning after take yourself to Din Tai Fung - Taiwanese dumpling house that will, quite simply, blow your mind.
Din Tai Fung is famous for its handmade Liao Long Bao and it's also the cheapest Michelin-starred restaurant in the world ... a restorative brunch will only set you back about NZ$20.
TV3 journalist Rebecca Wright was based in Hong Kong for several years.