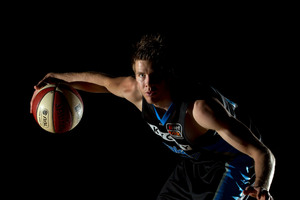 What was your greatest holiday?
I've been to Fiji twice. Once as a little kid I went to Tokoriki and last year I went to Matamanoa Island. Those were my two favourite holidays.
And the worst?
I don't know if I've had any bad holidays. I've been lucky - no horror stories.
If we bump into you on holiday, what are you most likely to be doing?
Probably snorkelling. I love being in the water. It's probably why I love Fiji so much.
What's your dream destination?
Hawaii. I'm going this off-season for a holiday, so I'm pretty excited about that.
What's the dumbest thing you've ever done when travelling?
I think I've left things on the plane, like headphones and my iPod one time.
Complete this sentence: I can't travel without ...
My iPhone.
What's the best travel tip you've ever been given?
When you're leaving a hotel make sure you check everywhere to make sure you haven't forgotten any chargers or anything. I always leave something.
What was the most memorable meal you've had while travelling?
When we were in Turkey for the world champs a couple of years ago, our coach took us to an amazing Turkish restaurant that was right up on a cliff overlooking Istanbul.
What's the best thing you've brought back from a trip?
I'm not a big shopper. I figure I've spent enough actually going on the holiday that I don't need to spend money buying stuff. [My partner] goes shopping but I leave that to her.
Favourite airport to land at?
Singapore. They've got a movie theatre and Xbox set up everywhere and huge TVs.
What's the next trip you've got planned?
Hawaii. I've got nine days there. Can't wait.

Tom Abercrombie and the Breakers won their third consecutive ANBL title, beating Perth last week. For 2014 season tickets go to nzbreakers.co.nz.