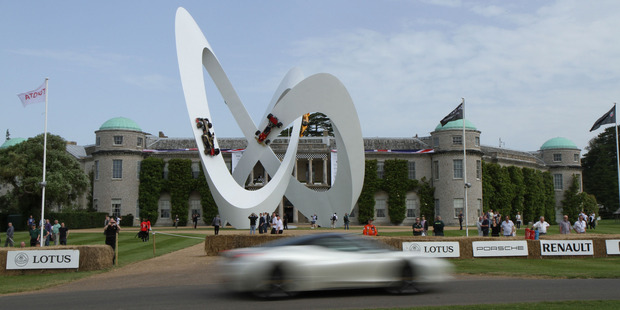 I spent many weekends as a child being dragged to motor shows by my car-mad dad (and extremely patient mum).
Unlike most five-year-old girls, I could name all the current Formula 1 drivers of that era and pick a new model Porsche at ten paces.
Some 25 years later, living in London, the last thing I wanted to do was tag along behind dad to a car event. That was before I went to Goodwood.
The Goodwood Festival of Speed (July 12-14) is not your average car-fest.
Held at the Duke of Richmond's sprawling Goodwood Estate in West Sussex, it's more like a posh English garden party with cars. And motorbikes. And burn-outs.
Supermodels saunter past supercars, rev-heads rub shoulders with racing drivers, while celebrity judges crown the most covetable classic car.
Don't get me wrong, the Festival of Speed is still very much a motor sport event.
But the glorious setting and welcoming vibe means it appeals to more than just petrol-heads.
The estate's association with motorsport stretches back to 1936 when Freddie March, the 9th Duke of Richmond, hosted a hillclimb for a small group of enthusiasts.
With the onset of World War II, racing at Goodwood took a backseat. A military airfield was created on land donated by the Duke, which served as a prominent Battle of Britain base.
Motorsport returned to the estate in September 1948 when 15,000 people flocked to the country's first professional post-war race.
After 18 years, motor racing again ceased at Goodwood in 1966, although the circuit continued to be used as a test track.
The estate's illustrious racing heritage was revived in 1993 when the present Lord March, the 9th Duke's grandson, decided to hold a hillclimb.
The Festival of Speed was born.
"I wasn't too certain if anyone would be interested in coming along to our very first event back in 1993. We expected around 2500 people and over 25,000 turned up," says Lord March.
Today, the three-day festival attracts over 185,000 spectators.
"I think it is safe to say that the event now looks like it is here to stay," he laughs.
The hillclimb is still the main draw, and sees everything from drag racers and Moto GP bikes to steam cars and soapbox racers tackle the famous 1.8km circuit.
This year, Lord March has invited back the fastest, loudest and most outrageous vehicles from the past two decades, so festival-goers are in for a treat.
Ferrari, Red Bull and McLaren are among the F1 teams that will have cars completing the climb, while the new $1.25 million McLaren P1 supercar will be one of around 50 supercars taking part.
Away from the track, what makes Goodwood unique is the way you can get tantalisingly close to the world's most lusted-after vehicles.
Expensive road cars from the likes of McLaren, Lamborghini, Porsche and Bugatti will be on show in the Supercar Paddock, while the Cartier Style et Luxe concours d'elegance will celebrate 'The Greatest Car Designs of All Time'.
Drivers and riders are also happy to mingle among the crowds and you get the impression they're having as much fun as the fans. Expect to see past and present champions from Formula 1, Indycar, the World Rally Championship, Superbikes and Touring Cars.
Another highlight is the huge, gravity-defying car sculpture outside Goodwood House, the honey-hued home of the Dukes of Richmond for over 300 years.
While exact details are kept closely under wraps, this year's sculpture will feature Porsche 911s to commemorate 50 years of the iconic car.
Add to this a huge display of classic cars from collectors' garages across the globe, the hair-raising Forest Rally Stage, daredevil motorcross displays and an impressive aviation exhibition, and Goodwood takes some beating.
The Moving Motor Show precedes the festival, with more than 20 car manufacturers as diverse as Skoda, Peugeot, Lexus and Porsche exhibiting their latest models and debuting new cars.
Still need to convince the missus?
Take time out from the track during a tour of the 17th century Goodwood House. Along with an impressive collection of paintings, including works by Canaletto and Van Dyke, this summer's exhibition explores Goodwood's French links through paintings, china and a few spicy stories.
Just don't forget your earplugs.
IF YOU GO
Getting there: Goodwood is located just outside Chichester, West Sussex, England.
By car, it is 97km from London. Parking is free.
There is a regular train service from London Victoria to Chichester (1hr 40min). Bus and taxi transfers are available at Chichester Station.
National Express has coaches direct to the Festival of Speed from various UK cities.
Dozens of airlines fly one-stop from Australia to London.
Staying there: Many nearby hotels are booked well in advance, so consider camping on the Goodwood Estate or renting a room or house via Airbnb. Further afield, try the larger coastal cities of Portsmouth and Brighton, which have regular trains to Chichester.
Playing there: Book online at goodwood.com.
Pack your walking shoes and head to the South Downs National Park, which borders Goodwood Estate.
Stop for lunch at a village pub — try The Fox Goes Free in nearby Charlton.
Spend an afternoon exploring the pint-sized city of Chichester with its historic cathedral, Georgian squares and ancient city walls.
The writer travelled at her own expense
- AAP