Danielle Wright finds a game of snakes and ladders the perfect lure for her family along the Pakuranga Rotary Walk.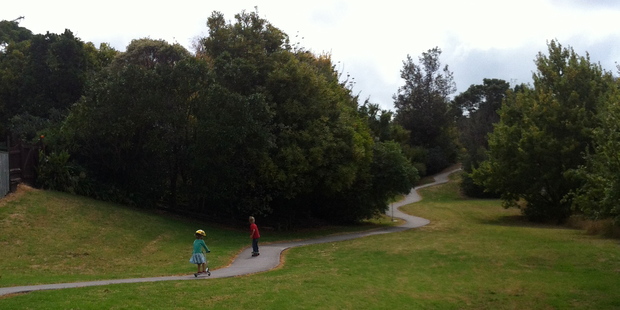 Pakuranga is Maori for "battle of the sun's rays". Legend has it that a battle at Pigeon Mountain between nocturnal monsters over, of course, a girl, raged until a fed-up Maori priest caused the sun to rise early, taking the monsters by surprise and frightening them off.
On the day we visit, the monsters must be fighting back: the skies are dark and rain is about to break the drought. It doesn't seem to have dampened the locals' spirits and as we head through the stiles near Pigeon Mountain, we're greeted with dozens of friendly pukekos, even though they're nesting.
We walk past their freshwater wetland home, cluttered with native plants and birds, until we reach a tunnel under a busy road.
From here, paths head past backyards filled with tomato plants and ornate bird houses.
We dodge cyclists and motorised scooters, cross a bridge over yellow, purple and white wildflowers and walk through a natural tunnel made from weeping willow branches.
There are twisty trees for the kids to climb, and little jetties to explore over the marsh.
The pathway opens up to run beside the Tamaki River. There are views to Browns Island and the peak of Rangitoto Island, poking up behind suburban hills.
It's quiet around the walkway, where unused residential tennis courts shelter passersby from household noise.
It's no wonder so many people have devoted benches to their loved ones here.
Most benches have a story to tell, from an air accident in France to a lady who simply "found solace here"; it provides an intimate history of the residents, now at rest elsewhere.
Finally, we come to a Snakes and Ladders playground near Bramley Drive. It has slides as snakes, wooden dice for little fingers to turn and a finish line with "winner" etched in the stone. It marks the halfway mark along the walk but I wouldn't be surprised if it's the finish of many walks with children - not much will top this for the kids' attention.
In front of the playground is a little beach for a mid-way swim and a grassy area where adults are using the outdoor gym equipment and families are playing games of rugby and soccer.
Behind the playground, teenagers are dodging the traffic on skateboards down the steep hill and over the speed bumps.
We head back to Pigeon Mountain just as the nocturnal monsters take total control of the skies, and some much-needed rain starts to fall.
WALK THIS WAY
The Pakuranga Rotary Walkway was recommended as "one of the greats" by @skirtauckland - insightful tweets from Marcus Lush as he skirts Auckland suburbs by foot.
There are entry points along the 5km walkway. See aucklandtransport.govt.nz.
We started at Pigeon Mountain and the walkway is suitable for wheelchairs, bikes, pushchairs and any fitness level. You can bring your dog on a lead if you keep the pooch away from wildlife and playgrounds.
Expect friendly faces; everyone smiles and chats along the way.