Danielle Wright packs the family into a camper-van and hits the road to Victoria's holiday beaches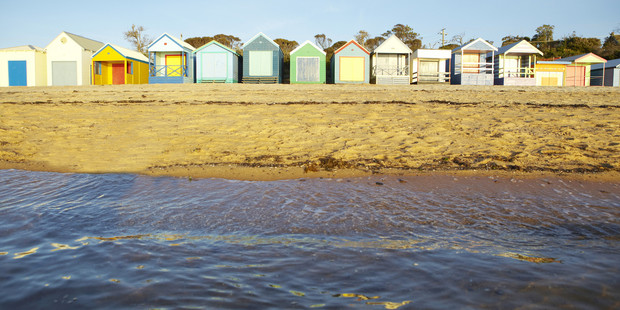 If you had a friend visiting Auckland, would you keep them city-based or encourage them to head to our beautiful beaches? It's on this premise that we decide to leave Melbourne city and follow the locals to their summer holiday locations on either side of Port Phillip Bay.
Mornington Peninsula
It's a grim drive up the Nepean Highway as we leave the exciting streets of Melbourne to the more downtrodden areas just outside it, but we start to see a nicer side in Mt Martha, 60km southeast of the CBD.
It's a good place to stop. Mt Martha Fine Foods is renowned for its homemade pies - they make about 1200 a week - drawing weekend visitors from Melbourne, and one man from Sydney every few months to stock up. There's also an art shop selling mostly beach-themed local artists' work and a funky gift store next to a kids' playground.
Across the road is a beach worthy of the big screen with colourful vintage bathing boxes, soft yellow sand and clear blue water. It's a shame not one is in use on the hot summer day we visit - the beach is deserted, but it's still the perfect pit-stop to get us in the holiday spirit.
You can also stop at the Dromana retro drive-in cinema and diner, a viewing spot at Arthur's Seat or seaside town Rosebud with its touristy mini-golf on the main road. We liked the look of McCrae, known for its lighthouse, no longer in operation but still proudly standing on the through-road, next to a lighthouse-themed playground.
Within a few hours of leaving Melbourne, we arrive near the tip of the peninsula in Sorrento. During the summer months, the foreshore campgrounds are open to the public and we park a few paces back from a safe swimming beach. Campers in tents are all around us, but we don't hear a peep from any of them.
A short walk along the beach is a sailing club with San Pellegrino flags flapping in the wind along the long wharf.
The water here is so shallow no diving is allowed even from the end of the wharf, but at least it looks clear and inviting.
The main road in Sorrento is full of pretty heritage buildings yet also a disappointing amount of chain stores; it's very touristy. Just Fine Foods, "home to Sorrento's famous vanilla slice", trades out of the old general store, which was built in 1902. The historic pub was built in 1872.
We cut our stay on the Mornington Peninsula short. For Melbournites, it's a lovely spot to unwind from the fast lane, but, after being spoiled by having Waiheke Island, Coromandel and Northland on our doorstep, it didn't have much to offer us in comparison.
Bellarine Peninsula
Instead, we hop on the car ferry over to the Bellarine Peninsula looking for more of a "wow" factor. Our first stop is Queenscliff, where we pass dozens of vintage cars and huge old buildings, now guest houses or pubs, before stretching our legs at the quaint seaside village, Barwon Heads, with its picturesque cafe and fish shop overlooking the water.
From the playground there are signs to the William Buckley Discovery Trail, with the phrase: "You've got two chances, Buckley's and none!", alluding to the convict's lucky escapades.
The village is filled with artisan food, homeware and design stores, a marine sanctuary and golf courses, as well as a choice of safe river beaches or crashing surf. It is exactly what we are looking for after the disappointment of the Mornington Peninsula.
We set up camp in Torquay, where the foreshore campground is more like its own private city, complete with street names and hundreds of sites. Take a stroll along the wharf at Sorrento - but forget diving off it. Bells Beach in Victoria is home to the world's longest-running surfing competition. We're positioned one back from the beach, where there's a little coffee spot overlooking the surging waves and surfers. What a view with your morning brew.
Pick up a map of the Surf Coast Walks, which offer breathtaking views along isolated surf beaches, where giant cuttlefish are strewn along the sand beside surfers' footprints. It's impossible not to fall in love with the Bellarine Peninsula after one short trek.
We hire surfboards and head to Cosy Cove, where perfectly timed waves are rolling in as holiday makers learn to surf them with ease. You can ride bikes along the wide coastal pathways, where windswept trees grow nearly horizontal.
Back at the campground, we sit under a wattle tree, magpies peering down from tall poles. Passersby head to the shower block, some with surfboards tucked under arms, always with a friendly "Morning, mate," and a quick chat about the weather.
The next day, we head to the famous Bell's Beach, home to the world's longest-running surfing competition.
It's even more beautiful, and rural, than we expected. There are no shops or cafes, just a paddock full of kangaroos, next to one with cattle. We watch generations of surf families jump off the rocks together and head out into the glassy surf at a break known as "Winkipop".
The ocean becomes a huge outdoor movie theatre playing all the best surf films - every surfer is impressive to watch, performing tricks such as 360's and aerials as par for the course.
After a few days on the Surf Coast, we head back to Melbourne, stopping at Geelong, famous for its wool heritage, a 120-year-old carousel and wooden pylons painted as sailors, surf life savers and brass bands. It's pretty but eerily quiet.
"Geelong's been called Sleepy Hollow for as long as anyone can remember," explains a fisherman on the wharf, whose children commute to Melbourne city for work. He's one of the only people we meet here, even though it's late morning. Even some of the letters on the sign for Cunningham Pier are missing in action.
It's our last moment of quiet before we head back to the rush of Melbourne traffic and the excitement of a buzzing city, taking with us a new sense of how relaxing an Australian holiday can be.
Life on the road
Travelling in a six-berth Apollo Motorhome meant we could stop to make the kids a meal whenever we liked, didn't need to pack a bag for the beach or day-trips, and could change our itinerary at short notice to head over to the Bellarine Peninsula.
Sleeping was a novelty for the kids as they got to climb into their little cave above the driver's seat and even drives were exciting as they got to face each other and play games as we headed down the highway.
For more information see apollocamper.com.au.