Hawaiian sun and surf is great and all that, but what Yvonne Tahana really wanted to know about was the food.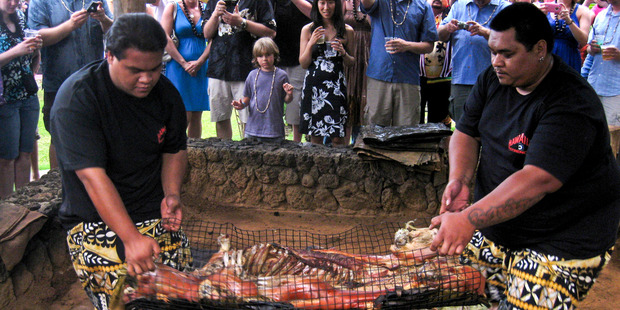 Shrimp
Americans sure seem to like shrimp. It's everywhere. To mangle and misquote Jessica Simpson, it probably is their chicken of the sea - ubiquitous. But, if you're heading out of Waikiki up to the famous north shore beaches - Waimea, Sunset Beach, Pipeline, and so on - stop at one of the shrimp caravans that dot the way.
At Haleiwa, we pit-stopped at a parking lot full of food trucks. While others made a beeline for BLTs, I went for shrimp gumbo. Served with brown rice, the broth that came with it was party-in-your-mouth material. Relatively cheap, at about $14.25 (US$12 ), you can eat it on benches while you enjoy people-watching.
More shrimp ...
The International Market in Waikiki has a great open-air food court. Pretty much every Asian outlet was selling the stuff - I liked the Caribbean dude selling shrimp burritos. Just enough hot sauce. Bellissimo. It's not flash but that's part of its charm, and it's a good spot to take a rest while shopping.
The Big Island, Maui and Oahu have Bubba Gump Shrimp Co restaurants. Good stops for cheesy pictures.
Sam Choy's in Alii Drive, Kailua-Kona, Hawaii Island
A local at dinner told me he understood the happy condition I was in after inhaling the restaurant's trio of fish: Polynesian Paralysis, that feeling of eating until you're too tired for anything else. As PP suggests, the servings are generous. Go for the fish, every time. Especially the succulent Butterfish. Sam Choy's fusion food celebrates the islands' diverse heritage: native, American, Chinese, Filipino, Japanese, Korean, and Portuguese. Come at sunset for drinks. The western coast of the Big Island is gorgeous.
Chef Mavrau - King St, Honolulu
Another Hawaii icon. George Mavrothalassitis is the irrepressible Frenchman who owns and runs the restaurant that shortened his name. A multi-award winner reviewed by the New York Times and Esquire, come prepared for a treat. The menu is built around a four- or six-course menu or a grand degustation of 10 courses. We were lucky enough to have the chef come to the table and talk us through our four-courses. Confit paua, smaller than we'd be allowed to collect here, but sustainably farmed on the Big Island, and the roasted guinea fowl, surely the softest bird meat ever, were highlights. Non-pretentious, friendly, efficient staff top off the experience.
Imu
I wondered if a Hawaiian hangi would be any different to ours. The method seemed the same - heat the stones, load on the kai, lay on the covering to protect it then cover up with soil. I had mine at the Royal Kona resort, a night luau with a Polynesian show. I think I may have confused the dancers. A Maori at a hotel luau's like a Maori going to a Rotorua hangi/concert. Odd.
The main difference was that a kalua pig was the lone occupant of the earth oven. No veges and stuffing as the sides were cooked conventionally. I should have asked if Hawaiians at home normally chuck in their kumara and spuds too. Aside from that: best pork I've ever tasted. Perfect, slide off the bone, juicy beast. Enough to satisfy and just the bee's knees.
Beer
Not that I need an excuse, but Hawaii's hot.
And look, they make their own beer. They do tasty local brews at Kona Brewing Company just off Kuakini Highway. Go for the tasters - four beers in oversize shot glasses - with pub-style grub.
Coffee
Trent Bateman owns Mountain Thunder. One of his workers said of the boss, who was told repeatedly he couldn't grow coffee at altitude: "I heard he was a stubborn Capricorn goat and he decided to grow it anyway."
Bateman moved to the property in 1993 and started the company five years later after noticing a single tree was producing a fair amount of coffee "cherries".
Mountain Thunder farms on Mt Hualalai. His property is just over a kilometre up where the mix of morning sunshine and afternoon rain produces award-winning brews. There's something magical about drinking a black peaberry as the rain pelts down, high on the green mountain.
It carries the Kona Coffee label, which can be used only by those grown in the region.
Lilikoi passionfruit
If you take a tour on which handsome Hawaiian Keone is the guide, he'll take you to see the coffee trees, past the lava tunnels in a fenced-off area where chickens and miniature donkeys have the run of the place. It's an organic farm and the animals' manure is the only fertiliser used. Lilikoi grow here, and he may pluck you one from the bush above. The flesh is white and it has a far mellower taste than its racier cousin. It's delicious.
I shared mine with the donkey - obviously a charmer - who butted against me, licked my leg and so made a fast friend.